Fitness is big now and so is the market for fitness accessories like what I have for review today, the Clip from Cel-Lab which is a fitness activity tracker that can track steps, calories burned and much more. The Clip is small and inexpensive and it seems to work well and there's even included software with it to track many more details or your daily activities. The Clip can store days of information and then sync with your computer over USB so you can chart your performance and even set goals. Read on to learn more…
Specifications and Features
Once you get everything unpacked you'll find an arm band, user guide, USB charging and sync cable and the clip itself.
The connection for charging and syncing in inside of the clip itself, you'll see four metal contacts when you open it up. To charge or sync you just slide the charger into the clip and it matches up. Sadly it's a proprietary connector so if you lose it you won't be able to charge or sync anymore.
The clip is small and it's well made. The display is fairly basic with blue dot matrix style lettering and graphics on it, it's fine for what it is. The display shows time, date, battery life, steps, calories burned and more.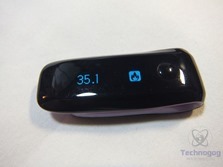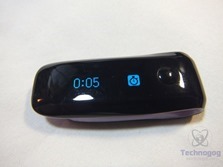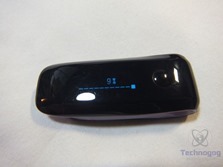 The software isn't the greatest, the interface isn't the greatest looking aesthetically for sure. I should note the software is still under development or in beta so it does have a bug or two it seems. A note about the software, it's needed but then it isn't. You can use it right out of the box yes, but to properly configure it you need the software to set the time and your step length.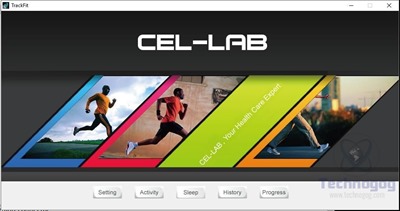 So I guess you need to know this is a combination review meaning I got this for my wife really as she always has a pedometer on so she tested it for me and gave me feedback on usage to write this review.
She does like it but we're not sure about the step count accuracy, my wife has another one that she wears, she wore both for comparison and the counts are different on each of them so we're not sure which is accurate. It's not a little difference either, there's about one thousand steps difference between them, sometimes one has more steps counted and sometimes the other does, it's not consistent.
She loves the battery life, it's great, she wears it everyday and it doesn't need charged every week, but she doe sit anyway to sync it. She's very happy with the fact that it doesn't fall off, well at least not as often as the other one she owns, so it stays on better overall. She also likes the fact that it resets itself everyday and she doesn't have to do anything unlike her other one that she has to reset everyday.
One small complaint she had was that if she puts it to sleep and then goes to download/charge it wakes up and stays awake. She thought it would stay asleep and then woke up the next day and it was awake.
Conclusion
My wife likes this product a lot, she's happy with it for the most part. We're just not sure about how accurate it is in terms of counting steps.
I don't care for the proprietary connector because if you lose it you won't be able to charge and sync and I'm not sure how you would replace it as it's not readily available.
As is it seems to be a decent product that's well made and inexpensive but it needs some improvement.
Pros:
+Great battery life
+Stays on
+Resets itself
+Inexpensive
Cons:
-Must use software to configure correctly
-Proprietary charging connector
-Software needs work
| | |
| --- | --- |
| Grading | Scores Out of 10 |
| Overall | |
| Design / Aesthetic | |
| Value / Price | |
| Performance / Usage | |
To learn more about our review policy please visit this page HERE.