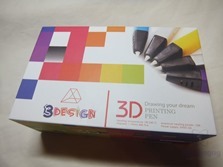 I love 3D printing, my wife says I'm obsessed actually, but I enjoy it a lot and today I've got another 3D pen for review from a company called 3Design. The pen is well made, it's simple to use and load and it can use PLA or ABS type filaments but best of all it can be powered by a standard USB port. Read on to learn more…
Specifications and Features
3DESIGN 3D Printing Pen BONUS Professional Three Dimensional Drawing Pen with OLED Display and Temperature Adjustment for Art Craft and Design and for Model Making (White) + 5 Free Filaments
Main Function:
3Design printing pen is the most advanced 3D pen today, with the highest quality of materials and structure.
With your 3Design you will be able to create the most artistic and creative models of anything you can think of.
You can create 3 dimensional shapes, create your own logos, TV figures, superheroes and more!
You will have full control over your designs. With temperature adjustment buttons and speed controller you can do anything in your mind.
The OLED screen will you to setup up your 3Design much more easily and comfortably!
You can also learn how to create any object you can think of by watching tutorial guides on YouTube.
Specification:
-Power requirement: 5V 2A (available for power bank as power supply)
-Power supplier: AC/DC adapter (included) or external Power bank (not included)
-Screen: OLED white light screen
-Pen material: Plastic
-Nozzle material: Ceramic
-Nozzle diameter: 0.6mm
-Temperature range:130°C – 240°C
-Filament diameter: 1.75mm
-Compatible printing material types: PLA, ABS
-Speed: Speed adjusting controller
-Double click to push in or pull out the filament automatically
-Pen color: White
-Pen dimensions: 175X17X20mm
-Pen weight (net): 40g
Package Content:
1 X 3D Pen
1 X Power adapter
1 X Power cable (USB – supports power bank)
5 X FREE filament in 5 colors
1 X Screwdriver – additional FREE tool
1 X User's manual
Price: $78.95 (from Amazon at time of review)
The Review
Let's start with a video unboxing and then move on:
The packaging is very nice, the box is sturdy and looks good. Once you get everything unpacked you'll find the pen, screwdriver, unclogging tool, USB AC adapter, USB cable and five small rolls of filament.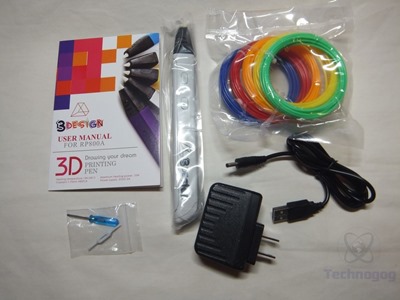 The pen is rectangular shaped but the edges are rounded for comfort. The pen is seven inches long, .75 inches high and .5 inches thick. The left side has two buttons for forward and reverse of the filament and to load and unload it. You can double click the buttons to make them stay on to make loading easier and two make using it for long periods of time easier as well. The right side has a slider button that is used to slow down or speed up the filament feed speed.
On the top of the pen is an OLED display that shows which type of filament you're using, ABS or PLA, and it also displays the temperature. Next to the display is two buttons labeled with a plus and minus sign to adjust the temperature.
On the back of the pen you'll find two holes, the one of the top is for the power connection on the USB cable and the one on the bottom is to load the filament. The front is the tip that gets hot where the melted filament comes out.
The bottom of the pen just has an ID label on it but the bottom can be removed is need be to fix a jam or change the tip.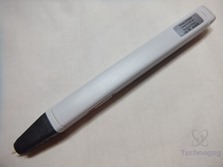 I've used the 3Design 3D pen for several projects, one was just a rather simple penguin for my son who likes them but then I also made Wall E from the movie which took a long time to make. The pen works very well, it's simple to load and it's very comfortable to use.
Conclusion
I've very much enjoyed my time with the 3Design 3D pen, it works very well with either PLA or ABS filament and you can create most anything you want with it, the limits are just your imagination.
One of the things I love about the 3Design pen is that it's USB powered, you can use a USB battery pack to make the pen mobile to be able to use it anywhere. One small issue is that the pen uses a proprietary power connector, not sure why they couldn't have just use a common microUSB connector.
They do include five small rolls of filament with the pen, but there's not much really, you can play with the pen and make some small items but you'll want to get more filament.
The pen tip can be changed if need be but they don't include any and I can't find anywhere to buy them online.
All in all I can highly recommend the 3Design Pen, it's very well made, easy to use and load, and it's just really a lot of fun.

Pros:
+USB powered, can use USB battery
+Simple to load
+Fun to use
+Simple to use
+Uses PLA or ABS filament
Cons:
-No extra tips included
-Uses proprietary USB power connection
-Not much filament included
| | |
| --- | --- |
| Grading | Scores Out of 10 |
| Overall | |
| Design / Aesthetic | |
| Value / Price | |
| Performance / Usage | |
Disclosure: This product was given to me for review by the company for review purposes only for free or at a discounted price.
To learn more about our review policy please visit this page HERE.