I'm sure a lot of you out there got a digital photo frame for Christmas, they're one of the more popular gifts. I bet though that the one you got couldn't also be used as a USB monitor, well that's what I got, not for Christmas but for review from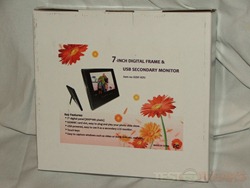 Opening the box you'll find the monitor, AC adapter, USB cable with extra power connection and a very brief user manual.
The monitor itself is rather large really, it's got a big border on it, the dimensions are 6.1 x 8.25 x 0.5-inches. The actual monitor size is only 7" though. It is slim and lightweight though.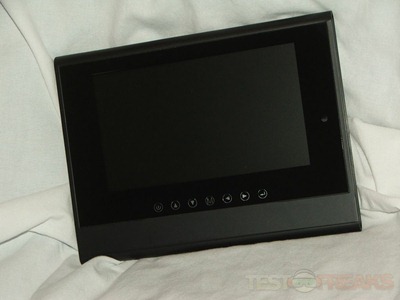 Below the monitor you'll find a few buttons, they're touch sensitive.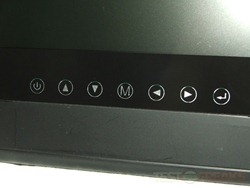 On the left side you'll find the power connections and the right side you'll see the SD card slot, regular USB port and a mini-UBS port.
On the back is the identification label and a stand.
Specifications:
I set it to be another monitor and for that it worked fine. I ran into a problem though, I use Windows 7 64bit with Aero running and this monitor turns Aero off when it's powered on. As soon as you power the monitor off Aero comes back on. I can live with that, but I can't live with not having the ability to paly any videos at all. I've got four monitors, five with this little USB one and video would not play on any of them when the USB monitor was turned on and I was using it. I have a DoubleSight 7" USB monitor and it does mess with Aero as well, and that's not a big deal really, but I can play videos with it plugged in and running. I don't get it, I don't know what the problem is. One of the features listed is the ability t6o play videos on it and you can't not only on the USB monitor but on any monitors at all. So using it as a secondary monitor is a bit out of the question I would think.  There is no name brand so I don't know where find drivers for it to possibly get updated drivers and software.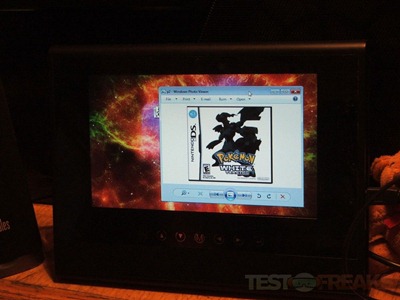 So using as a monitor is pretty much out of the question, that is if you want to watch videos, the next choice is using it for a digital photo frame. You can use either a USB flash drive or an SD card to store your photos on, but the frame actually has 1gig of memory built in. When you turn it on you'll be greeted with three choices and one more that will be either USB or SD card.
The Flash option is for flashing the firmware, but no one knows who make it so I don't know where to get the firmware from. The next option would be the Calendar for displaying it and the time with your pictures on the side.
The next choice is for Setup, here you'll find options for making adjustments to the Slide Show, Alarm, Language, Time, LCD, Screen Saver, About and Default.
Here the options opened up:
When you put the USB drive or SD card into the frame you can view them ion thumbnail view with titles and times taken. Then you can start the slideshow and use it as you would a digital photo frame.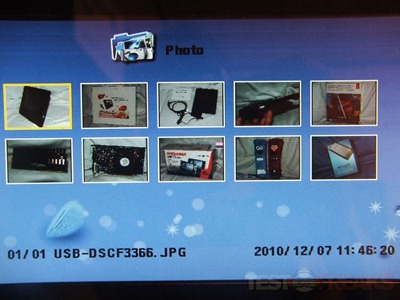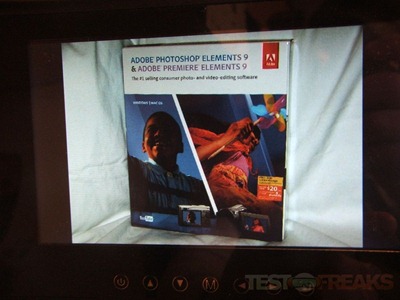 The buttons are touch sensitive so you can use those to navigate the menus or to actually rotate the pictures when looking at them. The pictures actually look good, surprisingly good. As a picture frame it works well I think.
Conclusion:
I'm guessing if you need a photo frame then this would work very well. I'm not sure but I would guess to say that the problems I encountered might not be there with all operating systems, especially if you're not using Aero.  The video problem though I'm not too sure about, that's just odd that when it was hooked up I couldn't play any videos at all.
Using it as a photo frame is fine though, it works well for that. You can have it sitting on your desk with a calendar view and your pictures there for you to see all the time.
Pros:
+Slim and lightweight
+Decent photo frame
Cons:
-Turns AERO off in Windows 7
-Couldn't get videos to play at all
| | |
| --- | --- |
| Grades: |   |
| Overall | |
| Design | |
| Performance | |
To learn more about our review policy please visit this page HERE.