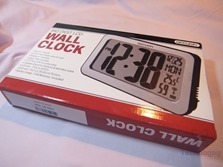 Up for review today I've got a product that I've always wanted but just never got for myself as it's not something I needed, so when I had the chance to review one I jumped on it of course. In our house time is a problem, sure my kids can't manage time, but the really issue is the correct time. We have numerous clocks and they're all different so I wanted something that was as accurate as possible and that's an atomic clock. The Accuon atomic clock can be used on your desk of wall mounted, it has large digits that are easy to see from a distance and it even displays month, date, day of the week, and even the temperature. Like any atomic clock it as accurate as you can get, it get its signal over the air and syncs every midnight. The clock is great, I'm very happy with it.  Read on to learn more…
Specifications and Features
Accuon Digit Digital Wall Clock Large
-Large and easy to read 4 inch high display with 3.6 inch high digits. Clock Size 9 x 5.75 inches
-12 or 24 hour display formats, perpetual calendar with indoor temperature display in Celsius or Fahrenheit
-Wall-Mountable and fold-able stand for desktop. Operates on 2 aa-size batteries (batteries included)
-Self time setting using radio frequencies broadcasted from atomic clock
-8 time zones with option to turn on or off daylight savings time
Setting your clock is no longer an issue with this self setting radio-controlled atomic clock. It also features a perpetual calendar and indoor temperature all seen with one quick glance. Its design perfectly suits to hang on the wall in your home or office or you can open the stand to sit on your desktop. Automatically updates for daylight Saving time (on/off option). LCD size: 7.5 x 4 inches. Unit size: 9 x 1.25 x 5.75 inches .
Price: $24.50 (from Amazon at time of review)
The Review
Let's start with a video unboxing and then move on:
The clock is packaged well in a nice looking box and inside you'll find the clock wrapped in bubble wrap, batteries and the user guide.
The clock is made of plastic, it's black with a silver border. The clock is about 9"by 5.75" and about 1.25" thick. The LCD display is about 7.5" by 4.25" in size. The clock has more of an almost industrial look to it, something that would be more fit in an office setting.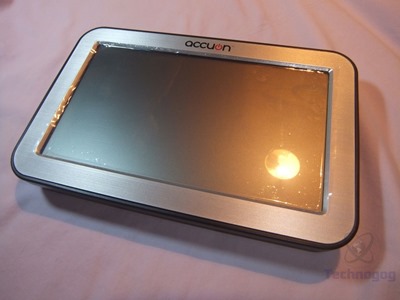 On the back at the top is a spot so you can hang the clock on the wall and then below that you'll find three buttons for +, set/wave and – and then there's also an inset button for reset.
The clock has a built-in stand so you can set it on your desk or wherever. The stand is just a flat piece of plastic that folds down and then slides into the base to lock it in place. The stand does a good job holding the clock up.
You can manually set the time and date but that's the not the best, that's not why you buy an atomic clock.
It automatically syncs at midnight everyday but you can make it sync by pushing the set/wave button, and when you first turn it on it should sync automatically as well.
It would not sync for me when I first put the batteries in, and then I tried to manually sync it by using the button and it wouldn't work. I put it in the window to make sure it gets a signal, I even put I on my porch to see if I could get it to sync but it wouldn't, I gave up after about an hour or so and brought it back inside.
I then just let it go so it would sync automatically at midnight and I woke up the next day and it was fine. There are all kinds of reasons it wouldn't sync, weather conditions could be or for whatever, but it did sync at midnight when it was supposed to so that's what matters to me.
The numbers are nice and large at almost 3.75" tall which makes them very easy to see at a distance so you can hang it on the wall.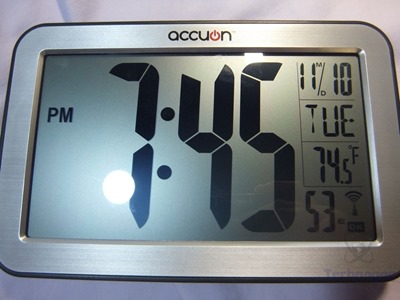 Conclusion
The look and the design of the clock is more for a desk or work setting and not something for the home I would think, but it's fine for me as we're all about computers and tech in our home. It all depends on your style tastes I guess.
The clock seems well made, it's plastic but most things are.
The problem with the manual setting not working is a small issue in my opinion, it syncs fine at midnight so that's what counts to me.
I like this clock a lot honestly, I wanted something that was accurate with large digits to put on the wall and you can't more accurate than this type of clock and you can see it easily from the across the room.
I'm happy with it, I'll continue using it.
Pros:
+Can't get much more accurate
+Automatic sync everyday
+Large display
+Easy to use
Cons:
-Manual setting wouldn't work
| | |
| --- | --- |
| Grading | Scores Out of 10 |
| Overall | |
| Design / Aesthetic | |
| Value / Price | |
| Performance / Usage | |
Disclosure: This product was given to us for review by the company for review purposes only, and is not considered by us as payment for the review.
To learn more about our review policy please visit this page HERE.