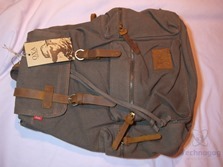 I like bags, especially bags that are different than most out there, and what I mean is like the one I have for review today from a company called OXA. The bag is a backpack and it's done in the vintage style, it's made of canvas and leather and it's great for taking your stuff with you for the day or on hike. It's an all around decent bag with plenty of pockets for all your stuff including an small laptop or tablet . Read on to learn more..

Specifications and Features
OXA Durable Military Vintage Canvas Shoulders Backpack Travel Bag School Bag Day Bag for Men and Women
-Imported
-Cotton lining
-Main material:95% High quality cotton canvas + 5% real Leather.
-Interior: Cell Phone Pocket, Interior Zipper Pocket; credential pocket, iPad Sleeve.( fits up to 14″ Laptop, ipad/kindle. )
-Dedicated protective pocket with soft interior lining for iPad or Tablet, Adjustable shoulder strap for easy and comfortable carrying.
-Overall dimension: Approx. 11″L x 16.5″H x 6.3″ W / Capacity: 19L (Medium capacity)
-Highly protective, being able to be tightened, as well as having a very good close flap that locks in.
Features:
– Made of high quality cotton canvas and real leather zips, classic and fashionable.
– Thicken breathable strap design, comfortable to carry.
– Plenty capacity design, most of your daily necessities can be loaded.
– Scientific and reasonable compartments, makes your goods lay in the bag systematically.
– Specially equipped with laptop compartment, carry your tablet / laptop easily(13-14″)
– Convenient for hiking, traveling, shopping, school life etc.
Washing instructions:
– Washing with clean water with ordinary temperatures.
– DO NOT washing with hot water.
– Hang to dry.
– Washing separately to avoid staining.
Price: $35.99 (from Amazon at time of review)
The Review
Let's start with a video tour and then move on:
The bag ships in a plastic bag which is fine as it's not fragile or anything.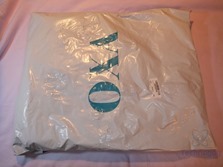 The bag is done in a vintage style which they call military and yes it sort of resembles that style, military I mean. The bag is made of cotton canvas with leather accents like the zipper pulls and straps. I measured that bag and it's about 16" x 13" x7" at it's widest point at the bottom.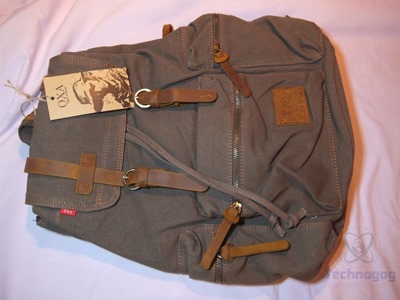 On the front is zippered pocket  that's about 7 inches by 8 inches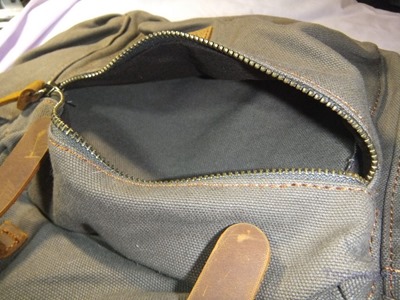 On the right and left sides you'll find zippered pockets which should be able to fit a small water bottle. The pockets are about 7 inches by 5 inches in size.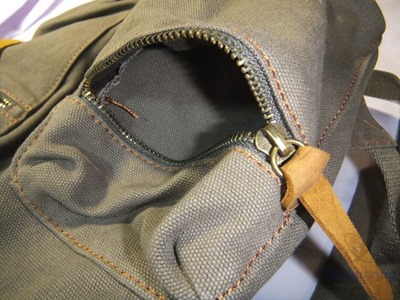 The top flap is held closed with leather straps and magnetic buttons but under the flap is a drawstring as well to make sure all of your stuff stays in the bag.
When you open the bag you'll find the main pocket of course but on the top on the front side of the bag is a set of more pockets. There's a larger pocket secured by velcro which is about 8 inches by 7 inches. On the front of that pocket is a zippered pocket about the same size and then there are two smaller pockets on the front of that. They are the same dimension just divided in half.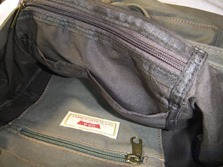 On the back side of the inside of the pack is another pocket with is actually a flap that is over top of the tablet or laptop section. The section is padded lightly and it's held closed by an elastic velcro strap. The pocket is about 10.5 inches by 10.5 inches in size.
On the back you'll find the shoulder straps of course that are lightly padded and there's also a small handle at the top of the bag.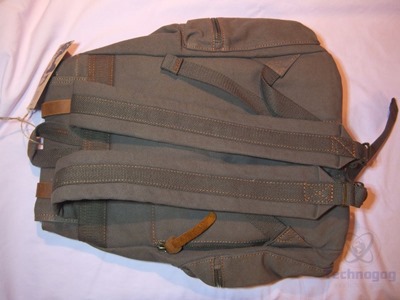 On the back is a smaller zippered pocket that should fit a cellphone at about 7.5 inches by 3.5 inches in dimensions. The straps have metal fasteners on them unlike plastic that you'll find on most other bags.
Conclusion
The OXA canvas backpack is a great product in my opinion, I like it a lot, I love the looks of it and it's very well made.
This backpack has plenty of pockets for all your stuff and it would great for school, work or play. The bag might be considered small by some but I think it's just right for light travel days or a day pack as it were.
The bag has nice heavy duty zippers and leather zipper pulls which are not only functional but durable.
This is a good bag really, I'm surprised by how inexpensive it is.
Pros:
+Inexpensive
+Looks great
+Plenty of pockets
+Well made
Cons:
-None that I could find
| | |
| --- | --- |
| Grading | Scores Out of 10 |
| Overall | |
| Design / Aesthetic | |
| Value / Price | |
| Performance / Usage | |

Disclosure: This product was given to us for review by the company for review purposes only, and is not considered by us as payment for the review.
To learn more about our review policy please visit this page HERE.