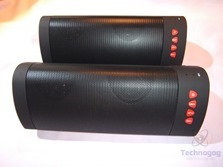 Today for review I've got another Bluetooth speaker, well actually two that work together to make real stereo sound. They're from a company called iDeaUSA and they've got a funky name, the Taco Dual, despite the name though they're a excellent set of speakers overall and they work well. These speakers can get extra loud and they still stay clear sounding and they sound great as well with a nice balance of bass and treble. The speakers are Bluetooth 4.0
with Apt-X and they have a built-in microphone along with NFC to make pairing easier. Read on to learn more…
Specifications and Features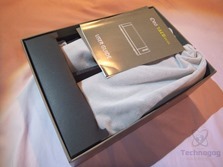 Once you get everything unpacked you'll find a lot of stuff included in the box. You'll get the two speakers, two rubber non-slip mats, two cloth carrying bags, two audio cables, two USB cable and the user guide.
The speakers are mostly black in color with red accents. The speakers have metal grill covers over them for protection and they feel very well made overall. They're about 7 inches long and 3 inches wide at the base and about 2.5 inches tall and they're triangular in shape.
On the right side of each speaker you'll see red buttons for control of power, skip tracks, volume and play and pause. On the tops of each speaker is a microphone and then on the backs you'll see a rubber cover over the top of the audio and USB ports.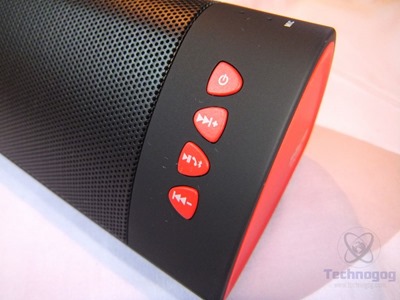 Both the right and left sides are red in color and have the Taco Dual name on them, on the left sides of each of them you'll see the NFC logo as that's where you would connect via NFC.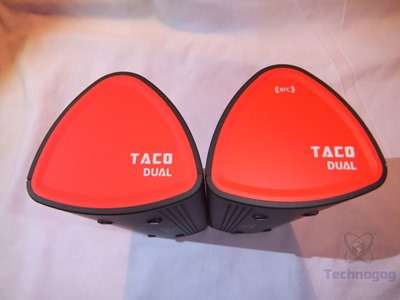 On the bottom you'll find ventilation holes along with four rubber non-slip feet.
For testing I used the Taco Dual speakers with my PS Vita for gaming, Samsung Galaxy S6 Android phone for music and my Android tablet for movies on Netflix.
To use the speakers you'll need to pair them together first which involves pushing the power buttons at the same time and waiting for them to tell you they're connected, yes they talk and let you know the status. The whole process takes maybe a minute and then you're ready to pair them with your devices. The controls worked fine for the Android devices, I could play/pause, skip and change volume, actually the volume controls are for the speakers themselves.
I paired them to my devices over Bluetooth with no issues but I did have a problem with NFC and a Galaxy S6 but to me that's not a big issue as I really never used NFC at all, I normally have it turned off and just use the regular Bluetooth connections.
Once I started using them I found they can get very loud, I mean amazingly loud I was kind of shocked and even at high volumes they were very clear. They're excellent for gaming with my PS Vita, it made for a truly immersive experience. I primarily used them with Netflix on the tablet and it worked great, no problems, much, much better than the built-in single speaker that the tablet has. On my phone I played music, numerous types and they all sound excellent. There's plenty of bass and treble in them, they have a nice full sound to them, in fact I think it's a nice balance of bass and treble, not too much of either really, just the right amount.
I did run across a small issue that only happened a few times though, the right speaker would lose the connection for a few seconds just randomly. I'm not sure why this happened, but after using them for while it didn't happen anymore.
Conclusion
So these speakers with the funky name Taco Dual sound very good, with a nice balance of treble and bass and an extremely high volume level. The speakers are well made and a bit big but they even come with a nice pair of carrying bags.
I love the fact that they offer real stereo sound that you can adjust by just moving them around, something you can't do with a single stereo speaker.
The speakers pair easily to each other and thanks to the voice prompts you'll know when they're done and ready to be used. The speakers have a great range as they do use Bluetooth 4.0.
I'm not sure what was going on with the right speaker just randomly losing connection, but it fixed itself it seemed.
NFC not working correctly might be an issue for some people but to me it just doesn't matter.
I like these speakers a lot, sound is excellent and they can get very loud, just wish they had a different name….
Pros:
+Very loud and clear
+Numerous uses
+Excellent sounding
+Well made
+Carrying cases included
Cons:
-Loses connection sometimes randomly
-Issues with NFC connection
| | |
| --- | --- |
| Grading | Scores Out of 10 |
| Overall | |
| Design / Aesthetic | |
| Value / Price | |
| Performance / Usage | |
Disclosure: This product was given to us for review by the company for review purposes only, and is not considered by us as payment for the review.
To learn more about our review policy please visit this page HERE.