It's shopped! We've all heard that expression, it means something has been altered. It's usually a photograph that's been doctored trying to make something funny, but it can be a professional job like a magazine cover. We've seen good and bad shops, some are so bad they're funny, and some are so good you can't even tell. I've been using a computer for many years and I've ever used Photoshop, believe it or not. I've used many other programs for editing photos and for what I do they work fine for my needs, but there are times when I wish I could do more. Adobe Photoshop is the premiere choice for photo editing of course, it's where the term 'shop' came from. Today I have a quick review of the new version of Adobe Photoshop Elements 9 & Premiere Elements 9. Photoshop Elements is basically Photoshop while Premiere Elements is a video editing and creation suite of software.

The software comes in a box that opens up  into panels to explain more. Inside you'll find a lot of documentation and the software discs themselves of course.
Specifications:
ADOBE PHOTOSHOP ELEMENTS 9 & ADOBE PREMIERE ELEMENTS 9
The #1 selling photo- and video-editing software
Great value! Adobe® Photoshop Elements 9 & Adobe Premiere Elements 9 software delivers powerful options that make it easy to use photos and videos together and share in entertaining ways. Now enjoy a complete solution for photos and videos whether you use Windows or Mac OS.
Adobe Photoshop Elements 9 & Adobe Premiere Elements 9 Plus includes the award-winning software, 20GB of online storage, and much more.
Features:
Instantly unclutter or repair photos
Is your photo cluttered with telephone wires, tourists, or passing cars? Make unwanted elements vanish with one stroke of the enhanced Spot Healing Brush, which beautifully blends even the most complex background. Also, instantly fix old or torn photos so you can make new prints.
Easily match a favorite photo style
Want to imitate a favorite photography style, like a dramatic high contrast or a beautiful color tone? Photomerge Style Match analyzes the stylistic qualities of any photo you choose and then automatically applies those qualities to another photo.
Create stunning photo effects
Easily create stunning effects that enhance your photos with professional style. New Guided Edits help you create pop art masterpieces, reflection effects, LOMO camera style photography looks, and more.
Create the way you want
Use flexible themed layouts to create photo books, disc covers, and more. Choose your level of control with Basic to Advanced design modes, and get the right look by accessing every photo-editing option from within your layouts. Print your creations with your home printer.
Share movies in an exciting new way on the web
Debut your movie with a convenient, interactive web DVD viewing experience. Easily share your movie — complete with a scene index and chapter menus — on Photoshop.com or your own website.
Jazz up the action
Give your movie an eye-catching cartoon look. Choose from a variety of animation styles, and customize as you wish.
Easily fix audio problems
Easily reduce background noise and fix problems with audio volume and clarity so your movie has high-quality sound from start to finish.
Easily import video from compact camcorders and more
Easily bring in video from compact camcorders like Flip cameras and DSLR still cameras.
Enjoy optimized HD editing
Experience fluid responsiveness and high performance when editing video, even HD.

So I installed the software, you have to install the separately of course.  It took a little over six minutes to install Photoshop and almost five to install Premiere Elements. Once everything was installed I ran opened them but I had to install the updated which took a few more minutes. So let's take a look at everything.
It does come with some extra stuff including 2gb of free storage. There is the option to upgrade to Plus as well.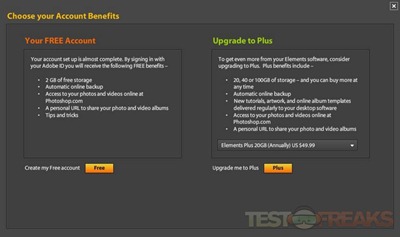 The first thing we'll take a quick look at is Premiere Elements 9
When you're creating a project you can change a plethora of setting for the videos, which is nice so you can configure everything to your needs exactly.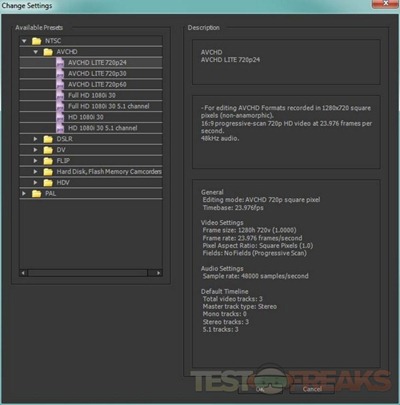 The interface is fairly basic honestly, but that's good as you can make a basic video quickly and easily. If you want though you can take advantage of al of the advanced features as well to make your video how you want it with special effects, and other editing.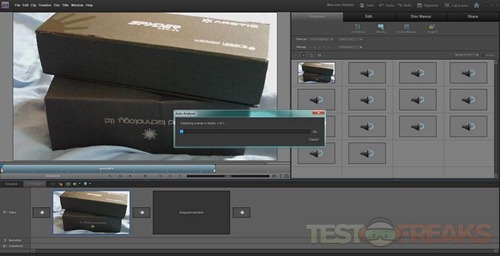 Here's all of the menus expanded to give you an idea of just what you can do:
Next up is Photoshop Elements 9, which I think needs no introduction, it's Photoshop after all and you can edit and do all sort of things to your photos. On the right side you'll find the tools, and then on the left side there's more for editing and special effects.
Here's the menus expanded for you to get a better look at all of the options again:
So as you can see, with both of these you can do plenty of thing to your videos and photos. There's just so much to cover here with this type of program.
Conclusion:
A review of this type of software can be a difficult thing really, there's just way to much to cover really from a beginning standpoint.  That's a good thing of course as with this software you can do pretty much anything you ever could possibly want to your photos and videos. You won't need different programs and since they're both from Adobe you know you're getting a truly quality product.
Had I already owned the previous version I could have compared the differences and just told you what changed, but I don't so I can't. In the time I've had this software installed I've been a bit overwhelmed by all fo the features an options of it honestly. There's a lot you can do with this software truly, and it can be a powerful set of tools in the right hands.
The best part of all of this though is that it's inexpensive for all that you get.
Pros:
+Powerful suite of photo and video editing software
+Very popular everywhere
+Includes 2 gig of storage
Cons:
-There's a lot to learn
-Can have a high learning curve
| | |
| --- | --- |
| Grades: | |
| Overall | |
| Design | |
| Performance | |
To learn more about our review policy please visit this page HERE.