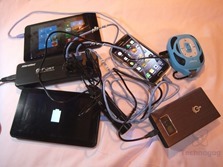 The more stuff I get the more I find I need somewhere to charge it all and most of it is USB but I find I don't have enough power outlets or USB ports to charge everything. Today for review I've got the Alaratec 6-Port USB Charging Stations for tablets and smartphones and anything else that can be charged via USB. The charging station works fine, it does what it's supposed to do, what more can you ask right? Read on to learn more…

Specifications and Features
Aleratec 6-Port USB Tablet Smartphone Charging Station – 11.6A/58W Desktop Rapid Smart Charger for iPad, iPhone, Note and Android Smartphones
-MULTIPLE DEVICE CHARGING: Quickly charges battery up to four iOS/Android tablets and two iPhone/Android smartphones at once
-SMART TECHNOLOGY CHARGER: Includes Auto Detect/Smart Charging for maximum charging efficiency
-POWERFUL TABLET/SMARTPHONE CHARGER: 6-Port 11.6A/58W Desktop Rapid Smart Charger
-PORTABLE TRAVEL CHARGER: Slim, portable design makes it ideal for travel and for charging devices at airports. Labeled USB Charging ports: four 2.4A for charging tablets and two 1A for charging cellphones provide optimum amperages for each connected device
-SAFE CHARGER: ETL Certified
If you're tired of hunting down outlets to charge multiple USB-charged devices, Aleratec's 58 Watt 6-Port Desktop Rapid Smart Charger will be your go-to charging station and puts an end to the battle over wall sockets. Compatible with both Apple and Android devices, this portable, 58W charger includes six labeled USB ports that charge independently and deliver rapid and simultaneous charging of up to six devices. Four 2.4 amp ports are designated for your iPad, Kindle or other tablet and two 1A ports are for less power hungry iPhones or Android smartphones. The ideal travel companion, especially at outlet starved airports, Aleratec's 6-Port Desktop Rapid Smart charger Smart Charging/Auto Detect technology detects the type of device that is connected to the charging station and provides the right specification to that device. Aleratec's 58 Watt 6-Port Desktop Rapid Smart Charger is designed for the rigors of the road but is also perfect for homes or offices where it takes up very little space on a desk or nightstand and is a far better solution than a power strip crammed with adapters and cords. This portable charging station is also ETL Certified and meets the requirements of U.S product safety standards.
Technical Specs:
-Input: AC 100-240V
-Output: 5V 1A x2 / 5V 2.4A x4 Total 58W 11.6A
-Product Dimension: 7.75 in(19.68 cm) 2.50 in(6.35 cm) x 1.00 in(2.54 cm)
Price: $49.99 (from Amazon at time of review)
The Review
Let's start off with a video unboxing and then move on from there::
The Alaratec Charging Station comes in a brown box with a label on it and inside you'll find the charging station wrapped in bubble wrap for protection.
Once you unpack everything you'll only find the charging station and a power cord, no instructions but none are really needed. The charging station has dimensions of 7.75 in(19.68 cm) 2.50 in(6.35 cm) x 1.00 in(2.54 cm) so it's not exactly tiny, but it's small enough to just toss in your bag really. It's made or black plastic and it looks fine, it seems well made.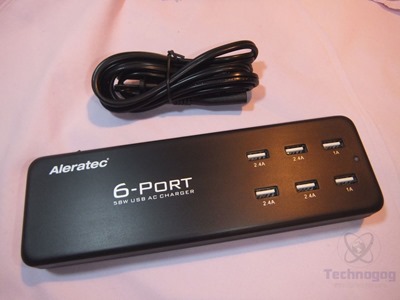 The charging station has six USB ports, two are labeled 1a and four are labeled 2.4a. The 1a ones are for smaller devices like cellphones and the 2.4a ports are for tablets and such. Off to the right of the UBS ports is a single LED that lights up green when there is power to the USB ports indicating it's ready to charge your stuff.
On the top edge is the power switch, it's a rocker style and I'm happy to see a power switch included on this product because I've come to find that not many USB chargers like this have a dedicated power switch, not sure why that is. On the left edge is the power connection for the included power cord.
On the bottom you'll find the ID label along with holes for mounting the charging station to keep it where you want it. The only problem there is that they didn't included any mounting hardware with it so you'll have to figure out what size you need etc.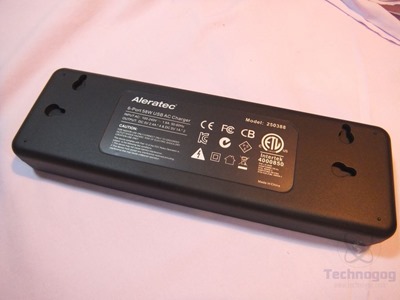 For testing the Alaratec charging station I charged a bunch of things like a Windows tablet, an Android tablet, my Galaxy S6, portable speaker, flashlight and a portable battery.
Conclusion
There's really not much to the Alaratec Charging Station, it is is what it is and it does what it's supposed to do, it charges your devices and gadgets via the USB ports. No problems at all for me, it worked fine, charging speed seemed the same as if I was charging them via a regular USB AC adapter.
Overall it seems well made, it's fine for what it is.
You can mount it on your desk or on a wall or where ever thanks to the mounting holes on the bottom but sadly they didn't included any hardware so you'll have to supply your own. Other than that, there's no issues with it.
Pros:
+Well made
+Fast charging
+Power switch
+Can be mounted
Cons:
-Can be mounted but no hardware included
| | |
| --- | --- |
| Grading | Scores Out of 10 |
| Overall | |
| Design / Aesthetic | |
| Value / Price | |
| Performance / Usage | |

Disclosure: This product was given to us for review by the company for review purposes only, and is not considered by us as payment for the review.
To learn more about our review policy please visit this page HERE.