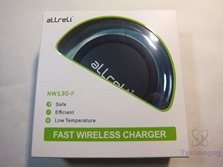 Wireless charging has been around for while and it's really convenient for sure. I have the Samsung Galaxy S6 and it's Qi charging enabled and I've never bothered with wireless charging because I didn't like the idea of having to keep taking the case off of my phone all the time to charge wirelessly but aLLreLi sent me their latest Qi wireless charging pad for review and I'm happy to say that it let's me charge wirelessly without taking the case off of my phone,which is just great in my opinion. The charging pad itself looks very nice, and it's simple to use I've found it seems to charge my phone faster that over USB. Read on to learn more…
Specifications and Features
Fast Wireless Charger, aLLreLi Quick Charge 3.0 Qi Wireless Charging Pad for Galaxy S7, Galaxy S7 edge, Note 5, S6 Edge+ and All Qi-Enabled Devices
It's possible to recharge smartphones and tablets by wireless with Qi receiver technology; however, most chargers just aren't capable of powering Qi-enabled devices quickly.
With its state-of-the-art highly efficient driver, the aLLreLi Fast Wireless Charger speeds up wireless charging, working 1.4 times faster than standard wireless charging pads. Our wireless charger is compatible with a variety of mobile devices, including the:
– Samsung Galaxy S7 & S7 Edge
– Samsung Galaxy S6, Galaxy S6 Edge & Galaxy S6 Edge Plus
– Samsung Galaxy Note 5
– LG G4
– Nexus 6
– Moto Droid Turbo
– Nexus 5/7(2013)/4
– Nokia Lumia 1020/920/928
– MOTO Droid Maxx/Droid Mini
– Any other Qi-enabled phone or tablet
The aLLreLi Fast Wireless Charger provides two modes of operation–a fast mode for compatible phones like the Samsung Galaxy S7 / S7 Edge, Note 5, S6 Edge Plus and a Standard Mode for other devices. Green and white LED lights let you know which mode you're charging in, and the light shuts off automatically after 10 seconds to help keep your room nice and dark at night.
Designed with the latest technologies, the aLLreLi Fast Wireless Charger protects your cell phone or table throughout use with over and under voltage protection and short circuit protection. Simple to use, the compact charger is ideal for use at home and while you're traveling and when used with the QC 2.0 / 3.0 or Samsung original adapter and cable, it can reduce charge times by up to 50 minutes!
Price: $18.99 (from Amazon at time of review)
The Review
Let's start with a video unboxing and then move on:
The charger ships wrapped in a plastic cover with the identification label on it. When you unwrap it you'll see part of the charger through the window on the box and then the back of the box has technical information for you and other information about the QI charger.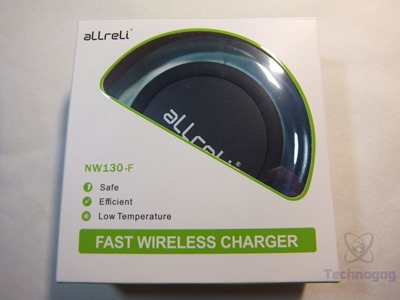 Inside of the box you'll find the charger in a clear plastic tray for protection during shipping. Once everything in unpacked you'll find the Qi pad, micro USB cable and user guide. The USB cable is nice and long at about 48 inches so you should be able to position the pad anywhere you need to and still provide power to it.
The first thing I have to say is that I love the looks of this charging pad, I have a thing for transparent objects and most of this pad is transparent, or at least a large section of it is. The pad is about four inches in diameter and it's very lightweight but yet feel sturdy and well made. On the front of the pad is the aLLreLi logo and around that is a rubber non-slip ring to make sure your phone stays in place while charging. The bottom of the pad has the logo again with some technical information and then another rubber non-slip ring to keep the pad in place on your desk. Towards the bottom of the pad is a chrome colored section and at the very end of that is the micro USB port for power.
I have the Samsung Galaxy S6 which is Qi charging enabled so I used that for testing. I've very happy to report that I could charge wirelessly with my OtterBox Commuter case still on the phone. From what I've read about wireless charging you usually need to remove the case and I wasn't to sure about having to do that all the time when I wanted to charge my phone, but with the Allreli Qi charging pad I can leave the case on. The Galaxy S6 isn't fast charging enabled but I can say that the phone seemed to charge faster than it did over USB. I normally charge my phone via a USB cable connected to my computer so I can charge and sync, it just makes things easier for me. Anyway, I placed the phone on the pad and the LEDs light up green but then they do turn off after a few seconds, the phone also has a neat animation on it as well and there's also text letting you know the phone is charging wirelessly along with the percentage and approximately how long remaining.
Conclusion
I'm very happy with the aLLerLi Qi Wireless Charging Pad, it looks great and it works perfectly and the best part is that I don't have to take my phone out of the case to charge it wirelessly.
The LEDs come on to indicate charging but they do go off after about ten seconds or so so they won't bother you while you're sleeping.
One small issue is that they do not include a USB AC power adapter so you'll need to provide your own but that's not that big of an issue as most every phone comes with one anyway.

Pros:
+Looks very nice
+Seems well made overall
+Can charge wirelessly with case still on phone
+Very simple to use
+Faster charging than over USB
Cons:
-None that I could find
| | |
| --- | --- |
| Grading | Scores Out of 10 |
| Overall | |
| Design / Aesthetic | |
| Value / Price | |
| Performance / Usage | |
Disclosure: This product was given to me for review by the company for review purposes only for free or at a discounted price.
To learn more about our review policy please visit this page HERE.