Multiple monitor setups are great for multitasking and improving productivity. I have been using a dual monitor setup for several years and definitely prefer it over the single monitor configuration. Running this type of setup with a desktop is simple while replicating it with a laptop can be a little more complicated.
With the introduction of USB monitors using DisplayLink technology, adding a portable external monitor such as today's review item is as simple as plugging in a thumb drive. AOC's previous USB based monitor the e1649Fwu used USB 2.0 for the connection, while today's review model the e1659Fwu USB Monitor uses the faster USB 3.0 connection. This connection theoretically will provide higher quality images through the higher bandwidth of the faster USB format.
Unboxing
The e1659Fwu USB Monitor arrives in a white cardboard package with the monitor shown connected to a laptop, along with its two viewing orientations and features printed on the bottom. The back has additional diagrams demonstrating its multiple USB monitor capability and the ability to connect to a laptop and desktop.
Inside the package we find the USB monitor, a USB 3.0 cable that divides into USB 2.0 and USB 3.0 connectors at the opposite end, a carrying sleeve and a CD with the user guide and Windows monitor drivers.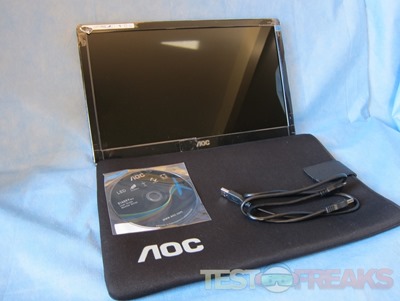 The monitor comes in piano black and has a 1 cm bezel around the top and sides and a 2 cm bezel at the bottom of the screen. The AOC logo is seen in the center of this bottom bezel. It measures 14.5" x 9.0" x 0.9" and weighs 2.4 lbs. As you can see in the pictures due to the piano black finish the bezel and back of the monitor are very fingerprint and dust prone.
There are no physical buttons or controls on the monitor itself as the settings are software controlled.
The viewable screen size is 15.6 inches with a 16:9 aspect ratio. The optimal resolution of the monitor is 1366 x 768 at 60 Hz and has a contrast ratio of 500:1 with a 5 ms response time.
On the back is a retractable silver stand that allows the monitor to be put in landscape or portrait orientations. In the center of the stand area is the input for the USB 3.0 cable. Around this stand are four vesa mount holes.
The screen is glossy, so between that and the piano black finish you will encounter a lot of glare when dealing with background light sources.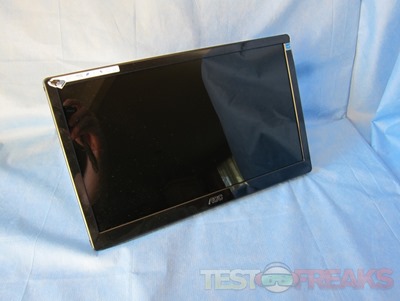 The included neoprene sleeve is a nice addition since carrying around the exposed monitor is a risky proposition as screen scratches would be hard to avoid.