Almost one year ago now I reviewed the DarbeeVision Darblet HDMI Video Processor and I thought it was a great device but one of my chief complaints was and still is that it's rather ugly and apparently a company called Salt Labs agrees with me on this as they've sent me of the Halite Video Purifier based on the Darblet. The device is virtually the same as the Darblet but it just looks a whole lot better now. The Halite essentially reprocesses your video, any video, movies, games or TV and add further depth cues to it for enhanced depth and realism, and I found that it can make everything just look better overall. The Halite can improve video quality on lower resolution videos and one of the things I love about it is that it can bring things in the background more into focus. The Halite isn't only for videos, but it does have a gaming mode so it can even enhance your gaming experience. Read on to learn more…
Unboxing
The box for the Halite is kind of plain, it's essentially a white box with a red sleeve over it with pictures of the Halite and information about it.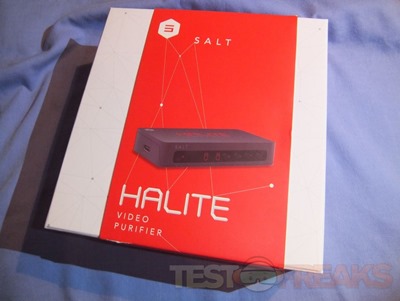 When you open the box you'll be greeted with the quick start guide.
Under the quick start guide you'll find the Halite, remote and HDMI cable in their own compartments in a plastic tray.
Here's everything unpacked for you, under the tray you'll find a small white box which has the power supply in it.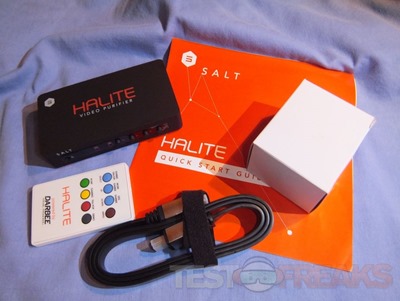 The power supply is small and it has a retractable or folding power plug on it.
The remote is what is what I refer to as the credit card style, it's small and thin and has the pop style buttons on it.
On the remote you'll find either buttons. The top row of buttons is for the Halite on and off and Selection for menus, the second button is for more enhancement and for navigation up, the third button is for less and navigation down and the last button is for accessing the menu. The bottom row of buttons allows you to instantly access the modes for HiDef, Gaming and Full Pop, while the last button is for the demo mode on and off.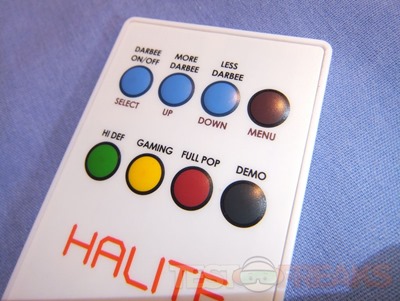 Salt Labs also includes a three foot long flat style HDMI cable that also Ethernet capabilities built-in.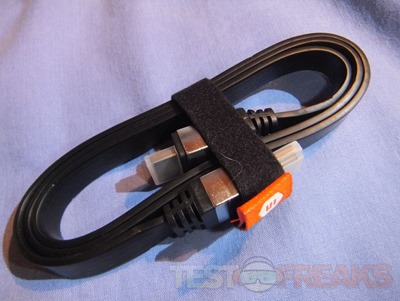 The Halite is a small box really, rectangular in shape with a flat black coloring to most it and the Halite log on the top.  It's made a plastic so it's lightweight and it's dimensions are 65mm x 126mm x 22mm or about 2.5" x 5" x 1", so it's small obviously.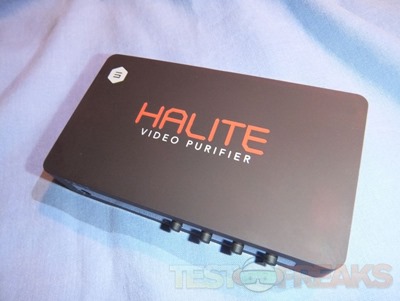 On the front you'll find the Salt logo along with an infrared input port, two LEDs and four buttons for navigating the menus and using the Halite.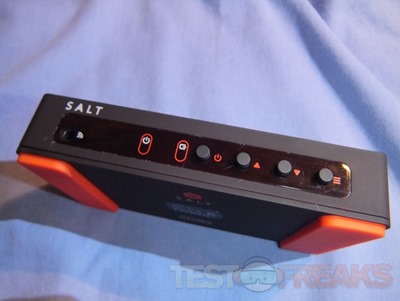 On the right left side you'll find and HDMI connection and the power port, while the right side has a single HDMI output connection.
The bottom has the Salt Labs logo again and the Darbee logo along with two large rubberized non-slip feet.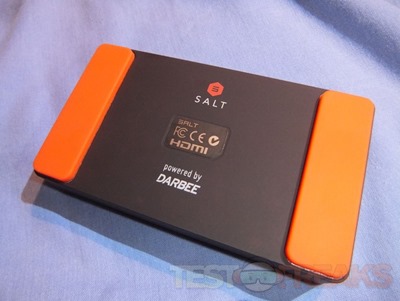 The Halite is plastic, it's small and for what it is it seems well made.