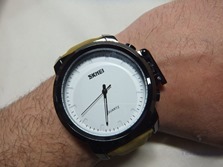 Up for review today I've got another watch, this one is unique and I like the looks of it very much. The watch has a yellow colored leather band and the watch itself is black and white in color. The watch is another from Aposon and it seems very well made overall, it's heavy and it's waterproof up to 30 meters or about 100 feet. Read on to learn more….
Specifications and Features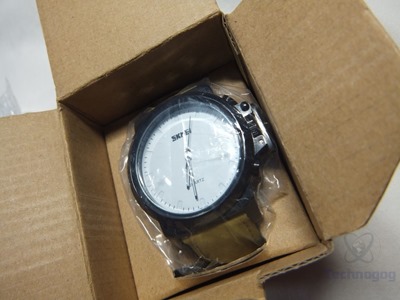 The watch face is white with black hands, hour, minute and second but the hour and minute hands do have a white section in them that will glow in the dark. There are no numbers on the watch, just white blocks basically but there are minute marks in the form of thin black lines. This watch does have a fairly basic look to it, but yet it's somehow elegant, it's just very nice looking in my opinion.
The side of the watch does have two what look like buttons but they're fake sadly. The watch has a unique feature that I've never seen before though, it has a lock over the winder. The lock is basically a bar that goes across it and locks into place to stop from accidentally hitting it and changing the time. I've never accidentally changed the time on a watch before so I'm not sure if it's actually worth having but it's certainly different.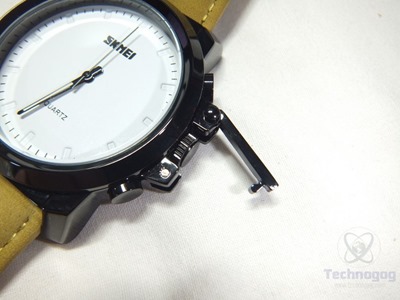 When I first opened the box I noticed the familiar smell of leather as the band is made of leather but it's yellow in color and the top is more like a suede material. The band does have a buckle style clasp with two loops to secure the band on your wrist. The band is soft leather and comfortable to wear.
The bottom is stainless steel with the Skmei logo along with markings that it's water proof up to 30 meters or about 98 feet. The battery code is also listed so you know what to buy.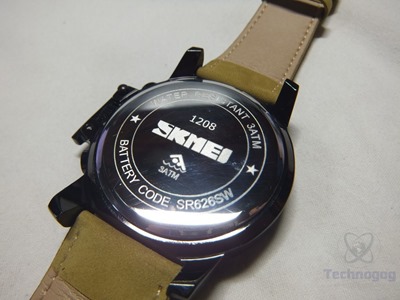 I set the watch to match my computer and it's kept good time for the last two weeks so that's a good thing right?
Conclusion
This watch is very inexpensive at only $14.99, it seems like it should cost quite a bit more really.
The watch is very well made overall, and it seems to keep decent time.
I don't like the idea that there is no date on the watch, but I can live without it, but I really don't like the fake buttons on the side, they're pointless and just useless.
Pros:
+Very unique looking
+Seems well made overall
+Soft and comfortable watch band
+Inexpensive
Cons:
-No calendar
| | |
| --- | --- |
| Grading | Scores Out of 10 |
| Overall | |
| Design / Aesthetic | |
| Value / Price | |
| Performance / Usage | |
Disclosure: This product was given to me for review by the company for review purposes only for free or at a discounted price.
To learn more about our review policy please visit this page HERE.