When I was young I remember actually going to the arcade where they had full sized arcade machines for you to play. These days they don't exist anymore, except for limited places like Dave and Busters, and that's really only for adults considering how much alcohol is consumed there. That's here in the United States of course, I know in other countries arcades are still popular and going strong. For children there really aren't arcades anymore and there really isn't a need for them considering we have consoles in our homes and portable gaming everywhere which is a lot cheaper than pumping quarters into machines for hours per day. Today for review I've got something that will help bring back that arcade feel, at least in small scale. The product is the Arcadie Retro Gaming Console that can be used with your iPod Touch or iPhone turning it into basically an arcade machine. I've been playing with it for quite a while and thoroughly enjoying myself while doing it. So read on to learn more about it..
Ok, so normally we start off with some nice box shots. I'm only going to show you one so you get a very general idea of what the box looks like. It got a bit beat up while traveling across the ocean to me, but the Arcadie itself came out unscathed thankfully.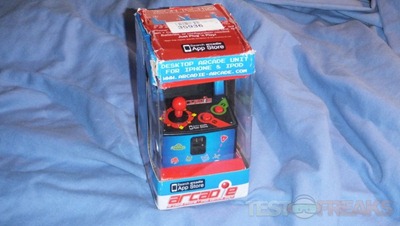 Inside the box you won't much, the Arcadie and a plastic bag with instructions and rubber feet for the Arcadie.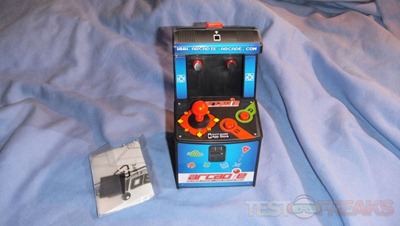 So here is the Arcadie, yes it looks like an actual arcade machine and it's supposed to. It's all plastic as you'd expect but it seems well made for what it is.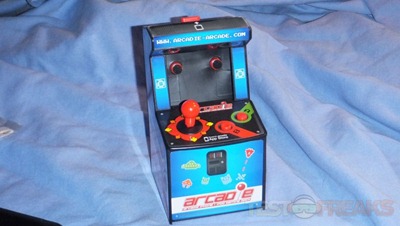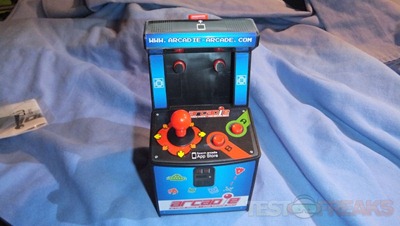 The control panel of the Arcadie has two buttons labeled A and B and of course a Joystick.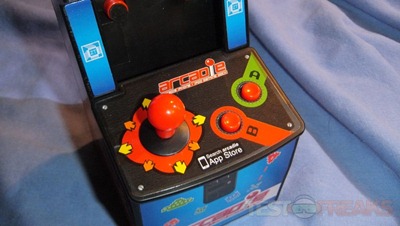 Here's the right and left side views: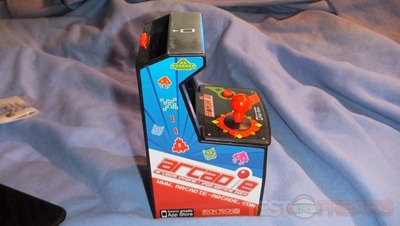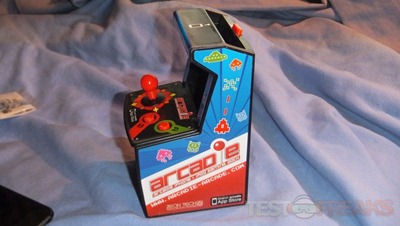 Then here's the back which has basic instructions on it.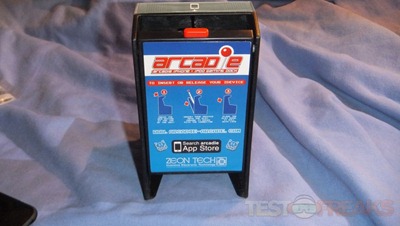 Your iPod or iPhone goes into the back of the Arcadie and inside are spring loaded mounts with pieces of rubber on them to protect and hold your iDevice in place.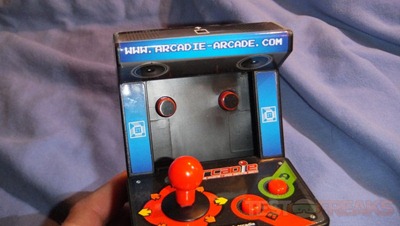 Here's a top view showing the space for your iDevice, there's a red button there that unlocks the back.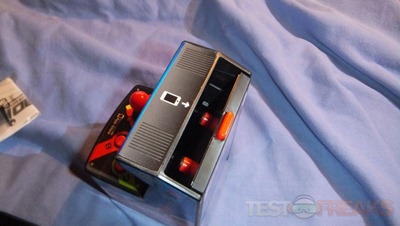 When you push the button you can open the back of the Arcadie.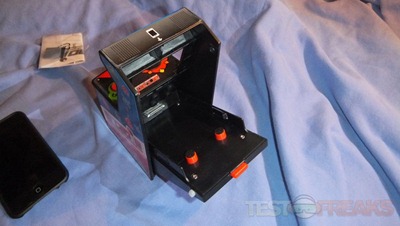 All the way down inside of the Arcadie you'll see six rubber nubs, these actually touch your iDevice and transfer your button presses and joystick movements to the device. All the way at the bottom of the back piece is also a dock connector, it's not live it just helps to hold your device in place and have it lined up correctly.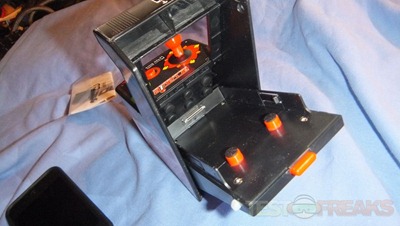 Before I got started playing with it I needed to put the feet on, they're just rubber feet with adhesive on them and they just stick in place.
Specifications: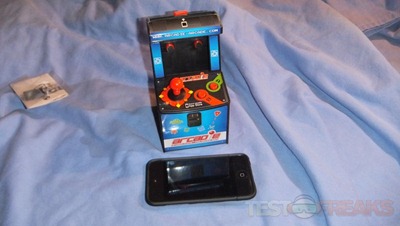 Before you actually start using the Arcadie you'll need to go to iTunes and download the available games. There are only three but they're free.
Putting your iDevice in is easy, just open the back and slide it in.
Then just close it up and that's it.
Before you play any games you'll need to calibrate the Arcadie, you'll have to do this pretty much every time, but it only take a few seconds. Calibration involves starting the game and then tapping the screen, closing the Arcadie and letting it do its work.
At the present time there are only three games available for the Arcadie, Blasteroids or Asteroids, Alien Invaders or Space Invaders and Ping which is Pong.
So here's Blasteroids, at the beginning of each game you'll see what the buttons are for and title screens.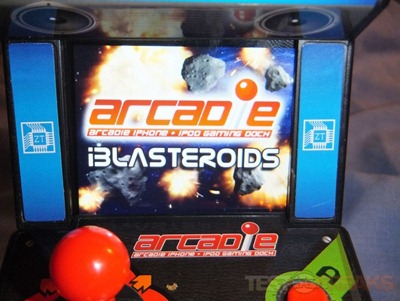 The game is very similar to Asteroid with highly upgraded graphics from the original version.
The next game I played was Alien Invaders, the graphics are nicely upgraded here as well.
Yes it's just like Space invaders you move your little base or ship left and right and fire at the invading aliens. Simple and fun.
The last game is Ping and it's rather boring really, just bouncing a ball back and forth and it pretty much looks like the original.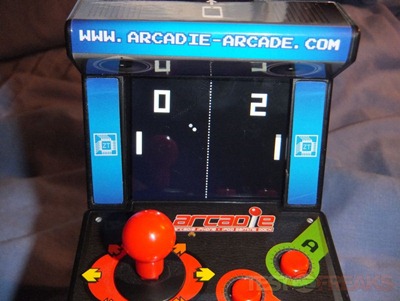 I thought I would also try using the Arcadie with my iPod Touch with the case on and it fit just fine. I have the Hard Candy Bubble Shell case on my iPod Touch which is thin but sturdy.
So using the Arcadie is lots of fun and it does work. I found the first couple time I used it the buttons and joystick weren't quite working correctly so I think it didn't calibrate right. After trying it many more times it started working exactly as expected with no lag or anything, movements and button presses translated exactly as I moved or pressed them.
The Arcadie is a great little gadget but sadly it's very limited as to what games are available for it.  If you visit the main product page,
Conclusion:
I love gadgets and this is one that I can really have some fun with. It's a gadget and it's gaming. The Arcadie works as it should, it let's you place retro games on your iDevice while it's inside of a retro styled small arcade gaming machine. It let's you use an actual joystick and buttons to play games. What more could you ask for.
The price is only $25 and the games are free.
Sadly only three games are out now, but supposedly more are coming so I await them with eager anticipation!
If you're looking for some fun retro style gaming then get one of these.
My kids have seen arcade machines and they think they're great, but now they can play them at home to take them on the go. The Arcadie really let's you just have more fun with your iDevice.
Pros:
+Works great
+Brings back memories
+Games are free
+Can work with case on device
+Well made overall
Cons:
-Not many games available yet
| | |
| --- | --- |
| Grades: |   |
| Overall | |
| Design | |
| Performance | |
To learn more about our review policy please visit this page HERE.