Up for review today I've got a monitor from our friends at Geeks.com, but it's not just any monitor this is an IPS monitor! If you don't know anything about monitors, then let me tell you that IPS is a very good thing when it comes to LCD displays. The monitor I have for review is the LG IPS236V which is a 23" sized monitor that has HDMI, DVI and VGA inputs on it so you've got connection choices. This monitor provides excellent color reproduction and extreme viewing angles with little to no distortion. It's a great monitor for everything you do, no matter if it's gaming, watching HD movies or just browsing the web, things will most certainly look better on the LG IPS236V!

Starting with the box of course , it's colorful and nice looking.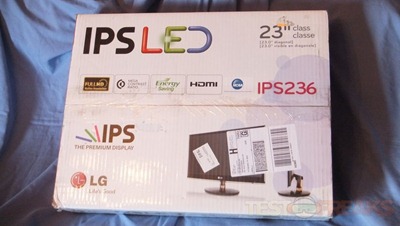 When you open it up you'll find the accessories in a styrofoam foam tray that's also used to protect the LCD display underneath.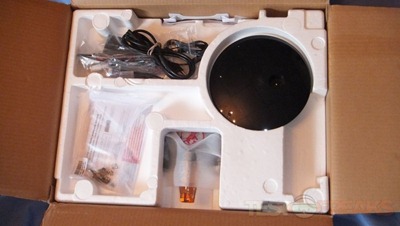 Here's everything unpacked for you: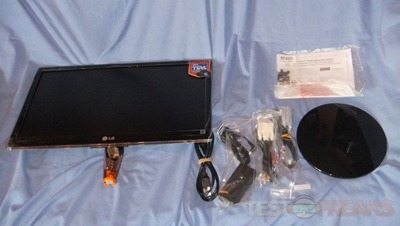 Included with the monitor are both DVI and VGA cables, but no HDMI.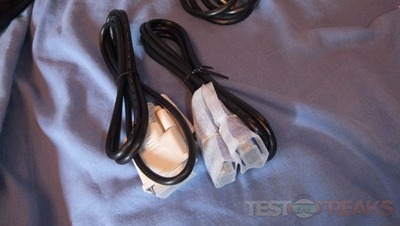 The LG IPS236V monitor is thin and lightweight and this is due to the fact that the power supply is on the outside so included is a power brick to power the monitor.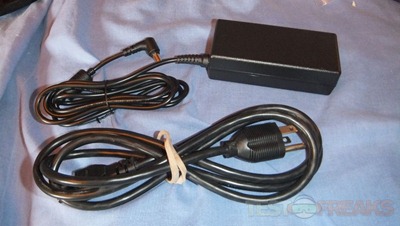 In the plastic bag you'll find a basic user manual, driver/software CD and mounting screws.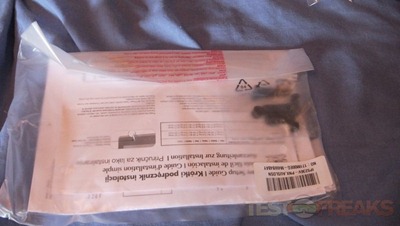 The base is rather large and sort of round, it's a black glossy plastic.
Then here's the monitor itself. It has a shiny black glossy frame around the edges and seems nicely made overall.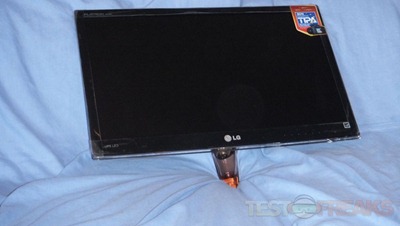 In the bottom right corner you'll see the menu, which isn't really a menu at all as it's not labeled until you power it on. They aren't buttons, they're touch sensitive and when you touch them choices appear on screen. Below the power buton is a ribbon like design which has the very bright blue LED in it to indicate power.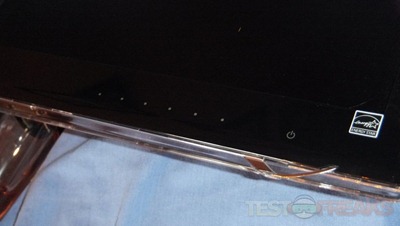 The back of the LCD is black and glossy as well.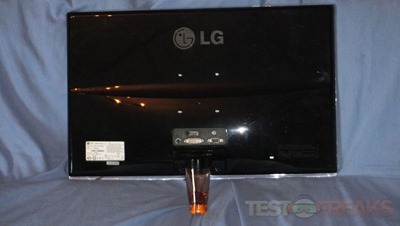 On the back you'll find connections for HDMI, DVI, Power, VGA and a headphones jack but the monitor doesn't have speakers in it. The idea od the headphone jack is that you can listen to the audio that would be coming over the HDMI connection. I'm not sure how useful that features is, but hey why not?!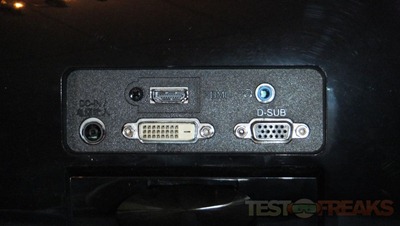 The back gives you a better view of the ugly brown stand. The monitor is nice looking but that stand just spoils the look of it.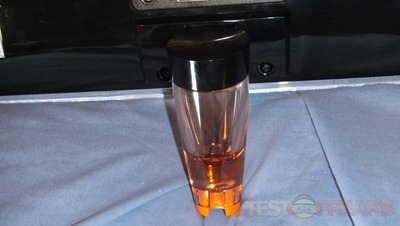 Specifications:

23″ LG IPS236V-PN DVI/HDMI Blu-ray 1080p Widescreen Ultra-Slim IPS LED LCD Monitor w/HDCP Support
With this 23-inch LG IPS236V-PN DVI/HDMI Blu-ray 1080p Widescreen Ultra-Slim LED IPS LCD Monitor, you've got the next generation of monitor technology!  The 23-inch screen features an IPS panel type that combines the best of LED and IPS display technologies in an ultra-slim design!  IPS technology gives you a better color reproduction and viewing angle than standard TN panels.
You can choose your display connection with D-SUB and DVI connectors, and play protected content with HDCP support! The IPS236V-PN also features an HDMI connector!  Upgrade your system with this monitor!
General Features:
23-inch widescreen LCD display

Black color
Ultra-slim design
LED Backlighting technology
23-inch widescreen LCD display
1920 x 1080 maximum resolution
16:9 aspect ratio
250 cd/m2 brightness
5,000,000:1 dynamic contrast ratio
5 ms response time
178º horizontal viewing angle
178º vertical viewing angle
16.7 million color support
60 Hz maximum refresh rate
Non-Glare screen treatment
IPS Panel Technology
Anti-glare, 3H panel surface
HDCP support
Security lock slot
Wall mountable (100 mm x 100 mm)
Connectors:
One (1) DVI-D port
One (1) HDMI port
One (1) D-Sub port
One (1) 3.5 mm Audio Jack
AC power Input
Power Specifications:
100 – 240V, 50/60Hz, 1.5A
Unit Dimensions:
With stand: 16.61 x 21.6 x 9.06-inches (H x W x D, approximate)
Without stand: 18.74 x 24.52 x 1.54-inches (H x W x D, approximate)
Package Includes:
23-inch LG IPS236V-PN Widescreen LED IPS LCD Monitor
VGA Cable
DVI Cable
Power Adapter (Input: 100-240V, 50/60Hz, 0.7A; Output: 12V === 2A)
Base/Stand
User Guide
Price: $134.99
Before I hooked it up to my computer I had to put the vase on as I wasn't wall mounting it.
I have to wonder why LG spoiled the whole black color scheme with a funky brown color for the stand on the base. Installation is simple, just push it down into the base and then secure it with the screw.
I hooked up the monitor via DVI and it was recognized and installed fine in Windows 7. I popped in the included disc which actually had drivers on it, along with the user manual and a program called EasySet which is supposed to help you change modes on the monitor.
The software installed fine and it run but it really didn't work. I have one video card hooked up to two LG monitors from Geeks.com actually so in the taskbar it shows show 1 and 2.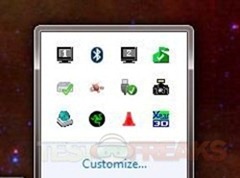 When you right click on the little monitor a menu pops up with many options but the majority were grayed out for me.
I'm not sure what the issue is with the software but doing a bit of Googling I found it's a common problem with many solutions, none of which worked for me so I couldn't use the software. I really wouldn't have used it anyway, so to me it doesn't matter much at all.
The front panel menu isn't buttons, it's a touch panel with little dots for where you're supposed to touch. It's nice, it's modern, but I prefer labels and actual buttons myself.
The first dot on the left is the main menu or Monitor Menu as it's labeled, touch it and up pops the menu of course with options for Menu, Smart+, Mode, Auto, Input and Exit. Auto let's the monitor auto adjust, Input let's you change the input and Exit is exit…
If you tap the Menu button another menu pops up with five choice, the first being basic adjustments for Brightness, Contrast and Sharpness with the Black Level grayed out for some reason.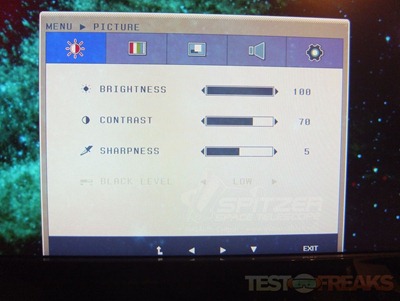 The next menu has more grayed out choices but you can change Color Temperature, Preset, Gamma and Color Reset.
The menu option would be pretty much nothing, everything is grayed out here.
The Next menu would be for Volume, but there are not speakers so there's no need for volume so it's grayed out as well.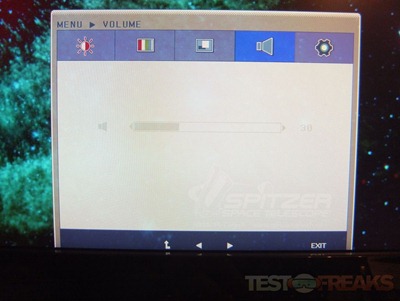 The last menu is for language, turn the LED power light on or off and to Factory Reset the settings of the monitor.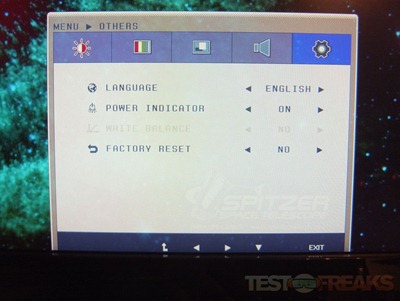 I should note that some of the Setting above are grayed out because I'm using a digital connection, if you're using analog you'll be able to adjust them.
So that was just the Menu menus for you. The next choice on the Monitor Menu is Smart+ with three choices, but apparently you can't access them unless the software works correctly ?! Not sure why it's like that at all, makes no sense to me.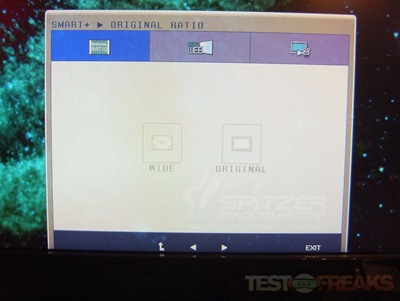 There are three more choices on the Monitor Menu, but only one of them actually does anything or gives you more choices and that's the Mode menu. Here you can manually change the presets of the monitor depending what you're doing and you've got choices for User, Movie, Text, Photo and SRGB.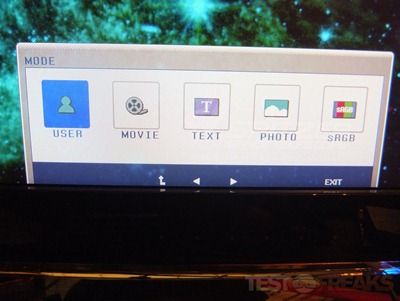 When I get a new monitor the color and other settings are usually pretty bad and I like to calibrate it so I got out my Spyder 3  Express and let it run.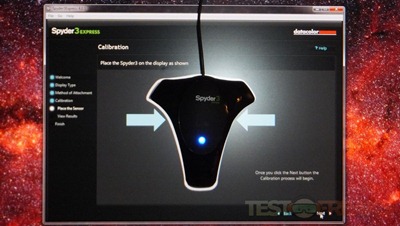 When I was finished I found it really didn't change much overall. The Spyder software let's you see before and after and you could barely tell the difference between them. I was quite a bit surprised by this as most monitors are in need of a lot of adjustments, but not this one.
I've had plenty of LCD monitors in my time, in fact right now I've got four on my desk, and actually have had this setup for a few years now I think. All of the computers in my house have LCDs as well, in total there are nine LCD monitors in my house, not including three LCD HDTVs, then I have a couple smaller one in the attic as well as spares. Anyway, in my times with LCDs I've never owned an IPS or In Plane Switching monitor. IPS supposedly offers the best performance, or at least it did, until Super IPS came out, but that's something else altogether. IPS allows for much better color reproduction, higher speeds, clearer images, stable response time and of course better viewing angles where colors are more consistent at most every viewing angle.
This was a monitor that I really wanted to start playing with, so I did.
I played many games, and I watched a lot of HD movies on Blu-ray and other HD like Netflix and Hulu and the picture is just gorgeous.
Obviously I take a lot of pictures and I found that color was excellent, when compared to my other monitors is was just amazing the overall difference.
The power supply on the LG IPS236V is external so the monitor itself is much lighter in weight and I noticed it doesn't give off as much heat either. These are both excellent points for this monitor I think.
I should note that since this is a refurbished monitor, I didn't expect it to be perfect, but it is. There are no dead pixels and there no backlight bleeding at all, it's perfect plain and simple.
I should also note the power LED on this monitor is a very bright blue, in the dark I can easily see what's on my desk near it and it can be annoying. luckily there is an option to turn it off in the menu choices.
Conclusion:
The LG IPS 236V offers excellent color reproduction with them being deep and rich, and almost no adjustments from the stock settings. I don't even thick it would have mattered much at all had I adjusted it, it would have been fine without me using the Spyder 3 Express calibration tool. The IPS236V offers excellent extreme viewing angles from the right and left, top and bottom viewing angles due offer slight dimming but it still looks very good.
Movies and gaming on the IPS236V were excellent, it does a very good job at playback with no issues with motion blurring that I could notice.
The monitor offers crisp and clean text even when very small and high resolution along with very bright whites and deep dark blacks.
The options are somewhat limited depending if you can get the software to work or not. If you can't get  the software to work, you can still make basic adjustments and you should be fine with that.
This is a refurbished monitor and I found no flaws at all in it like some would expect. I know some people won't buy refurbished, especially monitors, but I've bought plenty of them, from Geeks and other places and never had a problem.
The price on the IPS236V is $135 and considering it sells for about $270 new, I'd say it's a really good deal from Geeks, it's basically half price.
Overall I'm very much impressed with this monitor and I think you will be too.
Pros:
+Includes DVI and VGA cables
+Excellent picture
+Can view fine from most any angle
+Low price
+No dead pixels or imperfections
+Very little adjustment needed from stock
Cons:
-Software doesn't work correctly
-You need to install the software to access some features
-Very bright power LED
-Ugly colored base
| | |
| --- | --- |
| Grades: | |
| Overall | |
| Design | |
| Performance | |
To learn more about our review policy please visit this page HERE.