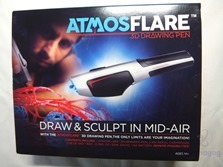 3D printing is really popular as I'm sure you've noticed and I've always wanted to have a chance to play with the technology myself. Today for review I've got a 3D pen called the AtmosFlare which is resin based pen and not the type that uses the plastic filaments. There are two types of 3d pens on the market that I've seen, the type that uses a plastic filament that comes in coils and the type that uses resin which is liquid and hardens under a UV light. There are advantages and disadvantages to both, but for now let's take a look at the AtmosFlare 3D pen set. Read on to learn more…
Specifications and Features
AtmosFlare 3D is forever changing the way the world creates art. With the AtmosFlare 3D Drawing Pen you can create amazing 3D works of art, by drawing and sculpting in mid-air! Use your imagination to make nature, animals and objects come to life! For the best experience, be patient and have fun! We recommend AtmosFlare 3D for ages 12 and up.
The AtmosFlare 3D pen uses a cool blue LED light and special ink that enables you to easily draw 3D objects! Drawing vertically is as easy as squeezing your pen and moving the tip vertically, away from your drawing surface with the LED light ON.
Make solid sheets of material by drawing on flat or curved surfaces, first with the light off, and curing afterward by shining the light on your art. Draw on non-sticky textured materials or objects like coins or buttons, and then remove for very cool effects. Use your imagination!
Thin lines and shapes can be made thicker by drawing over the top of your finished work. When filling in a large area, apply a thin layer of ink and allow it to settle. After it's settled, cure it with the light!
The AtmosFlare 3D pen is easy to clean from your hands and work area with baby wipes, hand sanitizer and every day soaps and cleaners.
Price: $29.76 (from Amazon at time of review)
The Review
Let's start with a video unboxing but also in the video I use the pen to create a small cube, my very first ever 3D printed or drawn object, so watch the video and then move on for the rest of the review:
The AmtomsFlare 3D pen comes in a very nice looking box and inside you'll find a plastic tray holding all of the parts in place for you. Once you get everything unpacked you'll find the pen, battery, two ink cartridges, five tips and the user guide.
There are four tips included and the fifth is actually a cap to put on the drawing tip end when you're not using the AtmosFlare 3D pen.
The pen body is plastic and gray in color. The pen is about 6 inches long and varies in thickness from about 1.5 inches to .75 inches at the end. On the front of the pen is a hole where the pen tip comes out of and around that are four UV lights that cure the material. On the top of the pen is a rectangular button that turns the UV light on and off. The battery compartment is in the back at the top of the pen, the cover just pops off and you can put the battery in. The pen seems very well made overall.
The 3D material is in a liquid resin form and comes in soft rubbery containers that fit into the bottom of the pen. In the kit you get blue and red colors. To make the resin flow you just squeeze it and your pressure determines the flow rate of the material.
To use the AtmosFlare pen you unscrew the cap on the cartridge and screw a tip on and then slide it into the front of the pen from the bottom and lock it into place with a slide lock on the pen. To use the pen you gently squeeze the cartridge to start the resin flowing and you turn on the UV light to make the resin harden. You can create a base with the liquid and then turn the UV light on to harden it and then build from there. To create 3D object in air you squeeze the cartridge with the UV light on and it cures or hardens as it's flowing out of the tip to create your design virtually instantly. The resin hardens fast enough to fairly easily create 3D object right there in mid air, but it does require a little bit of practice and patience.
One of the things I created was a tree and I used two colors for it, both the blue and red and I think it turned out well. I did this after quite a bit of practice first really.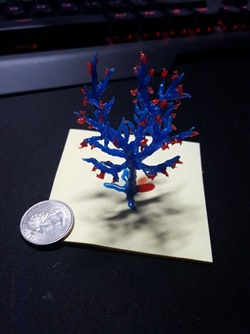 I made a lot of things, some examples are a basic cube, a tower, my sons initials in 3D and a unicorn for my wife.
There are a some small issues with the AtmosFlare though.
The first one is the refills seem to not be readily available, two of four sets were out of stock on Amazon at the time of writing this review. Regarding refills again is the price, it's $16 for three of them which I think is a bit expensive, $10 for three might be better. Regarding refills again here is the fact that they're proprietary, you have to buy them from the company and you can't get them anywhere else like other 3D pens that use filament. I did quickly look to see if I could find something to refill the AtmosFlare cartridges with but couldn't find anything easily.
Another small issue is that your finished creations have an oily residue on them which isn't a big problem but just annoying.
Another small issue is that it can be messy as it's liquid before it's cured so you have to be careful especially around fabrics as it sticks to it.
Not a big issue but I do have to mention that using the pen on a bright base make it a bit harder to use as the UV light can reflect up off of the surface and actually harden the resin as it coming out of the pen making it clog to tip.
Conclusion
I like the AtmosFlare 3D pen a lot actually, I've very much enjoyed reviewing it or playing with it really. The ability to create things right there in midair is amazing, you're drawing in 3D really and it's just a lot of fun fro kids and adults. My kids just love to use it and so do I. This is one of those products that you just have to use to really understand how enjoyable it is to use.
The pen itself is well made and the battery life seems good, I've used one full cartridge and about half of the second one and I'm on the same battery. They are just LEDs which don't use much power so I would think the battery should last a long time.
You will need to practice using the AtmosFlare before you get good at it, but my 11 yr old son was creating things just after a few minutes of getting accustomed to using it and how it works.
The pen does have some issues, but not really the pen itself, it's the refill cartridges I have the big issue with, I think they're a bit expensive and not readily available and you really can't refill them.
The pen isn't perfect yes, but it's still a great product for sure, just a lot of fun to use.
I've had a lot of fun with the AtmosFlare 3D pen and I can recommend it for those that might want to try their hand at 3D drawing.
Pros:
+Very simple to use
+Good battery life
+Can draw up in 3D easily
+Well made product overall
+Lots of fun
Cons:
-Refills can get expensive
-Refills not readily available from what I can find
-Can be messy
| | |
| --- | --- |
| Grading | Scores Out of 10 |
| Overall | |
| Design / Aesthetic | |
| Value / Price | |
| Performance / Usage | |
Disclosure: This product was given to me for review by the company for review purposes only for free or at a discounted price.
To learn more about our review policy please visit this page HERE.