On AT&T you'll find a plethora of messaging phones to choose from, but none like the new Pantech Laser. The design of the Laser is well thought out and simply impressive.  It's just .39 inches thick, but it's a slider that opens to reveal a nice large qwerty keyboard which is very surprising. The phone has a nice large 3.1 inch AMOLED touch screen, and a sliding, paneled, customizable interface.

Let's just start out with the video unboxing:
The Laser is for AT&T so it comes in the branded box along with a USB cable, and USB style AC adapter.
The Laser sort of reminds me of an Android phone really, a nice large screen with buttons at the bottom. The buttons are are call, end call, power and back.
The back of the phone is textured and angled, you'll find the battery cover and the 3mp camera but no flash.
The Laser is very thin, and you'd be very surprised to find a full, nice sized qwerty keyboard in this phone.
There's no many buttons on the Laser just lock and volume on right and left sides and then on the top is the USB port. The sides of the phone has a diamond pattern texture as well.
Specifications:
Extremely thin.  Fully loaded.
The Pantech Laser is the thinnest sliding full keyboard device ever offered by AT&T. At less than 1 cm thick, this smart and sleek phone packs in plenty of powerful tools and features, making it a must-have addition to your life that can slide comfortably into your purse or pocket. Do your banking, access apps and Web, and capture pics and video on the gorgeous 3.1" AMOLED touchscreen. And get real-time directions or connect to your social networks over AT&T's lightning-fast mobile broadband network. You'll be amazed you can do so much with so little.
Features:
Touchscreen and Full Keyboard
Easily access your features and apps on the intuitive screen, or slide out the stealth keyboard for texting at 3G speed.
Text Messaging and IM
Never miss a message! You can even give your fingers a rest and speak your mind with Voice Mode, which dictates text messages with your voice (training required).
AT&T Social Net
Access a one-stop hub for all your social platforms: Facebook, Twitter or MySpace.
3 Megapixel Camera with video
Get high-resolution (2048×1536) images on the go, or film your own reality TV with the built-in MPEG4 video recorder.
Tech Specs:
Battery:
Battery Type :Standard Lithium-Ion (Li-Ion)
Talk Time: Up to 5 hours
Standby Time: Up to 14 Days
Size:
Weight: 4.06 oz. (with standard battery)
Dimensions :4.45″ (H) x 2.25″ (W) x 0.39″ (D)
Display:
Display Size: 3.1″ – 262K AMOLED
Resolution: 480 x 800 Resolution
Color: 16 bit
Keyboard:
Screen: 3.1″ Resistive Touchscreen
Keys:Full QWERTY keyboard
Wireless Technology:
GSM/GPRS: GSM/GPRS/EDGE Quad-Band 850/900/1800/1900MHz UMTS/HSDPA Dual-Band 850/1900MHz/3G
BLUETOOTH Technology: Bluetooth Stereo (v2.0)
Pricing from AT&T:
No Commitment Pricing: $249.99
2-yr Contract Price: $149.99
Online Discount:- $50.00
Total Due at Time of Shipping: $99.99

When you first turn on the phone you're greeted with a very nice looking main page, and then you can slide right or left to access more and you can customize them to your own liking.
The AMOLED screen is very nice looking, a nice upgrade to other Pantech phones for sure, making it the nicest of the Pantech line up. A lot of the pictures I took here in this review are with the brightness setting on medium, but once you turn it up it gets nice and bright, apparently the default is medium.
The dialer is nice and large and calls are decent, but a bit tinny. As for AT&T, it works fine for me, that's one of the reasons I've been with them for many years now.
Web browsing is a bit slow, at least it seems that way when compared to my Captivate. Sadly the Laser does not have Wi-Fi. It does have Bluetooth and that works fine. There's also Voice Mode where you cna dictate text messages, but it does need ot be trained to understand you.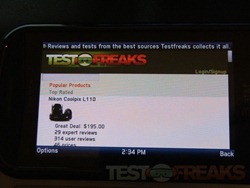 The keyboard is just excellent, the buttons are nice and large and spaced nicely for quick and accurate typing. It light s up of course and you can chance the keyboard backlight as well to remain on longer which is nice.
The apps etc are set up in the familiar grid pattern, with pages for more sliding left and right and they will switch back and forth to portrait or landscape modes. You'll of course find the common AT&T bloatware that we've all come to love and cherish oh so much….
There are a few decent and useful apps installed and the 'apps' for Facebook and Twitter are actually just browser shortcuts. Some of these are also listed under Tools along with others like a Tip Calculator, Sketch Pad, Stop Watch, and a Timer.
Under Applications you'll find some of the same stuff already listed in the grid, and some others but not much special really.
Under games you'll find a lot of trial ware stuff, but nothing exciting.
The camera is a 3mp  one but sadly there's no flash. I've noticed this that with most Pantech phones there is no flash and I have to wonder why. Here's the interface with the settings expanded. The familiar stuff is all here.
Here's a few sample pictures I took in a well lit room, using zoom and not and just close up. There is no macro mode on the Laser though, but even still the close ups aren't too bad.
When you use the zoom it drops the resolution which is annoying, but still the pictures are pretty good overall, the best I've seen from a Pantech phone yet honestly.
Conclusion:
The Pantech Laser is not only  one of the nicest Pantech phones to date but probably the best messaging phone you'll find on AT&T right now.
The Laser very much resembles a smartphone and is as close as you'll get without actually buying one I'm sure. It truly is a great phone, if it had wi-fi and GPS though it would be even better.
There's really not much not to like about this phone honestly, if I didn't have a need for a smartphone I'd happily carry this with me. I love phones with keyboards and the Laser is just overall very nicely designed and quality built.
Pros:
+Small and thin
+Easy to use
+Seems well made
+Good design
+Nice keyboard
+Good looking screen
+Decent battery life
Cons:
-No Wi-Fi
-No flash
-Touchscreen can be too responsive at times
| | |
| --- | --- |
| Grades: | |
| Overall | |
| Design | |
| Performance | |
To learn more about our review policy please visit this page HERE.