Hello and welcome. Today for review is the Bem (pronounced Beam) Wireless Bluetooth Speaker Band. As you may have gleamed from product name, this is basically a speaker that you can take with you everywhere you go. However this is much more than that as you will see in my review.
When I first opened this product, I was reminded of my childhood with memories of the watch from Dick Tracy and the watch that Michael Knight wore in Knight Rider to communicate with Kitt. Now I mention these two not to evoke an image of what the speaker band looks like, because as you will see it does not look like those, but the idea behind them, that there would exist something like this, a gadget you can wear that allows you to communicate with others.
This product has several different functions, from its ability to communicate with others, to playing music, to its audio caller ID function. The Speaker band is a very useful, compact gadget that comes in handy (Wristy would have been more fitting, but not a real word) on the go if you are exercising, cleaning, relaxing or walking the dog and don't have a free hand. Also, it's really cool if you want to pretend you are a secret service agent talking into your hand….or maybe that is just me who thinks it's cool. I tested the speaker band on my trusty Galaxy S5.
Unboxing
The Bem Wireless Speaker band comes in a plastic tube packaging with a clear front panel that allows you to see the color of the product you are purchasing. The back of the tube offers information about the speaker band and some specs.
You will notice that the color of the Speaker Band being tested is gray, but it also comes in several other colors; black, white, red, blue and green.
The tube opens easily as it is taped closed at the top. Once the tape is removed, the packaging inside slides out easily and would find your Speaker Band.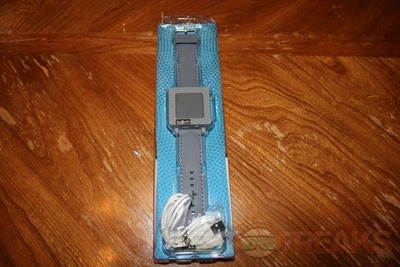 Also inside the packaging you will find a user guide and a micro USB cable used to charge the Speaker Band. The USB cable measures approximately 4 feet.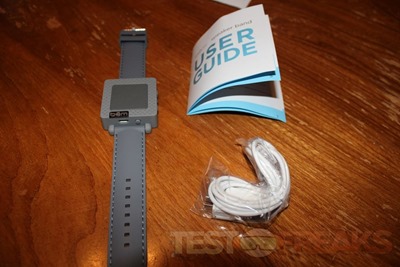 The Beam Wireless Speaker Band measures approximately 10 inches and the face of the speaker is 1.75 inches squared. The Speaker is approximately a half inch thick so It's not bulky. It fits on your hand very well if you are used to wearing watches.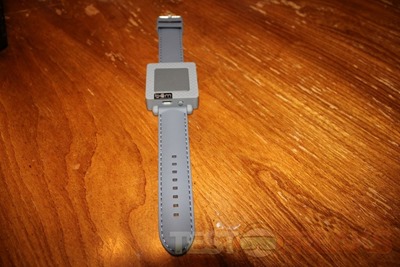 Specifications and Features
The b?m wireless Speaker Band let's you hear what you want, when and where you want, without the old limits of space, time (pair & play in moments), appearances (six cool or cute colors), cost, or size.
Sound good? Why yes, actually, it sounds great. Rich, precision-tuned…kinda hard to believe, for something so conveniently connected, via Bluetooth, with your smart phone, iPod, tablet, etc.
let's forget about wires
With bem wireless you can always count on a hassle free music experience. Forget the wires, dump the docks – the only connection will be you with your audio. Rock it from your pocket or while you're doing all the things your mobile life requires: email, texting, checking facebook or whatever.
Our mobile audio speakers are ready to go wherever you go. Toss it in your backpack for a jam session in the park or in your suitcase for when you chill out in your hotel room. But don't forget, our Bluetooth devices also clean up your everyday living space. Those wires are an eyesore and we don't want you to have to live like that.
Tech Specs
-Our battery has about 6 hours of talk time
-Built for use with opular voice recognition calling apps
-Spoken audio caller ID function
-Soft touch wrist band for comfort
-Micro USB port for charging
-Easily connects to Bluetooth devices
-Built in microphone
-Play/pause, answer, skip and reverse buttons
*Battery life varies by volume and audio type
Includes
1 Speaker Band, micro usb charging cable, user guide
Price: $49.99  (from Bem site at time of review)
Testing and Usage
As I stated I tested this item on my Galaxy S5. The Speaker band connects wirelessly to your phone or gadget via Bluetooth. Under the Bem emblem in the face of the speaker band, you will find the power button, which also serves as the pairing button.
Once the power button is pressed you will receive an audio message that states the Speaker band is on. It simply states power on. To pair the Speaker Band with your device press the power button for three seconds. It will then begin to search for a Bluetooth capable device to connect to. Once it has found one it will state connecting.
You will also notice the charging port is there as well. This is the Micro USB port that is used to charge the speaker band. Simply plug the cable into the port and the USB end into a laptop or power outlet that has a USB plug (not included in the packaging) and off to the races you will go.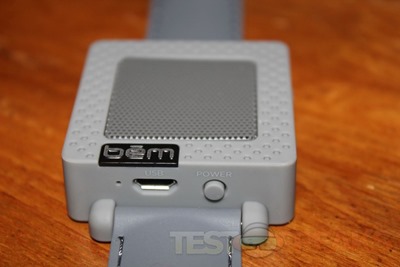 On the right side of the Speaker band you will find the buttons that are used most with this product. The center button is used for answering or ending calls. If you press the center button twice in a rom it will activate the voice command function on your phone.
The center button is also used for rejecting a call; press and hold the button to reject the call. Also you are able to re-dial the last number that was called, or that called you by pressing and holding the center button while not in a call.
If the center button is pressed once when not in a call, it will begin playing music from your music player. If the center button is pressed again while music is playing, it will pause the music. This is one useful center button, am I right or am I right…
Next to the all-important center button are two other equally as important buttons. These two buttons respectively will increase and decrease the volume of the music or the volume of the call you are making or receiving. This function is achieved by depressing one of the buttons and holding it in.
If either button is pressed once it will skip the song. This Speaker Band does not have the function of fast forwarding or rewinding the current song you are playing.
A great feature of this speaker band is the voice function. It will speak the number of the person who is calling you.
The buttons are easy to manipulate and do not stick when they are pressed. All the functions on the Speaker Band function as stated and exceeded my expectations from such a small speaker.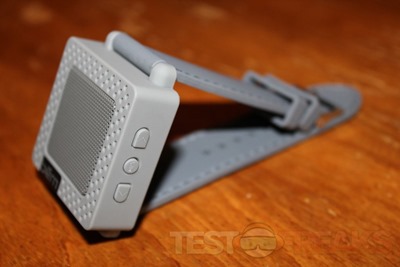 The band is made of stitched rubber that is soft and comfortable on your arm. The material is malleable and durable. The band looks like a watch band with a buckle on one end with two rubber pieces to hold the other end of the strap down when it is on your wrist.
The face of the Speaker band has is mostly the speaker. It speaker itself measures about an inch and a quarter squared. On the left side of the speaker band face is the microphone used for voice calls and voice commands.
The speaker may seem small, but it packs a punch. I tested it on high and low and the sound quality was great on both ends. When speaking to someone on the phone their voice comes in clearly and the calls I made were crystal clear.
Conclusion
I have really enjoyed testing this product. I have always been a multitasker and this has allowed me to listen to my music while I from a small speaker that I did not have to carry around with me or to use headphones. The Bluetooth connectivity removes the need for wires while in use. The call quality and sound quality were crystal clear when tested on my Galaxy S5.
The compact design and lightweight body made it easy to carry around when in use or in my pocket when not in use. The packaging claims a 4 hour battery life and I have been using it off and on and have not had to charge it. I have been using it off and on for several days listening to a few songs here and there, and this product has been able to keep up with my albeit limited use.
The ease of use of this product is what I like most about it. It is simple to pair and use with any product that has Bluetooth connectivity. The color variations are great, you can get it in several stylish colors. The sound quality is what I like the best about it. As mentioned it is very clear and at its loudest it did not distort the sound of the song I was playing. The band/strap is comfortable to wear, lightweight and made of a durable rubber material.
The ability to use your gadgets voice recognition software was a big draw for me as I like to search on Google or text by using the voice command function on my phone. The built in microphone will also allow you to record voice notes and message easily if you have those apps installed on your phone. The speaker will also call out the number of the person who is calling you so you know who it is without needing get your phone.
The ease with which it connects to a Bluetooth device is great. It took a couple of seconds and I was off to the races. The 4 foot charging cable is very useful if an outlet if not directly nearby. It's a simple product in the best way imaginable because it does what it states it will do.
This product is great for travel, use at the office or at home. It's also useful in the car if you do not have a Bluetooth enabled car, you can answer your calls and speak without having to get your phone from your pocket, purse or searching for it in your car. Clear sound quality and great design make this a top notch product.
Pros:
+ Compact design
+ Great sound quality
+ Easy to use
+ Fashionable and Stylish
+ Lightweight
Cons:
– This is not a complaint, but a wish; that it incorporated a small watch screen for telling time.
| | |
| --- | --- |
| Grades: | 10 out of 10 |
| Overall | |
| Design / Aesthetic | |
| Value / Price | |
| Performance / Usage | |
To learn more about our review policy please visit this page HERE.