For today's review we will be looking at the BRAVEN BRV-BANK, which is a smart portable power charging device. This device is ideal for those who enjoy the outdoors as it includes distinct Bear and S.O.S. safety capabilities. Built with an impact resistant housing it should withstand any environment. It is IPX 5 waterproof that means it can come out in the rain sleet or snow.
The BRAVEN BRV-BANK features a 6000 mAh battery capacity which means it can charge an iPhone 5S 3 1/2 times, a Galaxy S4 twice, a GoPro HD Hero3 4 1/2 times and an Amazon Kindle Fire once. With two charging ports – 1 A and 2.4 A you can simultaneously charge two devices including a tablet.
One feature not found in most portable chargers is Bluetooth capability. Connecting the device wirelessly to an Android or iOS device using the free Remote Battery Monitor App allows the wireless control of USB ports, monitoring of the devices battery status and even remotely locating the BRAVEN BRV-BANK from your smart device. An included 100 lumen USB flashlight can be used in conjunction with the BRAVEN BRV-BANK.
Unboxing
The BRAVEN BRV-BANK comes in a plastic package with the device visualized through a clear plastic cover. On the back is an image of the device along with its accessories and an iPhone running the iOS app. Listing the back cover reveals a flat describing the features of the power bank along with how many times you can recharge certain devices.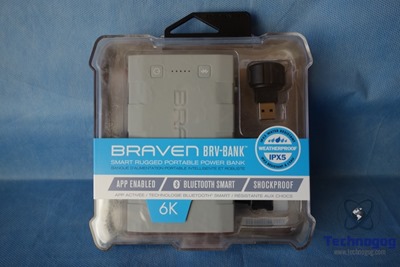 Opening the package we find the brave BRV-BANK portable power bank, a ruggedized cloth-wrapped USB charging cable, a 100 lumen USB flash light, lanyard and instruction booklet.
Immediately you can tell this portable charger is different from other models from its heft and construction. It measures 12.5 x 7.5 x 2.2 cm. The BRV-BANK is covered by a gray rubberized material on the top and bottom with a hard red plastic underneath, which is visualized on the sides of the unit.
On the top of the BRV-BANK is the BRAVEN logo along with power and Bluetooth buttons and five LED lights. The battery indicator lights go up in in 20% in increments.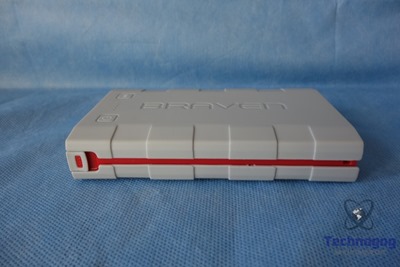 On the bottom we find six Allen screws along with the model and regulatory information.
Adjacent to these buttons and LEDs is a rubberized protection cap that has a clasp for protecting the USB ports behind it. There are two USB connections for charging external devices, a micro-USB port for charging the BRV-BANK and a reset button. These USB charging ports are numbered 1 and 2 the 1st port providing 2.4A and the 2nd port generating 1 A.
The BRV-BANK is IPX 5 dirt and waterproof and MIL-STD 810G shockproof, which meets military standards making the BRV-BANK designed to go anywhere you go. When not using the BRV-BANK it is important keep the protection cap in place to cover all ports on the device.
Inside the BRV-BANK is a 6000 mAh lithium battery. What sets the BRV-BANK aside from the other portable Power banks is the inclusion of a Bluetooth transmitter; this enables the battery bank to communicate with the free IOS and Android BRV-BANK app.
A rugged micro USB cable with caps for both ends is also included for charging the BRV-BANK or connecting external device that requires a micro USB connection.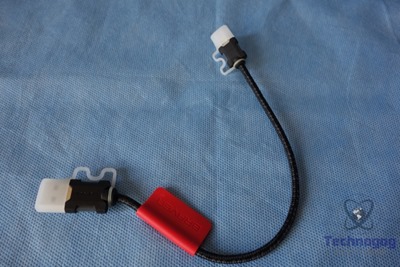 The USB flashlight is a small light with a USB port at the end. Also included is a lanyard.
Specifications and Features
The BRV-BANK is the world's first Bluetooth-enabled, USB controlled ultra-rugged power bank. This 6000 mAh rugged power solution is built with an IPX5 water-resistant rubber exterior and is designed to power you wherever you go. With the ability to withstand anything Mother Nature throws at it, the BRV-BANK is designed for emergency preparedness and the great outdoors.
The BRAVEN BRV-BANK Smart, Ultra-Rugged Portable Backup Battery revolutionizes power on-the-go as the world's first Bluetooth-enabled, USB-controlled power bank. Used with the free BRV-BANK Remote Battery Monitor App, you have complete wireless control of your BRV-BANK and Braven's distinct Bear and S.O.S. safety features. Available in a 6000 mAh battery size, this ruggedized power bank is built with an IPX5 water-resistant rubber exterior and is designed to power you wherever you go.
BRAVEN's BRV-BANK can be remotely controlled through its Remote Battery Monitor App, which offers users the ability to locate the Battery Bank, monitor its power levels, individually turn on and off each port to conserve power, and activate its two additional features: Bear Mode and S.O.S. The Bear Mode activates your smartphone's motion sensor, sending signals to the bank to sound an alarm and activate the connected USB flashlight when your phone is moved. Turning on the S.O.S. mode activates the universal distress signal by sending a visual morse code for "S.O.S." using the connected USB flashlight.
The BRAVEN BRV-BANK is the world's smartest and first Bluetooth Smart-enabled, rugged portable backup battery with 6,000mAh of power. The IPX5 water-resistant and shockproof BRV-Bank transforms into the ultimate outdoor companion through its proprietary app and rugged USB flashlight, and quickly charges even the most energy demanding tablets, smartphones, GPS or GoPro cameras with two USB outputs and a combined output of 3.4A.
Includes a hanging lanyard, a ruggedized USB flashlight, and a ruggedized cloth-wrapped USB charging cable with sealed ends.
Price: $123.50 (from Amazon at time of review)
The Review
Before using your BRV-BANK for the first time it should be fully charged using the included USB to micro USB cable. Since a power adapter is not included using one from a tablet or smart phone will suffice.
Once fully charged the BRV-BANK is turned on/off by pressing and holding the power button for several seconds. Lightly pressing this same button checks the internal battery capacity.
To pair of the BRV-BANK with your smart phone or tablet download the BRV-BANK app onto your mobile device and open it. Next press and hold the Bluetooth button on the BRV-BANK for 2 to 3 seconds to activate the pairing mode. The app should detect the BRV-BANK on the app. There is not need to use the Bluetooth settings screen from the iOS or Android device.
The BRV-BANK app displays the remaining charge capacity as well controlling both USB ports remotely. The Find Me feature will help locate the BRV-BANK when it is out of site, while the S.O.S works with the included USB light to send a visual universal distress signal.
Bear Mode is basically a motion detector alarm activates your smartphone's motion sensor, sending signals to the bank to sound an alarm and activate the connected USB flashlight when your phone is moved. It is basically an anti-theft system for one's mobile device.
To charge an external device press and hold the power button on the BRV-BANK for 2 to 3 seconds after connecting the USB cable. To stop the charge process simply unplug the device or press and hold the power button for 2 to 3 seconds.
For testing I use a 1st generation iPad Air that has an 8600 mAh battery and an iPhone 6 that uses a 1,810mAh battery. From less than a 10% charge on each device using a fully powered BRV-BANK I was able to get the iPad Air charged up to 68% and an iPhone 6 charged fully twice and the third charge up to 85%. These charge results seem to be in line with the BRV-BANK having a 6000 mAh battery.
Charging up the BRAVEN BRV-BANK takes quite some time as it is a very capacious battery. Using the iPad Air charger it took around 4-5 hours to juice up the BRV-BANK.
The 100 Lumen flashlight provides plenty of illumination and fires up as soon as it's plugged into the BRAVEN BRV-BANK.
As a charger the BRV-BANK does an excellent job. It is solidly constructed and is ideal for those adventuring types who need to charge their devices away from other power sources. While it is NOT waterproof, it is water resistant meaning it can be used in damp climates. For instance if your GoPRO needs an emergent charge on the slopes then the BRV-BANK is an ideal option.
Braven should have provided a carrying satchel for the unit as there is no where to keep the USB Light when not in use and it is small enough to eventually misplace.
Conclusion
The BRAVEN BRV-BANK is an excellent charger designed for those that live an active lifestyle. It is both rugged and designed to withstand punishment while providing plenty of external Power with its 6000 mAh battery. It can charge a tablet using the 2.4A USB port or a standard device with the 1A port.
Besides functioning as an external battery pack you can also double as a 100 lumen USB flash light; as well as a security alarm for your mobile devices and works as an emergency beacon. With its built in Bluetooth capability you can control these features from your mobile device using the free app.
It is definitely one of the more expensive power banks on the market it does offer more features than just charging. Compared to the Mophie PowerStation Plus the BRV-BANK costs $30 more but you get additional features not found with other battery packs.
Pros:
+Large battery capacity
+Water resistant
+Shock proof
+Includes alarm aka Bear Mode
+Includes USB flash light
Cons:
-Heavy
-Expensive
| | |
| --- | --- |
| Grading | Scores Out of 10 |
| Overall | |
| Design / Aesthetic | |
| Value / Price | |
| Performance / Usage | |
To learn more about our review policy please visit this page HERE.