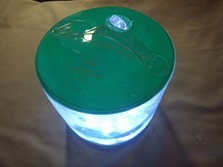 Up for review today I've got another product for outdoor use like camping and hiking, it's a solar powered LED lantern but what makes it unique is that it's inflatable. The lantern is from a company called Bright Outdoors and it's called the Go Solar Lantern and it has ten LEDs in it and it's brighter than you'd expect it to be really. Read on to learn more…
Specifications and Features
Bright Outdoors Go Solar Lantern – 7 Color Modes, Remote Control, 10 LED, Inflatable, Waterproof, Portable. Ideal for Camping, Pool Parties, Mood Lighting, Night Gardens and Sun Powered Adventure.
-SOLAR POWERED – No need for batteries, simply harness the sun's energy for 6-12 hours of light
-COMPACT, PORTABLE, LIGHTWEIGHT – packs down to a tiny 1″ high and ¼ pound so you can stash it just about anywhere
-WATERPROOF & VERSATILE – for anything from camping and hiking to pool parties or relaxing on the porch
-REMOTE CONTROL & 7 LIGHTING MODES – from bright white to colorful mood light and SOS flashing mode
Price: $14.95 (from Amazon at time of review)
The Review
Let's start with a video unboxing/mini review for you and then continue on:
The lamp comes packaged in a small box that has very basic instructions on the back of it. Inside you'll find the lantern and remote control and that's it, no instructions are included but there is a link to their website where you can learn more.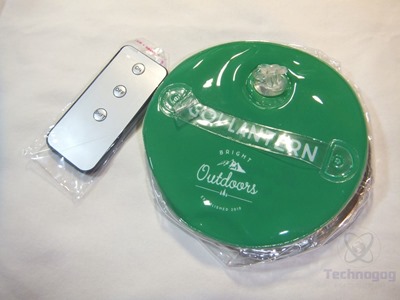 The remote is small at about 3.5" x 1.5" x .25" in dimensions. It just has three buttons on it for on, off and shift. The shift button is to change the modes and colors of the LEDs in the lamp.
The lamp is inflatable and it comes deflated of course so you have to inflate it.  When not inflated it's less than half an inch thick so it's very portable and it's five inches across.
To inflate the lamp you need to squeeze the valve, there are instructions on the lamp around the valve to tell you to do this. The idea is that the valve doesn't let the air out as you're blowing it up, to deflate the lamp you need to squeeze the valve again so the air can escape. When the lamp is inflated it's about 4.5 inches high and there are handles on both the top and bottom so you can hang the lamp up somewhere or carry it easily. The lamp is a made of vinyl like most inflatable things are so I'm not sure how long it's going to last, it does seem thick enough to withstand normal use but obviously you'll want to keep it away from sharp objects. The lamp has ten LEDs in the base of it and they're multi-colored as the lamp has several modes.
On the bottom of the lamp is the solar panel and there is a power button in the center of it along with four LEDs next to it that indicate battery capacity in 25% increments. The power button can be used the same as the remote, you can cycle through all of the colors and modes.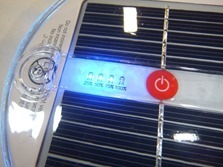 The lamp has seven solid color modes, white, red, green, blue, light green, purple and light blue and then it also has two flashing modes where  it flashes or cycles through all the colors and then it has what looks to be a blinking white mode but if you look closely it's all of the colors or LEDs flashing at the same time or at least that's what it looks like to me. The white mode isn't really white though, it's more of an off-white with a blue tinge to it but that's common for white LEDs.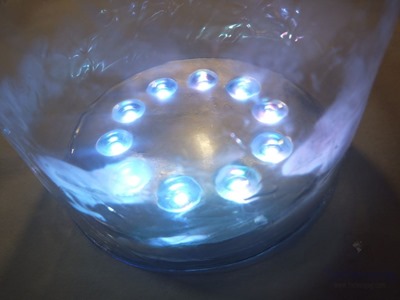 The lamp has the solar panel on the bottom and I took it outside and set it in the sun and it started charging. The LEDs light up to indicate it's charging and fill up as time passes and the battery charges. It's charged by the sun so it takes a while like any solar product does but it does work.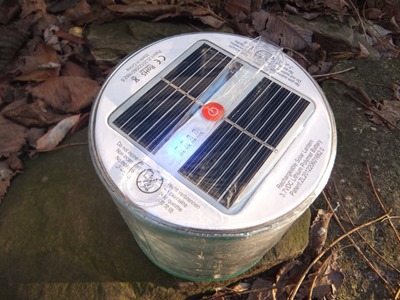 Conclusion
The Bright Outdoors Go Solar Lantern can be handy for sure to take with you on the go for camping or hiking or just using around the house. The lantern should be bright enough for most uses, hang it in your tent and you'll have light to see what you're doing.
The lamp is inflatable so when it's deflated it's very portable as it doesn't take up much room at all, you can just toss it in your pack and go.
The included remote is handy but it's very small so I'd be worried about losing it, but the power button on the lamp can perform the same functions as the remote.
The lamp is made of vinyl so I'm not sure about the longevity of it, yes it should survive average or normal usage for sure, but it's inflatable so you do have to be careful about popping it and basically ruining it.
All in all it's not a bad product, it's certainly unique.
Pros:
+Very portable
+Solar powered
+Can be handy
+Simple to use
+Dual handles
Cons:
-Longevity is questionable
-White LEDs aren't really white
| | |
| --- | --- |
| Grading | Scores Out of 10 |
| Overall | |
| Design / Aesthetic | |
| Value / Price | |
| Performance / Usage | |

Disclosure: This product was given to us for review by the company for review purposes only, and is not considered by us as payment for the review.
To learn more about our review policy please visit this page HERE.