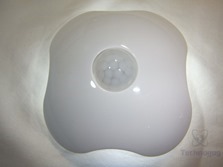 I like motion sensor lights, we've got several of them ion our house to light up the way, they're very handy. Today for review I've got the Lenova auto motion sensor LED night light and what's special about this light is that fact that it's rechargeable over USB via the included micro USB cable so no more need for batteries. The light is small and well made, but it produces more than enough light to see in the dark and it's a decent product. Read on to learn more…

Specifications and Features
Lenova Auto Motion Sensor Night Light,Built-in Rechargeable Battery Powered LED Motion Lights,Wall Light Stick On Anywhere Motion Activated Wireless Nightlight White/yellow
-Sophisticated motion sensor combined with a light sensor allows it keeps light on only when in dark and motion detected, Auto-off after 20 seconds of no motion detected.Great for kids/nursery or evening up in darkness.
-Built-in rechargeable lithium battery up to 3 months using, instead of frequency buying AA batteries ,and do not take up any outlet! battery get full charged about 2-3 hours.with USB charging cable.
-Bright but no dazzling , made of premium quality makes it a great decor in your living space. Safe for the touch of children.
-Easy to install, no hard-wiring. Use the 3M adhesive tape in package to stick anywhere you want. Perfect LED night light for girls,kids room,hallway,corridor,stairs,aisle,drawer,bookshelf,entrance,car trunk,lockers,bedroom,wardrobe,closet , etc.
Specifications:
-Brand: Levona
-LED bulbs: 6pcs
-LED color: white/yellow
-Luminance: 72lm
-Power: 0.7w
-Voltage: DC 5V
-Motion sensor working distance: up to 10 feet.
-Battery: built-in 550mAh lithium battery.
-Mounting: Tape or Screws.
-Item Weight: 2.6 ounces
-Product Dimensions: 3.5 x 1.6 x 3.5 inches
Price: $12.99 (from Amazon at time of review)
The Review
Let's start with a video unboxing/mini review and then move on:
The Lenova night light comes in a nice looking box and you'll find the light itself wrapped in plastic for protection and then another layer of clear plastic stuck to the light for even further protection. Once you get everything unpacked you'll find the user guide, micro USB cable, 3M doubled sided tape and of course the light itself. I should not that as soon as I opened the box the light came on, even though the packaging the sensor activated the light from the motion of opening the box.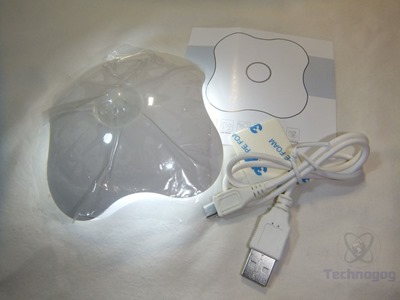 The light is small at about 3.5 x 3.5 inches in size and in the center is the motion detector. The light is made of a glossy white plastic on the top and it looks nice really and for what it is it seems well made.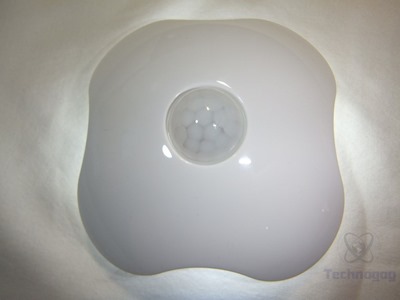 On the bottom you'll find the wall mount already attached and there's a square there for the included tape so you know where to put it.  The sides and bottom of the light are semi-translucent to let the light from the LEDs come out to illuminate the area.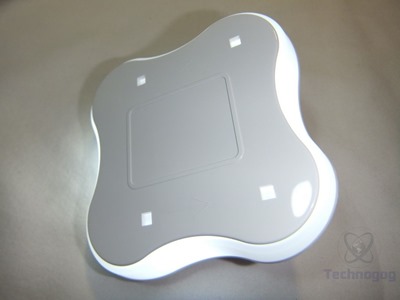 The mount slides one way to lock and unlock it, the idea is that you put the mount on the wall and then you can remove the light to charge it as need be and the mount stays there.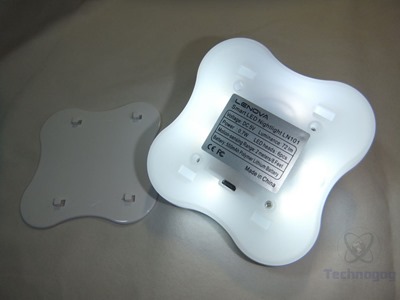 The micro USB port is located under the wall mount and there's a red LED inside of the light to indicate charging.
We recently did some remodeling in our attic and moved one of our kids to his own room up there and I put this light up there for him as he needed a bit more light in the dark as he has to walk to get to the main light. I thought a motion sensor type light would work well up there for him and it does. The light much brighter than I expected, it really lights up the whole room, sure it's not extremely bright, but it's more than bright enough to see everything in the room and what's on the floor to navigate in the dark. He's very happy with the light for the most part as he says it's a bit over sensitive because when he moves in bed the light sometimes comes on even though the bed is rather far away from the light.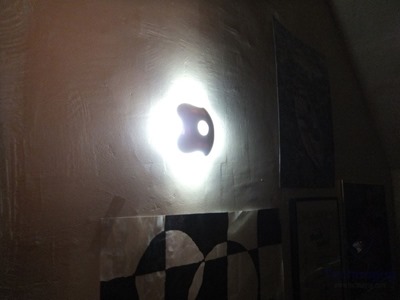 Conclusion
All in all I like the Lenova night light, it's well made and it works well, a bit too well I think as the motion sensor is very sensitive, overly sensitive honestly. It easily reaches the stated ten feet distance and then some for the sensor.
The light is rechargeable over USB which I like a lot as there's no need for batteries. I've charged it once and have been using it for about eight days now and it's still as bright as the first day.
It's not a bad little light I think, it would be great as a night light to light up the hallway or room to see where you're going. The light is much brighter than it seems really.
Pros:
+Brighter than expected
+Rechargeable over USB
+Well made
Cons:
-Can be overly sensitive
| | |
| --- | --- |
| Grading | Scores Out of 10 |
| Overall | |
| Design / Aesthetic | |
| Value / Price | |
| Performance / Usage | |

Disclosure: This product was given to us for review by the company for review purposes only, and is not considered by us as payment for the review.
To learn more about our review policy please visit this page HERE.