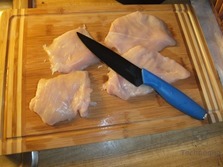 Up for review today I've got another bamboo cutting board from a company called Bright Star which is nice and large and one that's fairly attractive too so it could even be used as a serving board if you wanted to. The board is bamboo obviously which is naturally antimicrobial making it a healthier choice than other cutting board on the market today. I've been using the board for a few weeks now and I like it very much, so I've got a quick review for you of it. Read on to learn more..

Specifications and Features
Bamboo Cutting and Chopping Board – Non Slip with Drip Groove Custom Stripe Thick Natural Wood Serving Tray or Platter by Bright Star Bamboo
-EXTREME VERSATILITY – Large bamboo cutting board great for chopping fruit, vegetables, cheeses, breads, or meats. Includes a deep drip groove perfect for collecting juices. A raw diet recommendation.
-EASY MAINTENANCE – Cleaner and safer than plastic or glass. Easy clean up with a 100% anti-microbial surface. Use food grade mineral oil to maintain wooden board condition. Use warm water and mild soap to clean after each use. Air dry tray before storage.
-HIGHEST QUALITY MATERIALS – Made from premium, renewable, and eco-friendly bamboo. All natural colors. Makes a great birthday, anniversary, housewarming, bridal shower, or wedding gift.
-MAXIMUM DURABILITY – Butcher block surface will retain its look and strength for years and will not dull your kitchen knife set while slicing or chopping.
-CONVENIENT STORAGE – Serving board measures 15″ x 10″ x 3/4″ and fits perfectly in any standard kitchen cabinet. Makes an excellent cheese or pastry board or can be used as a party platter for appetizers or sushi.
New Features for the Upgraded Version
– Premium light and dark striped pattern crafted without stains or dyes
– Custom "deep" groove designed to hold more juices and keep your cutting surface clean
– Product dimensions (15″ x 10″ x 3/4″) were specifically selected to ensure a great fit in your kitchen cabinets or drawers
Bright Star Bamboo Premium Cutting Board
Quality equipment is essential to any chef. Bright Star Bamboo boards are made from renewable, environmentally friendly materials. The 3/4″ thickness, beautiful bamboo grain, and premium striped design will add a touch of class to any kitchen. Whether chopping leafy veggies or slicing fresh bread, Bright Star cutting boards get the job done while looking great. Wont dull your knives and will keep bacteria from spreading to your foods.
Key Features
– Made from highly sustainable, organic bamboo
– Bamboo boards naturally resist water penetration and harbor less bacteria than cutting boards made from porous woods
– Specially designed and pressed to avoid warps, splits, cracks, and breaks
– Mineral oil should be used to help maintain water resistance, surface durability, and premium grain
– Lightweight and strong, will retain looks for years to come
– Bamboo is harder than wood, but will not dull your kitchen knives like plastic or glass cutting boards
– Made using formaldehyde-free glue with an official non-toxic build process
– Antimicrobial properties are obtained due to bamboo's natural resistance to pests and fungi
– Bamboo's hardness will lead to less surface nicks than plastic boards, which means less places for bacteria to hide
– FSC and FDA Approved
Product Dimensions: 15 x 10 x 0.8 inches ; 2.4 pounds
Price: $17.99 (from Amazon at time of review)
The Review
The cutting board comes wrapped in plastic for protection and there's just a label on it.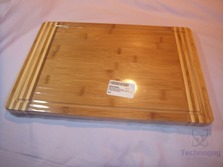 The top and bottom of the board look virtually identical except the top has a deep groove all the way around the outside edge to collect juices. The board is made of bamboo of course and this makes it look very different from other wooden cutting boards, it actually looks very nice, you could use it as a serving tray. The board is very thick at about .75" inches and it's 15" x10" in dimensions so it's fairly large as well. It weighs in at almost 2 1/2 pounds so it's hefty for sure, but it feels well made.
The board is a single piece in the center and then on the sides have pieces that go the opposite way of the grain in the main board kind of giving it a border look.
Bamboo is naturally antimicrobial and water or liquid resistant so things like bacteria will find it harder to live in the grain. Bamboo is harder than regular wood but the natural properties of it won't dull your knives.
I got a set of knives for review right as this board arrived, the knives are ceramic and they recommend using bamboo or silicone cutting board with them so it worked out very well as I was testing the knives I used this cutting board with them.
Conclusion
So it's a bamboo cutting board, but it's one that looks very nice and is well made.
The board can easily be used as a serving tray if you want.
The board is more than large enough for most applications, I used it for everything really, meats, vegetates and fruits. Bamboo is great in that it's naturally antimicrobial so you can safely use it for multiple things.
I like bamboo boards a lot, I have both bamboo and silicone and they both have there place in my kitchen.
This board from Bright Star is very nice and I can easily recommend it.
Pros:
+Looks very nice
+Well made
+Naturally antimicrobial
Cons:
-None really
| | |
| --- | --- |
| Grading | Scores Out of 10 |
| Overall | |
| Design / Aesthetic | |
| Value / Price | |
| Performance / Usage | |

Disclosure: This product was given to us for review by the company for review purposes only, and is not considered by us as payment for the review.
To learn more about our review policy please visit this page HERE.