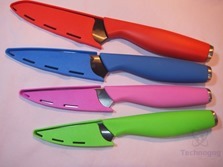 I was a chef and I can't do it anymore due to health issue but I still love to cook and I'm the only one in the house that dos it actually, my wife can't boil water and my kids are still a bit too young to cook real meals. Today for review I've got one for the home and kitchen category and it's something that I've always wanted but never bought for myself, ceramic knives. I have good knives, they're over twenty years old so I really didn't see a need to buy new ones, but I was offered these for review and jumped right on it as I was very curious about them. The knives are from a company called Dalstrong and they're called Spectral Blades which are ceramic and black in color. The set includes four knives of varying sizes that are commonly used in the kitchen and the knives even come with blade covers to protect them while not in use. I've been using them only for the last couple/few weeks and they're just razor sharp and they work well. Read on to learn more…

Specifications and Features
DALSTRONG Ceramic Knives Set – Spectral Blades – 8 Pieces, Gift Box, V3 Technology
-Dalstrong V3 edge technology: Our special convex edge grinding process delivers exceptionally less surface resistance and a ruthlessly razor sharp edge. You need to try it to believe it.
-The Dalstrong Difference: Ultra sharp, will never rust, absorb oils, odors, acids, or salts. Impervious to chemical leakage, spectacularly light, with a perfectly engineered balance and 15x the edge retainment of steel.
-Specialized Blackened Ceramic Knives: Made from a proprietary blend of the highest quality zirconia and forged utilizing state of the art Cold Isostatic Pressing process (CIP) before being super heated, our blades are sharper, harder, stronger, lighter, and more beautiful.
-Color Coded: Select the correct knife from the drawer with a simple glance, the Spectral Blades ceramic knives are color coded for your convenience and include matching BPA free PerfectFit sheaths. Chef knife, paring knife, utility knife and slicing knife.
-Dalstrong Trust: Our premiere ceramic knife collection set and luxury packaging make for an ideal gift – Birthday, wedding, anniversary, mom, dad, wife, husband, and those who cook in you life. We stand behind our knives and customers with a 100% SATISFACTION OR MONEY BACK GUARANTEE, try it risk free, we know you'll love them!
DISCOVER THE DALSTRONG DIFFERENCE
-The Spectral Blade ceramic knives set are painstakingly crafted in a state of the art facility, applying up to 200 tons of pressure to the highest quality zirconium powder.
-Our unique Cold Isostatic Pressing (CIP) process creates a blade HARDER, STRONGER, and MORE RESISTANT TO WEAR than our competitors
-4 Days of sintering at 1500°C  delivers superior uniformity and higher density
-NEW Dalstrong V3 edge technology allows for ultra light, ultra sharp blades with SIGNIFICANTLY less cutting resistance.
FEATURES AND BENEFITS:
-Razor Sharp
-NEW Dalstrong V3 edge grinding technology ensures minimal slicing resistance
-Holds edge 15x longer
-Blackened for improved strength, durability and beauty
-Perfectly engineered balance
-Never rusts
-BPA free
-Impervious to acids, oils and odor
-No chemical leakage
-Naturally germ and bacteria resistant
-No browning or oxidization of food
-Cleans easily
-Leaves no aftertaste
-Color coded for selection accuracy
-Never stains
-Ultra light for nimble use
INCLUDES:
(1)Chef Knife (6″)
(1)Utility Knife (5″)
(1)Slicing Knife (4″)
(1)Pairing Knife (3″)
(4)PerfectFit Sheaths
(1)Polishing Cloth
(1)Exquisite Gift Packaging
CARE:
Not for chopping bone, prying, striking. Use bamboo and softer cutting surfaces.
Price: $49.97 (from Amazon at time of review)
The Review
Let's start with a video unboxing and then move on:
The Dalstrong knives come in a very nice looking gift box. The cover just slips off and underneath the box with the Spectral Blades label on the front and then on the back is lots of information about the knives for you.
When you open the box you're greeted with a cleaning cloth and user/care guide. The top of the lid or flap actually has basic instructions on how to use the knives if you don't already know along with more of the specs and feature listed.
The set comes with four commonly used knives, 6" chef, 5" utility, 4" slicer and a 3" paring knife and they're displayed in  the box with a black felt covering making for a very nice presentation when you open the box.
The knives all come with covers and they're color coded so you can easily find them in the drawer and you know which knife is which by sight. The knives all come with blade covers which have slits in them on the fronts and backs which I like as they're not sealed so if they happen to still be a little wet when you put them away the moisture isn't sealed inside. The blade covers are made of plastic and stay on the blades very well.
The colors of the knives are named Triumphant Red, Dalstrong Blue, Victory Violet and Jubilant Green.
The knives all have black blades with what Dalstrong calls V3 Technology. The blackened blades supposedly improve strength and durability and of course make them look great. The knives won't rust and they're impervious to acids and oils and odors won't adhere to them and they won't stain. The ceramic blades are naturally germ and bacteria resistant and they're easy to clean. The blades don't have pointy tips on them, they're blunt or rounded and I'm not sure I like that or not. All of my other knives are very pointy and I do use the tips for various things but I'm guessing since these are ceramic they can't have very fine tips on them as they'll break too easily.
I've been using these knives specifically and only for the last couple weeks to try them out and they work great, they're very sharp. The specs mention that you should use bamboo cutting boards or softer like silicone which is all I have so it worked out.
One of the days I made a roast with potatoes and carrots and then when the roast was done I used the 6" chef knife to slice it and I could slice it paper thin with the knife, it just sliced through it like a hot knife through butter honestly.
I used the paring knife for fruit, apples and pears, as I recently reviewed a infuser style water bottle and here again no issues with it slicing easily through the fruit.
One thing to note here is that these knives are much lighter in weight than any others I own, they do take some time to get accustomed to using them.
Conclusion
The Dalstrong knives are very nice overall, they seem well made and they're just razor sharp.
The knives come in a very nice presentation style box so you could give them away as a gift, or keep them for yourself of course.
I've been using these knives and only these for the last couple/few weeks and they're very sharp, they offer very little resistance when cutting through meats, vegetables and fruits.
Since these are ceramic blades you do have to be more careful with them than you would regular metal knives as they are more fragile and can snap. I know how to use knives, I was a chef for many years, so I haven't broken them as I know how to handle them, but others might not so they could break which wouldn't be nice at all. You cannot use these knives for bones or hacking at things, but you really can use them like you would any other knives, except for that. They slice and chop very well and work quickly and easily.
The ceramic blades supposedly hold an edge a lot longer than regular metal blades and they're more sanitary as well making them a better choice over traditional metal blades in most ways.
The knives are very lightweight can take some time to adjust to using them if you're accustomed to metal knives and they're smaller, at least the chef knife is compared to my chef knives.
All in all I do like these knives a lot and I will continue to use them but I don't think they'll replace my metal knives altogether. They are useful and will make a nice addition to my collection for sure and I will use them often. I think the main issue is that I've been using my knives for over twenty years now and I don't think I could switch to using these only. I think if you bought or gave these to someone without much experience with knives they would be great.
I can easily recommend these knives objectively as they're well made, they're very sharp, look great and come with their own sheaths and overall just a great set of knives.
On the personal side of things, I'm not sure about them, I do like them yes, very much, but I don't think they'll ever replace my metal knives totally.
Pros:
+Razor sharp
+Look great
+Inexpensive compared to other ceramic knives
+Includes blade covers
+Well made
Cons:
-Very lightweight
-Can possibly break easily if not careful
-No pointy tips on them
| | |
| --- | --- |
| Grading | Scores Out of 10 |
| Overall | |
| Design / Aesthetic | |
| Value / Price | |
| Performance / Usage | |
Disclosure: This product was given to us for review by the company for review purposes only, and is not considered by us as payment for the review.
To learn more about our review policy please visit this page HERE.