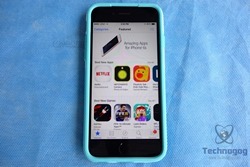 For today's review we will be looking at another iPhone 6/6S case from Speck. The CandyShell Inked is a way to differentiate your Apple phone from crowd by choosing from one of their 18 unique designs. Besides its unique outer shell appearance this case include all the features found in the standard CandyShell design including military-grade drop protection, raised bezel screen protection and a patented one-piece, multi-layer design.
Unboxing
The CandyShell Inked iPhone 6s & iPhone 6 case comes in a plastic box which showcases the case through a clear window. Inside the box the case rests on a removable cardboard tray. Like all genuine Speck products an anti-counterfeiting hologram and ID number is found on the back.
Inside the package is the CandyShell Inked iPhone 6s & iPhone 6 case and a warranty card. As previously mentioned there are 18 variations of this case and for this review we received the Color Dip Blue/River Blue version.
The case is composed of an outer shell of hard polycarbonate plastic. The inner part of the case uses a thermoplastic elastomer lining. This combination provides external protection and internal shock absorption for the CandyShell Inked iPhone 6s & iPhone 6 case.
On the back of the case we see the Speck name and logo along with the gradated design. The inner component is a powder blue design composed of divots and the Speck name and logo is found once again. A black rubber ring covers the opening for the camera.
We find the standard openings for the headphone jack, Lightning connector, speaker. A rubberized material protects the power and volume buttons.
Closer examination of the backside reveals the camera opening along with rubberized grips found at each corner of the case.
Specifications and Features
CandyShell Inked iPhone 6s & iPhone 6 Cases
-High-res graphics wrapped around a slim iPhone 6s & 6 case for durable patterns that resist scratching and fading.
-Military-grade drop protection. Certified to meet or exceed MIL-STD-810G drop test standards.
-Patented one-piece, multi-layer design. Patented design provides two layers of protection. Exterior polycarbonate layer disperses impact while interior TPE layer absorbs shock.
-Patented raised bezel screen protection. Bezel rises above screen to guard glass from direct drops onto phone face and prevents screen from scratching when laying flat.
-Precision-engineered slim fit. CandyShell Inked protects iPhone 6s & 6 without adding unnecessary bulk.
-Perimeter port and camera protection. TPE liner protects ports from drops without compromising sound or photo quality.
-Lab-tested durability. Durability testing against extreme temperatures, cracks, and abrasions.
-Responsive button protection. Rubberized covers shield volume and power buttons while keeping them fully accessible.
DUAL-LAYER MILITARY-GRADE PROTECTION
Patented design provides two layers of protection. This CandyShell Clear iPhone 6s Plus / iPhone 6 Plus case is certified to meet or exceed MIL-STD-810G drop test standards.
Price: $39.95 (Best Buy Exclusive Case)
The Review
Installation of the CandyShell Inked iPhone 6s & iPhone 6 case involves placing the edge of the iPhone 6/6S along one side of the case and then pushing the phone in as the edges of the case wrap around the screen. Removal involves prying the case away from one of the corners and then pulling the CandyShell Inked case off the iPhone.
The rubberized buttons are easy to press and all of the ports and controls are readily accessible. As a form of protection the CandyShell Inked iPhone 6s & iPhone 6 case should do an excellent job as the case is solidly constructed. A raised bezel on the front of the case protects the phone when placed face down on a flat surface.
As with previous Speck CandyShell cases I have reviewed the body and function of the case is consistent with past versions. Aesthetically it looks terrific while maintaining protection and functionality. My daughter has been using the case for the past few weeks and is happy with how it looks and how it stands out from her friend's iPhone cases.
Of course with most teens the camera is the most important part of the iPhone and the CandyShell Inked iPhone 6s & iPhone 6 case does not interfere with the ability to take pictures.
Conclusion
The CandyShell Inked iPhone 6s & iPhone 6 case is a great case choice for those who wish to have their iPhones stand out from the pack. With eighteen design choices the odds are in your favor of not having the same design as one of your friends. Plus with Speck's reputation you know that your Apple phone will be protected from most mishaps with military-grade drop tested protection.
While Speck has some of the more expensive cases on the market, you get what you pay for and with Speck you know what you are getting in terms of design and protection. These factors make the CandyShell Inked iPhone 6s & iPhone 6 case a worthwhile investment in your iPhones health.
Pros:
+18 Unique design choices
+Solidly constructed
+Easy access to inputs
+Military-grade drop tested protection
+Durable
Cons:
-Adds bulk to iPhone 6/6S
-Expensive
| | |
| --- | --- |
| Grading | Scores Out of 10 |
| Overall | |
| Design / Aesthetic | |
| Value / Price | |
| Performance / Usage | |
Disclosure: This product was given to us for review by the company for review purposes only, and is not considered by us as payment for the review.
To learn more about our review policy please visit this page HERE.