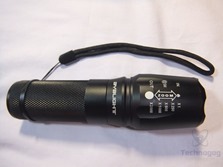 I've got a nice collection of flashlights and it's gotten bigger thanks to BYB for sending over their LED adjustable flashlight. This light comes with a really big 26650 6800mAh battery but it can also use the common 18650 batteries or even AAA batteries and I like the fact that it has multiple power options, it makes it more versatile. Read on to learn more…
Specifications and Features
I have to say I very much like the fact that this flashlight has three power options, you can use the included rather large 26650 battery or a standard 18650 battery or three AAA batteries, this gives you options and options are good I think.
The included charger is like most other chargers that come with these types of flashlights, it's spring loaded so it's adjustable to hold several types of batteries and the power plug colds into the charger for portability.
The flashlight is abut 5.5 inches when the front is not extended and then about 6.25 inches when extended. The handle section is slightly less that 1.25 inches in diameter and the head is about 1.5 inches at the thickest part and it's made of aluminum and it seems very well made overall. On the back is wrist strap already attached for you.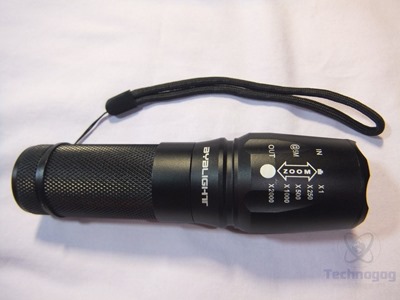 On the front is the lens of course and you can see the LED diode down inside and it's supposedly a Cree brand which is good of course as it's the most popular and the most reliable. Some reviews I've read say it's counterfeit but I don't have anyway to tell if it is or isn't, so I take it on faith that it is.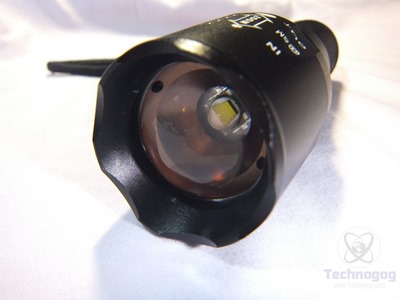 The beam is adjustable, the front section slides up and down and when it's all the way up it's a compressed beam or a spotlight and when it's all the way closed or down it's then a flood light or wide beam, and then of course there's everything in between.
The handle section is slightly over 2.25 inches long and it's a knurled or diamond pattern for grip.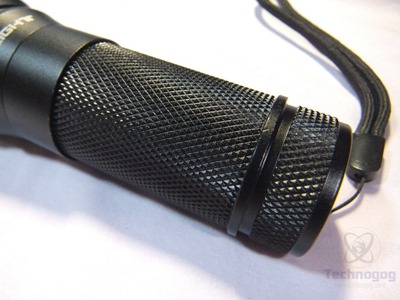 On the back is an orange push button switch which let's you switch the light to it's various modes. The modes are high, medium, low, strobe and then SOS and of course off.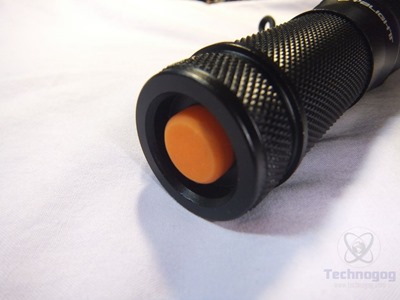 The tail end comes off so you can put the battery in but I noticed there is a white rubber gasket or O-ring there to help keep the water out. I took the front off as well and there is no gasket there for whatever reason.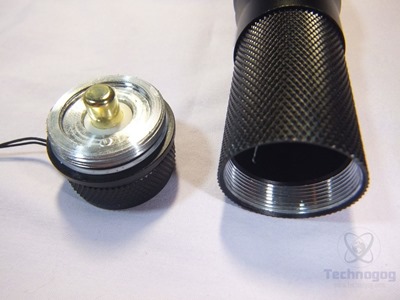 The battery charger works fine, the LED lights up red to indicate charging and charge time depends on battery capacity of course but it takes a few hours.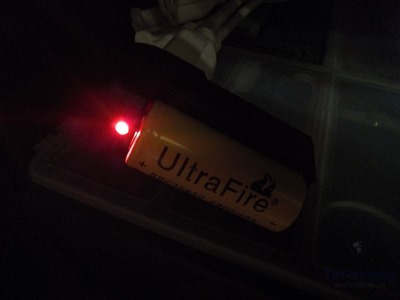 Conclusion
I've been using this light for about a month now every single day to make sure it works ok and it does. I've used it every night numerous times to take my dogs out to go to the bathroom and for numerous other things around the house as need be and I've had no issues with it at all. I've got several of these types of flashlights actually as I like them and I sort of collect them but I made an effort to just use this light only for a month for any of my lighting needs and it works fine. Battery life is great, I've only charged the battery twice in the month I've been using it which I have to say seems very good to me.
The light is very well made, it seems solid and sturdy and I should note the wrist strap is sturdy. I've noticed that on a lot of these lights of this type the wrist straps aren't the greatest and I've actually had them break but this one is still hanging on.
One small complaint would be that the specs say it's IPX-6 water resistant and submersible and yes there is a rubber gasket on the back but I took it apart and there is not a rubber gasket on the top of the flashlight where the lens and LED diode is so I'm not sure just how submersible it would be without the gasket there to keep the water out.
I have no issues with this light except for the waterproof and submersibility claim, I like it a lot, the large battery is nice as it lasts much longer than the common 18650 batteries that come with most of the lights of this type.
Pros:
+3 power options
+Includes large capacity battery
+Very well made
+Very bright
+Long battery life
Cons:
-No rubber gasket around lens
| | |
| --- | --- |
| Grading | Scores Out of 10 |
| Overall | |
| Design / Aesthetic | |
| Value / Price | |
| Performance / Usage | |
To learn more about our review policy please visit this page HERE.