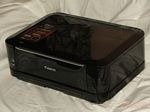 Last Tuesday Canon introduced two new All-In-One printers, the MG6120 and the MG8120, and they were kind enough to send me both over for review. Today I'll be taking a look at the less expensive of the two or the MG6120 that is priced at $199. This Pixma printer features a 3" LCD display that tilts for optimum viewing angle, while the touch-sensitive controls are on the surface of the printer and appear as needed. The printer has many other features as well like Android support with the ability to print pictures directly from your phone. I believe this is the first review of this printer, so read on..…

Like all Canon printers this one is packaged very well, and it's covered in plastic and tape for protection.
Included with the printer is quite a bit of documentation, some sample photo paper, a power cord, driver/software disc and six ink cartridges.
The ink cartridges are magenta, yellow, cyan, gray, black and a double black.
The MG6120 looks gorgeous, it's all glossy black with a nice design overall.
The front opens to the paper output tray, beneath that is the paper input tray.
When I opened the output tray I found the print head.
Next to the output tray you'll find a small door with the card reader inside and then below that is a USB port. The USB port just seems to be in an odd place.
There is another paper input tray on that back of the printer that just pulls out.
The top of the printer is the scanner cover, but it's also the user interface with a 3" LCD panel that collapses flush with the lid.
The scanner is of course under the lid, then that can be lifted up to access the ink cartridges and print head area.
Specifications:
Wireless Photo All-In-One
Item Code: 4503B002
The PIXMA MG6120 delivers high performance, quality and true ease of use in one, sleek machine. It begins with a revolutionary interface that Canon has created where the top of your printer turns into a sleek, ultra-responsive touch panel. The Intelligent Touch System provides light-guided direction with gorgeous touch sensitive controls so only the buttons you need light up. Your fingers will realize fluid, effortless operation where once you choose your function you're one step away from imaging brilliance.
For the first time in home photo printing your HD Movie moments can now become beautiful photos with your new PIXMA printer. Full HD Movie Print1 turns your favorite HD movie clips captured with compatible Canon EOS Digital SLR or PowerShot cameras into beautiful photo prints. Built-in Wi-Fi lets you easily print and scan wirelessly with the added ability to print your photos from compatible iPhone, iPod touch and Android devices. Produce true photo lab quality prints at home with a maximum print resolution of 9600 x 2400 dpi4 and six individual ink tanks including a gray ink for professional color and black & white photos. Plus, Auto Document Fix delivers beautiful, easy-to-view scans by advanced image analysis and area-by-area data correction, automatically.
Join the Generation Green initiative with Built-in Auto Duplex Printing, which allows you to automatically print on both sides of the paper and can help reduce your paper usage by up to 50%. Don't feel like using a computer? No problem. Just insert a compatible memory card5 into the built in card slot, select images on the LCD display, and print! Thanks to a PictBridge6 connection you can also print photos directly from your compatible digital camera, DV camcorder or camera phone, and even with the optional BU-30 wireless Bluetooth unit.  Enjoy previewing and editing images on a 3.0″ Color LCD and print a beautiful, borderless 4″ x 6″ image in approx. 20 seconds.
Specs:
Print Speed (up to):   4″ x 6″ Borderless Photo: Approx. 20 seconds Black: Approx. 12.5 ipm Color: Approx. 9.3 ipm
Print Resolution (Up to): Color:Up to 9600 x 2400 dpi4Black:Up to 600 x 600 dpi
Paper Sizes: 4″ x 6″, 5″ x 7″, 8″ x 10," Letter, Legal, U.S. #10 Envelopes
Dimension: (W x D x H) 14.5″ W x 18.5″D x 6.9″ H
Weight: 19.3 lbs
Estimated Retail Price: $199.99
Let's start with the installation, first thing install the print head and ink cartridges. There are red LEDs that let you know the cartridges are installed correctly.
Once the cleaning/priming cycle is complete the printer is read to go, you'll have to enter the language and then you can set the wireless settings right on the printer.
Then you'll need to install the software on your computer, it estimates like 18 minutes to install but it took about five actually.
Once you get the software installed you'll find something interesting in the right corner of your desktop above the time. There's options for Auto Scan, Layout Print, Photo Print, Show Main Screen and Hide.
Speaking of the main screen here it is and al of the options:
When powered on and ready to go the touch pad will light up white and there are three buttons beneath the display corresponding to options found there.
When you're doing something like making a copy more buttons will be active, and the Home and Back will always be there to access. Essentially the printer lights up which buttons you'll need to use for what you're doing. The buttons are extremely sensitive, actually I might say they're overly sensitive honestly. I found by playing with it that you don't even have to touch them, you can just put you finger very close and it will activate. The white circle isn't for decoration actually, you can run your finger around it to navigate.
On the main menu there are three pages of options.
Most of the options above are self-explanatory right?
Here's the Fun Print options, which aren't really what I would call Fun… For all of these you can just use a memory card, USB drive or your camera with pictures on it.
I did the Calendar print for fun and found something odd, instead of the month it prints out the number of the month..  I looked and I didn't see anything to change to make it say the actual month.
There's plenty or options for the calendar like different sizes of paper and a few different layouts along with different lengths for the calendar.
Let's take a look at the settings. There's four main options, Maintenance, Wireless Lan Setup, Device Settings and Display Remaining Ink Level.
Here's the settings expanded:
If you want to scan something you can scan to email, memory card, PC or USB drive.
I scanned a Wii cover to test the scanner. I scanned it at the default 300dpi but used Photo as the setting for the scan.
The scan looks kind of washed out really doesn't it? You can change the settings some more to improve the quality of course.
Under Special Print you'll find options for template lie lined paper, graphs and even planners. There's an option for Print from Mobile Phone, but I'm not sure what it's for as you can print without using that option.
You can put in a USB drive or memory card and view a Slideshow with three different transition effects. The slideshow is neat I guess, but not something I would use often.
I used the PC interface to print some pictures. In the interface you'll find many options for printing paper styles and photo layouts.
I used the 4×6 glossy photo paper that came with it actually, three sheets so three pictures. I printed them on photo or high quality settings and they printed fairly fast actually. The print quality is just excellent. The pictures are actually my son on his first day of Kindergarten, so I gave a couple of them away and to Grandma and Mom and they were both impressed. Up until very recently my wife was still using a film camera and I can tell you that these prints looks just like those we got back from the photo lab. They're incredible really, no line, no nothing they look like professional pictures.
For regular printing I printed a couple pages from the site. This were just done on the text and graphic settings. The print quality is very good, even zoomed in at 10X like the last picture is there isn't much bleeding at all.
One the features that I really like about the MG6120 is Android support, specifically the ability to print wirelessly from your phone. Just go to the Android Marketplace and get the Canon Easy Photo Print app.
Then you'll have to find the printer, it found the MG6120 and connected in a matter of seconds.
The app will find all of the photos on your phone and show them to you to select to print.
Then you can select print quality, paper size and number of copies and the print away.
I just printed a quick sample of my cat Molly that was actually taken with a Canon camera a while back.
There's another feature on this printer that unfortunately I can't test, it requires you to have a Canon camera and I don't have one. I know I just said the above picture was taken with a Canon camera, but the Canon cameras I get for review have to be returned after the review unfortunately. The feature though is the ability to print frames from movies you've taken with either a Powershot or an EOS camera. You can print them out in full HD quality. It's an interesting feature that I think would come in handy, it's a shame I can't test it out for you though..
The printer is brand new, just on the market so it's going for it's full price of $199 and I think that's about the right price for it. The ink cartridges cost $14 each from the Canon site, but you can get Combo and value packs that will lower the price some. You can get one each of the colors and black with a 100 sheet photo paper for $56, which isn't bad. The PP-201 alone is $40, so basically you're getting the paper for free.
Conclusion:
Canon has got a winner here in the Pixma MG6120 , it's just got a ton of features that anyone can appreciate. It's truly a great printer for the home or home office that produces excellent results.
Setup is simple and quick, just enter you network info, install some software and you're ready to go.
Photo printing is excellent, it's fast and the prints look amazing. Text printing is very good, even on normal settings it's clear and crisp and easily readable and acceptable for business uses.
I especially like the Android support, you can quickly and easily print directly from your phone.
This would be the perfect all-in-one if it had fax capabilities built-in, but as is it's not bad at all.
The glossy black looks very nice, but it's just a serious dust and fingerprint magnet.
Pros:
+Nice looking
+Easy to setup and use
+Many printing options directly from the printer
+Fast and quiet printing
+Excellent photos
+Decent print quality
+Very responsive touch panel
+Print directly from phone
Cons:
-No Fax
-Glossy black picks up dust and fingerprints
-Touch panel can be overly responsive
| | |
| --- | --- |
| Grades: | |
| Overall | |
| Design | |
| Performance | |
To learn more about our review policy please visit this page HERE.