External hard drives are nice for their portability but when you're not going anywhere and you need to transfer files there's nothing better than a dock to do that. Docks are easy to use, there's no messing around with installing and uninstalling when you want to swap drives, just pop in and pop out. Today for review I've got a product from a new company called Siig, it's a UBS 3.0 SATA docking station. The dock is like other out there, but this one actually features a fan in it to help make sure your drives stay cool, and it's silent so you won't even know it's running. So read on to learn more and see how it performs with both an SSD and an HDD..

The Siig dock comes in a little box, looks nice.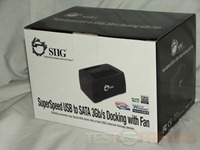 Inside the box you'll find the dock, UBS 3.0 cable, power supply and cord, along with rubber feet to stick on the bottom and a brief manual.
The dock itself is black plastic with the Siig logo on the front and there's four LEDs around the power button. On the top are two slots, one in the front is just empty while the one is the back is the actual SATA connection.
On the back you'll find the USB 3.0 port and the power connection.
On both right and left sides are many holes for ventilation, there's a fan in there as well.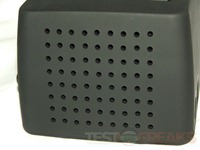 The bottom just has an id label on it and spaces for the rubber feet to fit. I then stuck the feet on.
Specifications:
SuperSpeed USB to SATA 3Gb/s Hard Drive Docking with Fan
SuperSpeed USB 3.0 docking station for SATA 3Gb/s 3.5"/2.5" HDD
Part #: SC-SA0D12-S1
The SC-SA0D12-S1 SuperSpeed USB (USB 3.0) to SATA 3Gb/s Hard Drive Docking with Fan provides a convenient way to access any 2.5″ or 3.5″ SATA hard disk drive or solid state drive (SSD) without opening a computer case or a storage enclosure to mount the drive. Connected to a SuperSpeed USB 3.0 capable host computer using the included SuperSpeed USB 3.0 cable or a regular High-Speed USB 2.0 cable, the SuperSpeed USB (USB 3.0) to SATA 3Gb/s Hard Drive Docking with Fan provides hot-swappable as well as plug and play capabilities, making it convenient to add or change a hard disk drive or SSD without rebooting the system.  With an internal cooling fan feature which make it perfect for the heat dissipation of the hard drives. SC-SA0D12-S1 supports any 2.5″ or 3.5″ SATA hard drive or SSD with capacity up to 2 TB. The data transfer rate between host and docking is up to 5 Gbps using SuperSpeed USB 3.0 or up to 480 Mbps using High-Speed USB 2.0
-Product Type: Hard disk docking station; Hard disk enclosure
-Drives Type: 3.5″ or 2.5″ SATA HDD/SSD Hot-swappable
-Host Interface: Superspeed USB 3.0 B receptacle (Need to connect to Superspeed 3.0 for maximum performance)
-Interfaces/Ports: 1 x 7-pin SATA data receptacle (female) & 1 x 15-pin SATA power receptacle (female)
-Compatible Devices: 3.5″/2.5″ HDD or SSD
-Package Contents: SuperSpeed USB (USB 3.0) SATA Hard Drive Docking with Fan, Power Adapter , USB 3.0 Standard-A plug to USB 3.0 Standard-B plug Cable , User's Manual
-Green Compliance Certificate/Authority: RoHS
Specs:
* Warranty: 2 years
* Color: Black (with smooth leather paint)
* Input Voltage: 110V AC ~ 240V AC
* Chipset: ASMedia
* Interface: Superspeed USB 3.0
* Certification: Superspeed USB 3.0 certified
* Data transfer rate: Up to 5Gb/s when used with SuperSpeed USB 3.0 interface
* Weight: 1.92 lbs.
* Dimension: 5 5/16″ x 7 11/16″ x 5 5/16″
* Carton Weight: 21 lbs.
* Carton Size: 27 1/2″ x 8 3/8″ x 11 9/6″
MSRP: $59.99

Here's an HDD and an SSD in the dock:
That's the OCZ Vertex 2 E in there above, but I actually used the Kingston SSDNow V 128gb for the review and here it is in the dock and then the hard drive again, but with power. The LEDs light up blue when powered on and the one nearest the bottom will blink with activity.
The Hard Drive I used for testing is a 1tb Samsung 32m 7200RPM drive, model HD103UJ.
Using it, it does have a fan in it but I couldn't hear it at all, but if you hold it up to your ear you can hear the hum of the fan. So it's not loud at all, and I guess it works to keep the drive cool.
So this is comparing USB 2.0 to USB 3.0 using ATTO DiskBenchmark and CrystalDiskMark with both the SSD and the HDD.
First up is Atto and the hard drive:
As expected a nice difference, about three times the speed.
Next is the SSD:
The read speeds just about four times using the USB 3.0 interface, not bad.
So the here's the CrystalDiskMark results:
So the Siig SUB 3.0 dock works well, but I still can't figure out what the little space in the front is for. The space isn't big enough to hold the power supply in, but you could squeeze the USB 3.0 cable in there, then again I guess you could toss another HDD in there like it's waiting in line.
Conclusion:
The Siig USB 3.0 SATA dock works fine, there's no issues with it, it does what it needs to do plain and simple.
The dock itself seems well made, it's black plastic and it's easy to use, just pop the drive in or out and you're ready to go.
The cooling fan is silent and it seems to work just fine.
As far as priced is concerned, it's a bit more expensive than other out there, the fan worth the extra $10+ dollars?
Pros:
+Works fine
+Silent cooling fan
+Simple, easy to use and well made
Cons:
-A bit expensive when compared to others
| | |
| --- | --- |
| Grades: | |
| Overall | |
| Design | |
| Performance | |
To learn more about our review policy please visit this page HERE.