I've taken a look at plenty of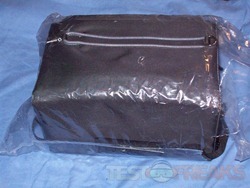 The bag is nylon and it's gray in color with a handle on the top.
On the back is what looks like a pocket but it isn't actually, inside is a waterproof cover that you stretch and pull over the entire case.
On the bottom of the case you'll find rubber non-slip feet for protection and support.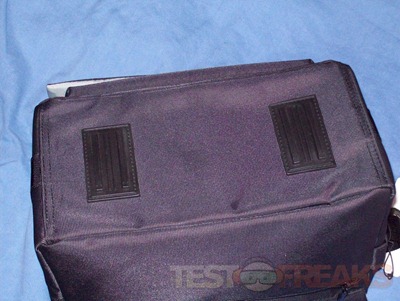 The top flap is usually something that you open to reveal the interior but that's not so with this case. The flap is held on with velcro and it opens to show two zippered compartments, one on the front with smaller pockets and then the main area of the case.
When you open up the main flap you'll be greeted with three section and inside you'll find the shoulder strap. The top flap actually has its own netted pocket for any other accessories you might need.
The shoulder strap is long and features a padded section for comfort. The strap attaches to hook on the side of the case with metal clips.
So back to the inside, you'll find three compartments with dividers between them.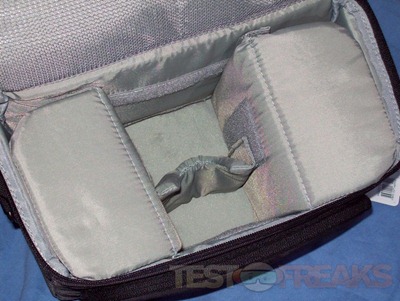 The center compartment has a a 'U' shaped divider for lens support.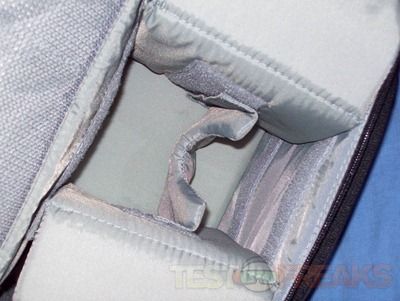 The right and left compartments have rectangular dividers.
All of the dividers, including the main ones are attached with velcro and can be moved as needed so you can configure the bag for your specific needs.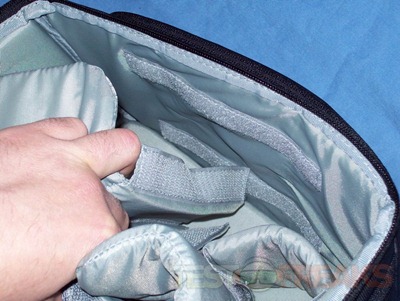 I used the bag with a Canon 10D, T3 and Lens along with other accessories.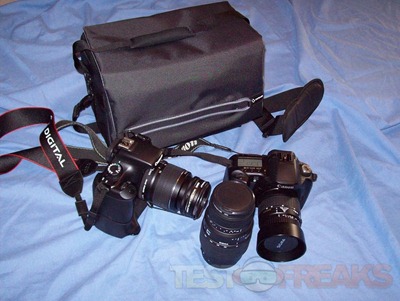 Once I got the camera and parts in the case I found there's plenty of room for even the largest of cameras.
The case offers a lot of protection for your camera and components, they should be well protected.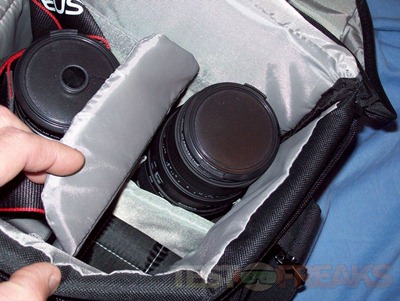 It's a camera case, you put stuff in it, there's not much more to say really.
Conclusion:
The Capdase 320A MKeeper SLR Camera Bag is truly a versatile bag that should be more than enough to handle all of your photographic needs. Yes it's a rather large bag but it's meant to be as the cameras meant to go in it are large, but you don't need to use it for DSLR cameras you can use it pretty much any camera as well. The bag is more than big enough to carry your camera, batteries, lenses, memory cards and many other accessories you might need to bring along with you for a day of shooting photos.
The case is nicely made of durable nylon and includes a handy rain cover built right into the case itself to offer protection from the elements. You'll be able to take the bag with you no matter what the conditions and your equipment will be safe and secure in the Capdase 320A MKeeper Camera Bag.
Pros:
+Plenty of room for all your photography needs
+Includes padded shoulder strap
+Space inside can be arranged as needed
+Includes built-in rain cover
Cons:
-None really
| | |
| --- | --- |
| Grades: |   |
| Overall | |
| Design | |
| Performance | |
To learn more about our review policy please visit this page HERE.