Kingston built its reputation on its memory and flash storage technology. This knowledge and experience has help make their SSD (solid state drives) some of the best performing ones on the market. Their first enthusiast based SSD the HyperX was the fastest SSD we have tested at technogog. Not content to rest on their laurels they have recently released another enthusiast grade SSD – the HyperX 3K SSD.
The big selling point for the HyperX 3K SSD is the lower price point. Its predecessor is still available and will run you more than the newer version. While the HyperX 3K SSD is supposed to be a hair slower you really are not sacrificing performance with this newer model.
The Kingston HyperX 3K SSD comes as either a stand-alone drive or in an upgrade bundle. For today's review we will look at the stand-alone version.
Kingston ships the HyperX 3K SSD in a black cardboard box with the drive pictured in the center of the box. The packaging is very similar to the original HyperX SSD model. Additional drive info is found on the front of the package including drive capacity, Sandforce support, three-year warranty and the drive's read/write speeds.
For the first time since I have been reviewing SSDs the reference benchmark is indicated on the front of the package. Kingston chose ATTO Disk Benchmark 2.41 which measures raw transfer rates for both reads and writes. Also I've been told in private that ATTO seems to be the SSD bench standard.
On the back is a list of package contents and some features of the drive in numerous languages. The Kingston HyperX 3K SSD comes in 90, 120, 240 and 480 GB capacities. Kingston advertises sequential readsusing SATA Rev. 3.0 of 555MB/s for the 90GB/120GB/240GB capacities and 540MB/s for the 480GB version and sequential writes of 510MB/s with 90GB/120GB/240GB and 450MB/s on 480GB using SATA Rev. 3.0.
Opening the box we find the HyperX 3K SSD, a getting started guide, 3.5" mounting bracket and two sets of four screws.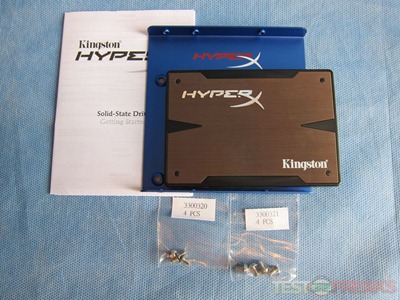 Appearance wise Kingston changed the color scheme of the HyperX 3K SSD to black and slate grey. Gone is the classic HyperX blue and silver; this was probably done to differentiate this drive from its predecessor. The casing is still composed of aluminum. The HyperX and Kingston names are seen on opposite corners of the SSD.
The HyperX 3K SSD is a 2.5-inch form factor measuring 69.85 x 100 x 9.5mm. The internals of the drive features a 2nd Generation SandForce Controller SF-2281 and MLC NAND (3k P/E Cycles). This is down from 5k P/E Cycles found on the original HyperX SSD. This is probably one of the reasons why the newer drive is more affordable than the older model.
In addition the drive supports OS capable TRIM and garbage collection at the firmware level. Kingston provides a three-year warranty with free technical support, which is always handy to have.
The included bracket allows the HyperX 3K SSD to be installed in a desktop environment, while its normal 2.5" size makes the HyperX 3K SSD laptop friendly. Kingston does not recommend this drive for a server environment and indicates this on the back of the packaging.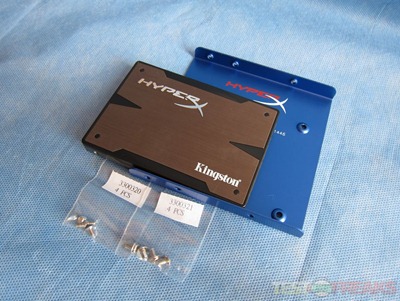 Specifications:

HyperX performance at an exceptional price.
Budget-minded gamers and enthusiasts will benefit from the lower price of Kingston's new HyperX 3K SSD. This solid-state drive combines premium 3000 program-erase cycle NAND with the second-generation SandForce controller. Its lower price means more users can experience ultra-responsive gaming, multitasking and multimedia computing power. 3K loads games and applications faster, increases frames per second (FPS) for an improved gaming experience and allows for quick transfers and edits of large media files. HyperX 3K provides high-speed SATA Rev. 3.0 (6Gb/s) performance and blazing fast random and sequential read/write speeds. SandForce DuraClass technology provides the latest data integrity protection for ultimate endurance over the entire life of the drive. HyperX 3K SSD comes in a sleek, black and aluminum case design, accentuating the look of any power user's system. For added peace of mind, HyperX 3K SSD is backed by a three-year warranty and legendary Kingston reliability.
Features
SandForce controller technology
High-speed SATA Rev 3.0 (6Gb/s) transfer speeds
Advanced Wear-Leveling Technology
User-Configurable Over Provisioning
Performance — incredible speeds for enhanced productivity
Reliable — much less likely to fail than a standard hard drive
Shock-Proof — dropping your notebook no longer means losing your data
Cool & Quiet — runs silent and with no moving mechanical parts to generate heat
Innovative — uses NAND Flash memory components
Supports TRIM — enhances device wear leveling by eliminating merge operation for all deleted data blocks
Supports S.M.A.R.T. (Self-Monitoring, Analysis and Reporting Technology)
Guaranteed — three-year Kingston warranty, free technical support
Specifications
Capacities: 240GB
Sequential reads: SATA Rev. 3.0 – 555MB/s
Sequential writes: SATA Rev. 3.0 – 510MB/s
Form factor: 2.5″
Dimensions: 69.85 x 100 x 9.5mm
MTBF: 1,000,000 Hrs
Total Bytes Written (TBW):
240G: 153.6TB (based on 140GB per day for 3 years)
Interface: SATA Rev 3.0 (6Gb/s), SATA Rev 2.0 (3Gb/s)
Controller: 2nd Generation SandForce Controller SF-2281
Components: MLC NAND (3k P/E Cycles)
Warranty/support: three-year warranty with free technical support
Sustained Random 4k Read/Write: 240GB – 40,000/57,000 IOPS
Max Random 4K R/W: 240GB – 86,000/60,000 IOPS
PCMARK Vantage HDD Suite Score: 240GB: 60,000
SMART Tools: Self Monitoring, Analysis and Reporting Technology to ensure a healthy drive
Power Consumption:
0.455 W (TYP) Idle / 1.58 W (TYP) Read / 2.11 W (TYP) Write
Price: $279.99 (from Amazon at time of review)
nstallation of the HyperX 3K SSD is straightforward. When it is first recognized by a Windows system you will need to initialize then format it. Once this is performed we see 224 GB of useable space.
For testing the following platform with the latest Intel Rapid Storage Technology was used:
CPU: Intel Core i7 2600K
Motherboard: Asus P8P67 PRO
Memory: 8GB Mushkin DDR3 1300
Video Card: Galaxy 460GTX
Hard Drive: Western Digital 250GB 7200RPM, Samsung 1 TB 7200 RPM
PSU: Ultra X-Finity 1000-Watt Power Supply
As a frame of reference the following SSDs were used:
Kingston HyperX 240 GB – 555MB/s read, 510MB/s write – SATA Rev 3.0 (6Gb/s)
Kingston SSDNow 200 V+120GB – 535MB/s read, 480MB/s write – SATA Rev 3.0 (6Gb/s)
Intel X25-M SSD 80 GB – 250MB/s read, 70MB/s write – SATA Rev 2.0 (3Gb/s)
Verbatim SATA II 128 GB – 270GB/s read, 225MB/s write – SATA Rev 2.0 (3Gb/s)
Benchmarking was performed using ATTO Disk Benchmark, Anvil Storage Utilities and AS-SSD.
ATTO Disk Benchmark tests both the read/write speeds of the drives. Looking at the results we see the three SATA Rev 3.0 capable drives from Kingston were the fastest in terms of reads and writes with the HyperX 3K coming out on top.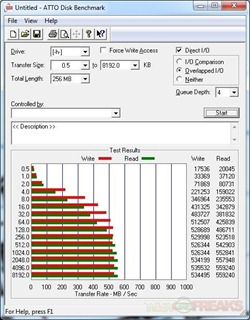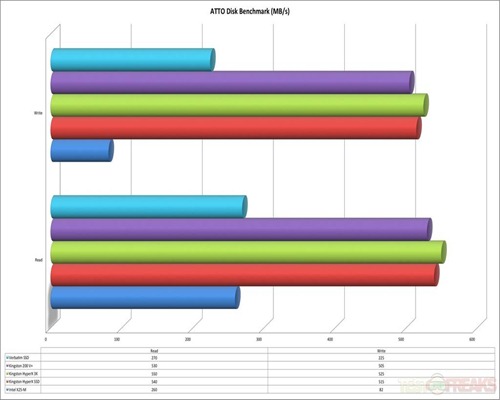 Next up is the Anvil Storage Utilities, which shows the HyperX 3K, coming out ahead of its peers once again.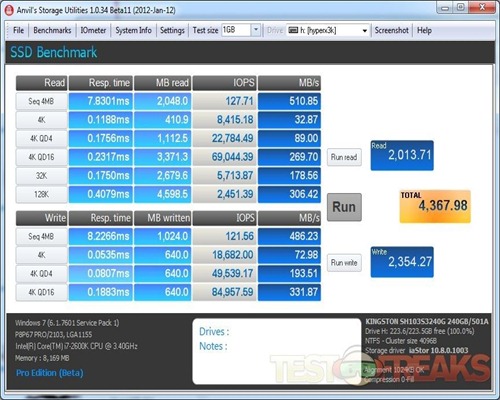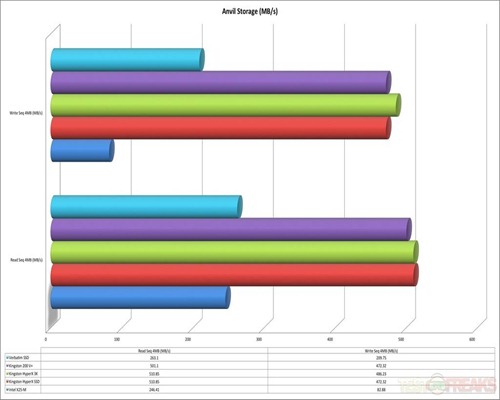 Finally here are the AS-SSD results using the Main, Copy and Compression Benchmarks.
Benchmarks are great but how does the HyperX 3K SSD perform in real world settings? Using the SSD as the boot drive for a Windows 7 system made for stellar performance as boot times were less than ten seconds. While a fully operations desktop was obtained in under a minute. Applications loaded significantly faster when compared to a platter based hard drive.
Overall the HyperX 3K SSD is a solid performer. The inclusion of TRIM and garbage collection will keep the drive clean and in optimal shape for the life of the solid state drive.
Conclusion:

With the HyperX 3K Kingston continues its trend in producing reliable, fast solid-state drives. Coming in at a lower price point than the older version, the HyperX 3K provides lightning fast read/write speeds for the enthusiast, gamer or power user. Installing the HyperX 3K into one's desktop one laptop will significantly improve that machine's performance. In the past the best way to upgrade one's computer was by adding more memory; in 2012 it seems an SSD is the best way to supercharge your sluggish system.
Pros:
+Stylish HyperX appearance
+Lightning fast speeds
+TRIM Support
+Three year warranty
Cons:
-3k P/E Cycles instead of the 5k P/E Cycles found on the earlier HyperX SSD
| | |
| --- | --- |
| Grades: | |
| Overall | |
| Design | |
| Performance | |
To learn more about our review policy please visit this page HERE.