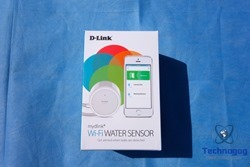 When thinking of water sensors the name D-Link does not immediately comes to mind. However the company known for their routers and network devices has added just such a device to their product line. The DCH-S160 mydlink Wi-Fi Water Sensor is a wireless based sensor which warns the user before water damage occurs.
As a homeowner, I have had the misfortune of dealing with such water catastrophes via leaky pipes and weather related flooding. Having such a device as the DCH-S160 mydlink Wi-Fi Water Sensor would have saved me a lot of time, frustration and most importantly – money. Today's review item is one way of being pro-active for this time of situation.
Unboxing
The DCH-S160 mydlink Wi-Fi Water Sensor arrives in a white and turquoise cardboard box within an image of the device along with an IPhone on the front. On the sides of the box we view easy set up instructions, a description how the Wi-Fi water sensor works along with features, minimum requirements and package contents. On the back is an example of the water sensor in action.
Opening the box we find the Wi-Fi water sensor, RJ11 cable, quick install card and water sensor cable.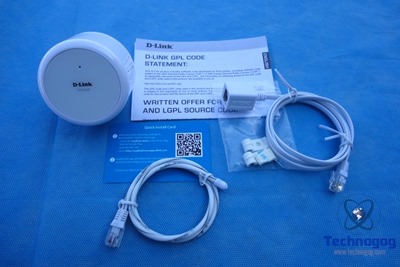 The device is a circular electric plug composed of shiny white plastic. The Wi-Fi water sensor measures 2.56 x 2.56 x 2.07 inches and weighs 3.53 ounces.
In the center of the unit is the D-Link name with an LED above it. On the backside is the AC plug along with the serial number, MAC ID, mydlink number, Wi-Fi name and PIN code. Originating from the bottom is the water sensor cable jack. On the right-hand side is the WPS button. D-Link provides a 3.5 foot no-sense cable and a 1.65 foot sensor cable. The no-sense cable is basically a RJ11 telephone extension cord with a coupler at one end. For longer lengths simply replace with a longer cable.
The water sensor features a 70 dB alarm along with a blinking LED when water is detected. To use the device with your Android or iOS smart phone or tablet, simply download the free mydlink Home app.
The quick install card instructs the user to download the free app from either the iTunes app store or the Google Play store. An alternative is to scan the included QR code or go to be website address listed on the card. The app will provide instructions for connecting and configuring the device. On the back of the card are the PIN code, serial number and MAC address information
Specifications and Features
Upon completing installation you will probably be asked to run a firmware upgrade.
At this point you are ready to use the mydlink Wi-Fi Water Sensor. From the mydlink Home app one can name the device and set up alert preferences.
For testing I used the mydlink Wi-Fi Water Sensor in an area of my home known for having an occasional leak. I placed the sensor probe at the base of a bucket and poured some water into the container. The DCH-S160 immediately started to emit a beep similar in volume to when a universal power supply (UPS) is running on emergency battery power. D-Link allows the DCH-S160 to be paired with one of its sirens for those who want a loud indication of possible water damage.
Besides the audible alert, I was also able to receive notification alerts and email warnings through the alert preferences on the mydlink Home app. In addition D-Link offer IFTTT (If This Then That) support for those who use that application.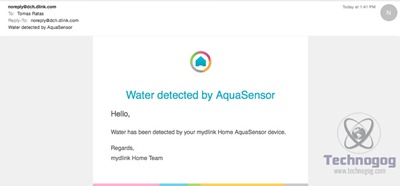 Conclusion
Let's face it water damage can be costly. It is much easier to catch such a disaster sooner than later. With the DCH-S160 mydlink Wi-Fi Water Sensor you can place it in locations that are risks for such events. With five feet of cord length most areas can be protected with the included cables. However if you wish to extend the distance simply use a RJ11 telephone extension cord with a coupler to dramatically increase the coverage area.
The mydlink Wi-Fi Water Sensor works as advertised as it alerts the user using either notification on one's phone through the free mydlink Home mobile app or via an email alert. As they say an ounce of prevention is worth a pound of cure or in this case a few ounces of water detected is much better than having to deal with a flood. For any smart home the DCH-S160 mydlink Wi-Fi Water Sensor is a good investment and can probably save a lot of time, money and frustration in the future.
Pros:
+Simple to set up
+Plug in and forget until an alert occurs
+Phone notifications
+Email alerts
+Can use RJ11 Telephone cords for extensions
+IFTTT (If This Then That) support
Cons:
-Included cables could be slightly longer
-Indoor use only
| | |
| --- | --- |
| Grading | Scores Out of 10 |
| Overall | |
| Design / Aesthetic | |
| Value / Price | |
| Performance / Usage | |
Disclosure: This product was given to me for review by the company for review purposes only for free or at a discounted price.
To learn more about our review policy please visit this page HERE.