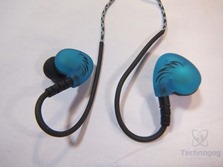 Up for review today I've got a set a sports style earbuds called the W1s from a company called iSens. These earphones are wired with a rubberized cord for durability and the earphones have loops built into them to make sure they stay in place no matter how active you are. The earphones are well made overall and they do sound very good especially if you consider they're about $15, overall they're worth the cost as an inexpensive set of sports earphones. Read on to learn more…

Specifications and Features
The headphones are a sport style meaning that they should be more durable and rugged when compared to others. The cord looks braided and it's actually covered with rubber making it springy but yet very durable. The cord is about 46 inches long which I think is more than long enough for any uses. You can have you phone or mp3 player on your side and the cord will reach just fine. The audio connector is angled and it's gold plated for better conductivity.
In-line you'll find a small controller with has a single button with a phone picture on it and then on the back is a microphone. In-line also is a plastic spring style clip to hold the earphones in place on your shirt or coat. The instructions don't mention what the button is for but I tested it with my Samsung Galaxy S6 and it can be used for play and pause and it can be used to answer and end calls.
The earphones are a bit large and they're semi-transparent with what looks like a wing design on the outside. The earphones have a semi-ridged loop coming out of them that loops around your ears to hold them in place while you're running or exercising. The loop is soft and actually comfortable to wear, normally I don't care for things around my ears but I don't mind these ones as they're soft and very comfortable even for long periods of time. The earphones are large yes but they're made of plastic and they're lightweight.
I used these with my Samsung Galaxy S6 Android phone and they worked just fine. The remote let me play and pause the music and I could answer and end calls with the button.
The sound quality is actually decent, I found the sound to be full and there's plenty of bass in them as well. The sound is clear and should be good for all sorts of music. The bass might be a bit overwhelming for bass heavy music though like pop or rap.
The cord is rugged and durable as it's rubberized but I found that the rubber does make it stick to your skin especially if you sweat. Sticking to your skin can be a bit annoying, I found wearing it over my shirt was a better choice.
The ear loops fit comfortably around your ears and they do help keep the earphones in your ears while being active like running or exercising.
Conclusion
For the price these aren't a bad choice for a set of sports earphones, they're well made and durable and they sound pretty good.
The remote offers basic functions for paly and pause and to answer and end calls and that's all you really need for most things.
All in all these worth the price for sure.

Pros:
+Decent bass
+Full sounding
+Comfortable for long periods
+No line noise
+Seems well made overall
Cons:
-Stiff and sticky cord
-Instructions lacking
| | |
| --- | --- |
| Grading | Scores Out of 10 |
| Overall | |
| Design / Aesthetic | |
| Value / Price | |
| Performance / Usage | |
Disclosure: This product was given to me for review by the company for review purposes only for free or at a discounted price.
To learn more about our review policy please visit this page HERE.