Where do I start with this review? A post video processor is something that I've never had any experience with, it's actually something that really never thought about honestly. I have an HDTV and Blu-ray and all that high-definition stuff that we've gotten accustomed to. I always thought high-def was good enough and didn't need any improvement, but reviewing the product I have today I found I was wrong. What I have for review today is the Darblet, yes it's kind of weird name, but the whole name is the DarbeeVision Darblet HDMI Video Processor, or Darblet for short! The Darblet sits between your HDTV and any HDMI type device like a Blu-ray player or PlayStation 3. You can put it between your HDTV and home theater system with many devices so you can utilize it with all of them.
So what does it do? Well to put it simply it enhances your visual experience by embedding depth information into whatever video you're playing through it. Sounds kind of technical still, but what you really need to know is that the Darblet makes everything look better really. It can take a not great looking video and make it better, but it can also take an excellent HD video and make it even better than you'd ever expect.
I'll be honest, I thought this was more of a gimmick gadget but it's not really, it truly does what to enhance every type of video, from movies to even gaming.
The Darblet is one of those things that I think if you watch a lot of HDTV, or HD entertainment you'll most certainly appreciate what the Darblet can add to your overall experience.

The Darblet arrived to me in just a plain white box and in that box was the Darblet box.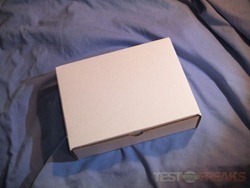 The Darblet box is really just a white box as well with a big label on it.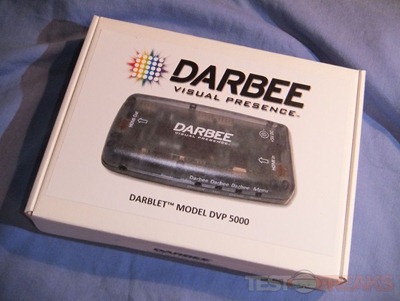 Opening the box you'll find the parts all nestled in their places.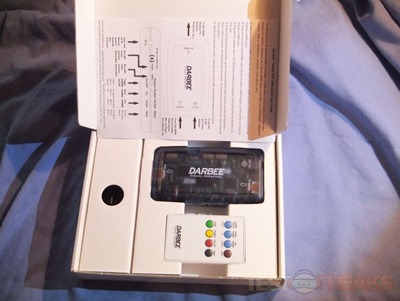 Once you unpack everything you'll find an instruction sheet, power supply, remote and the Darblet itself.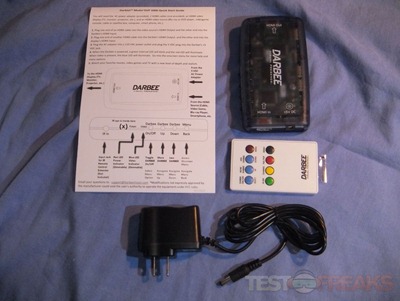 The remote is one of those thin credit card style things, small and lightweight with the pop style buttons. I don't know how else to describe them, they're soft plastic and they pop back up when you press them down. The remote has two rows of buttons on it to control the Darblet. The top row has buttons for on/off, menu, up/down, and then buttons to change the modes in the second row.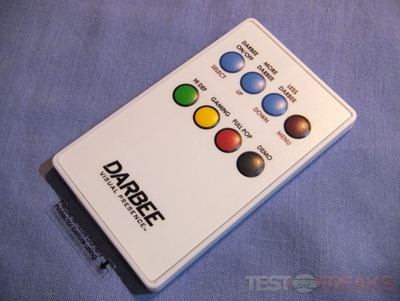 The entire remote is white plastic, and not much really special about it honestly.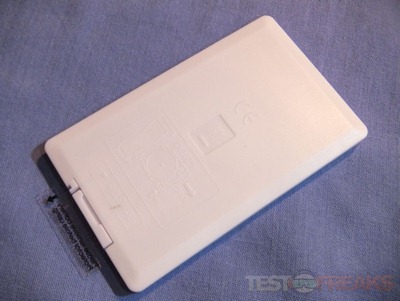 The Darblet sells for about $320 and whne I took it out it wasn't what I expected at all for the price. It's a small semi-transparent plastic box really that honestly doesn't look like something that belongs in a home entertainment center. Gaudy or cheap would probably be the words I would best use to describe the look of it. On the top you'll see the Darbee logo along with labels for HDMI in and out and for the power in.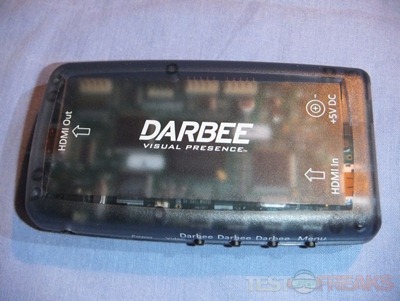 On the bottom of the Darblet you'll find the identification sticker.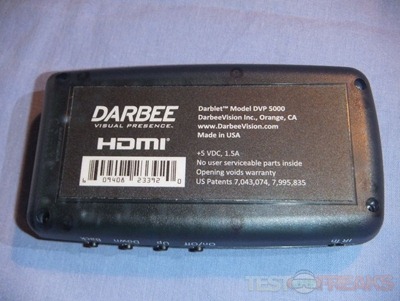 On the left side is where the HDMI output connection is.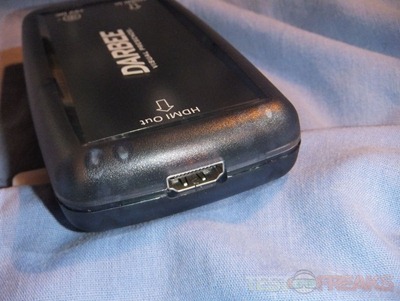 On the right side is the HDMI input connection and one for the power adapter.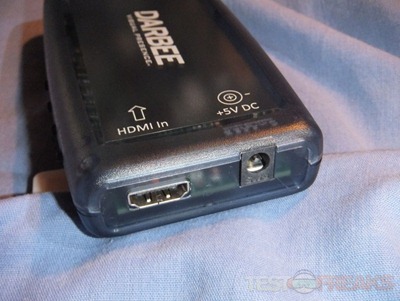 On the front of the Darblet are menu buttons and a jack for an IR Extender. The menu buttons are pretty much the same as those on the remote.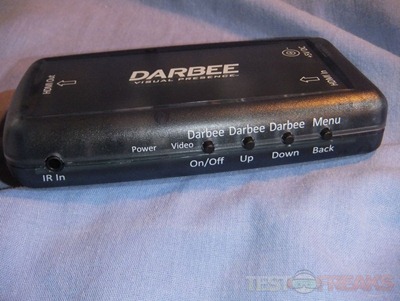 I mentioned the design earlier, at least the looks of it, but usability is questionable as well. I don't understand why they put the HDMI input and outputs on the sides as it makes the device longer and it makes the HDMI cables more visible.
Sure you can use the IR extender and hide the Darblet somewhere, but if you don't have the IR extender then you have place the Darblet right in plain site in your entertainment center and it's not exactly the prettiest thing to look at and it doesn't fit in at all.
Specifications:

DarbeeVision Darblet HDMI Video Processor
Sewell Part #:  SW-30050
Mfg Part #:  DVP 5000
The Darblet is a plug and play accessory to enhance your HDMI video entertainment. Darbee Visual Presence (DVP) technology establishes a fundamental breakthrough for image realism. By embedding 2D and 3D pictures with depth information, a new visual experience is born.
The Darblet is a "Tweener" or an accessory plugged in between any HDMI source and display. It is Plug-n-Play, there is no installation required. There are simple controls to set up the Darblet according to your personal preferences. The Darblet is small and transportable and is compliant with the most recent version of HDMI for the highest fidelity.
Features
Blu-ray, Xbox 360, Playstation 3, Cable, Mobile
HiDef, Gaming, Full Pop viewing modes
Upgradeable after purchase
HDMI compliant with 3d, Ethernet channel, audio return, etc.
What does the Darbee come with?
One HDMI input, one HDMI output
Buttons: Darbee, up, down, menu
LEDs: Video, Power (dimmable)
On screen menu to access controls
Infrared remote control included
5v power supply included
dimensions: 2.5″ x 4″ x .75″, 3 oz.
Applications
HDMI enabled products
Digital TV image quality is profoundly improved
Blu-ray and DVD movies/shows look best
Video Games become super-immersive
Cable/Satellite programming is much better
Smartphone video quality is improved
Tablet video output quality is improved
Price: $319.00
Installation is very simple,  but you'll need to re-route our HDMI cables most likely and have enough room for it. I ended up placing it between my PS3 and Xbox360 on top of my HD-PVR as that's where it seemed to fit for me.
In the dark the LEDs can be fairly bright but thankfully you can turn them off via the menu or dim them.
The next thing I did was test it, and that involved watching movies and TV and playing games. I hooked the Darblet up after my home theater setup so the PS3, Xbox360 and my Blu-ray player would be run through the Darblet.
The Darblet has three viewing modes for Hi Def, Gaming and Full Pop. Each of them offer different enhancements for your viewing pleasure. I'm going to take a look at all of them in depth, at least I hope it's in-depth enough to get the point across of just how the Darblet works and what it really does.
When you press the menu button up will appear the on-screen menu for the Darblet with options so you can quickly change the modes, Help, Settings, About and close.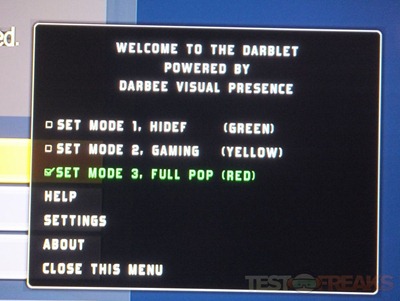 Help tells you a little about the Darblet as an intro and then you can click on one of the choices to learn more about the modes.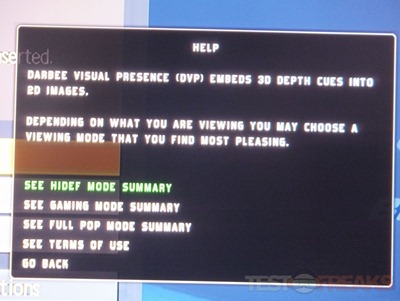 The Settings menu has options for Demo mode, Logo Properties, LED Brightness, Language, Advanced Settings, Reset and Back.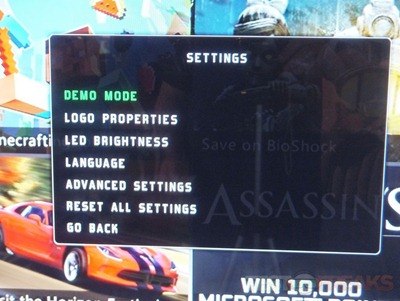 Demo Mode is kind of cool, it's animated so I can't exactly show it to you but what it does is play a demo of how the Darblet can enhance your video. it can be shown split screen or animated where it scrolls across the screen.
The Logo Properties option let's you pick where you want the Darbee logo to be on screen or you can just turn it off.
The LED Brightness menu has choices for Bright, Dimmer, Dimmest and Off.
The Advanced Settings option doesn't really do much other than enable fine controls so you can adjust the Darblet in 1% increments.
The Darblet has a status indicator that can remain on-screen in the bottom right corner so you know what the status is. You can turn this off if you don't like it as I have shown above in the menu selections. It's color coded as well, red for Full Pop, green for Hi Def and yellow for Gaming modes so you know at a glance which you're on. The picture below is Full Pop at 100%.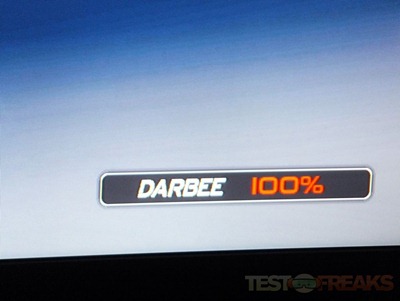 You can adjust the modes whenever you want to and when that happens the indicator moves to the middle of the screen and shows you the adjustments in levels.
I picked a few things to show you for examples, the Xbox 360, an HD-DVD via the Xbox, PS3 and blu-ray movies.
The Xbox 360 is a gaming system so you should pick game for that but I used the Hi Def option just because I was curious.
These were taken when I first started playing with the Darblet, and the first thing I saw was the Xbox 360 menu.
So here is what 0% or off and 100% Hi Def mode looks like when compared: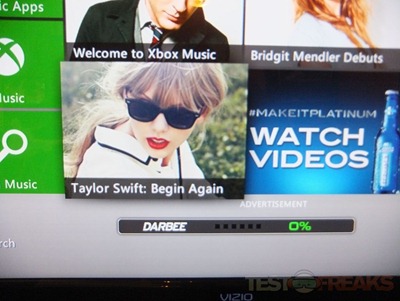 To really see the differences here, look a the hair bushes in the Taylor Swift box there, there's a marked improvement.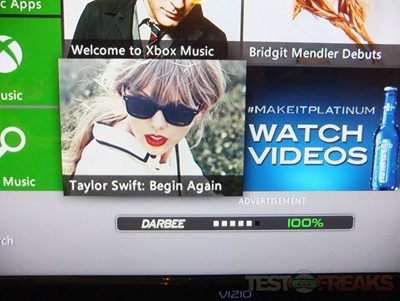 Here's two more examples for you: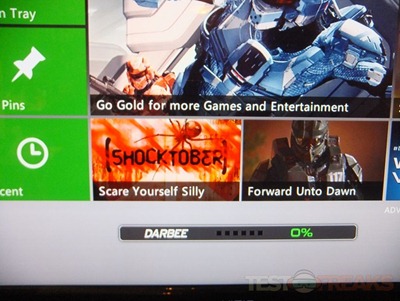 Specifically look at the mech in the large Go Gold gaming box, the details are much better here I think.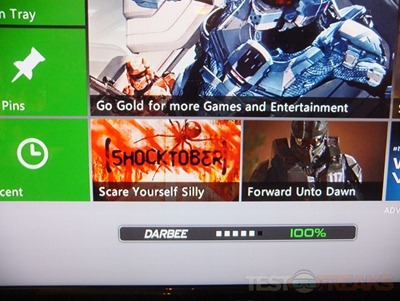 Let's stay with the Xbox 360 and I popped in an HD-DVD, specifically 3000 and used it in the Hi Def mode which is what it should be in for high definition videos.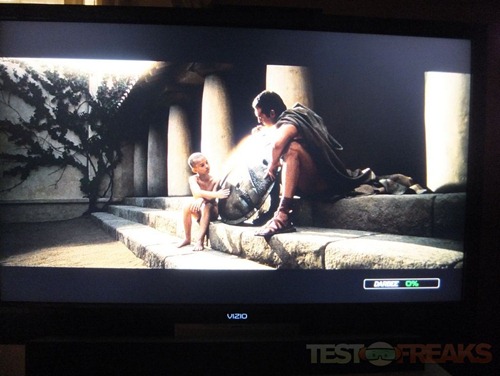 Everything really is more defined and noticeable when using the Darblet.

Here's two more examples for you: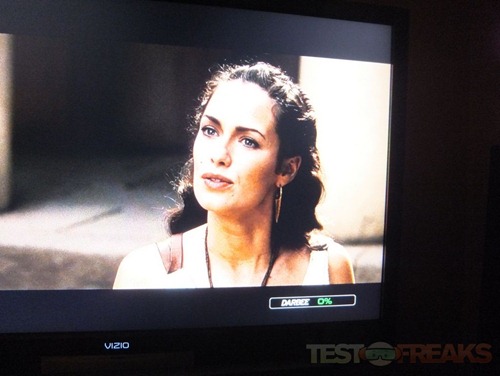 Then finally here's two more from 300: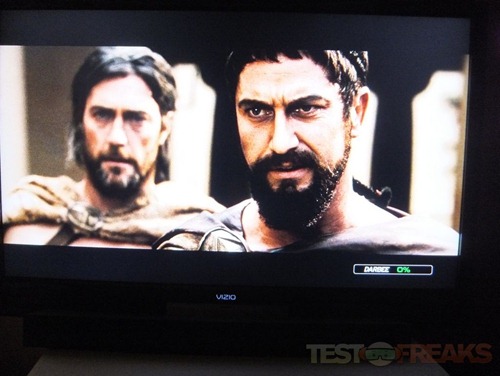 So that was an HD-DVD, yes it's old and I guess dead tech, but I like it and I know many others that do as well. Personally I think they look better than blu-rays in most instances.
Let's stick with gaming devices and the PlayStation 3, I just grabbed a random game from my shelf and it turned out to be Soul Calibur so that works I guess. So here's two examples for you with 0% and 100% with the Darblet: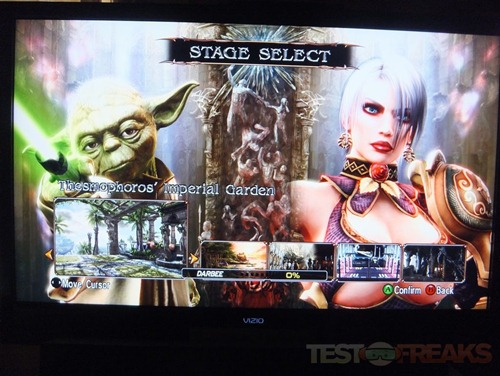 This one here I think really shows the differences between on and off: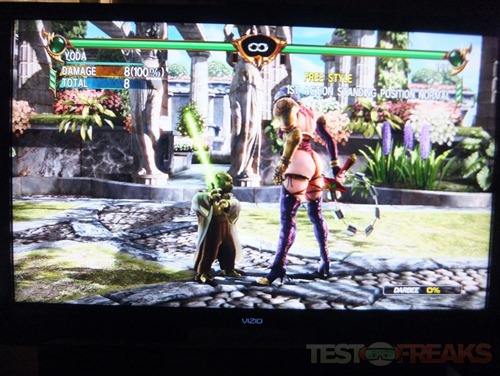 The first picture is sort of blurry really, but when using the Darblet things get a lot clearer and more defined.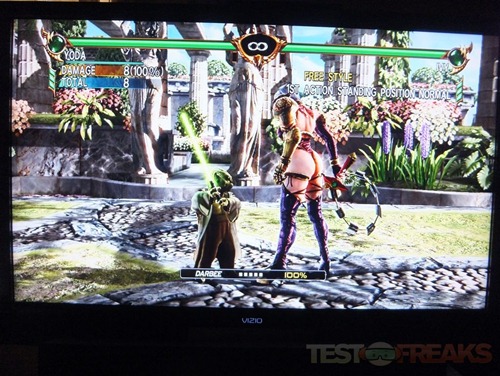 Next was Blu-ray testing and I started with Terminator Salvation
To really see the differences between these two look at the Terminator and the ground and even the broken satellite dish.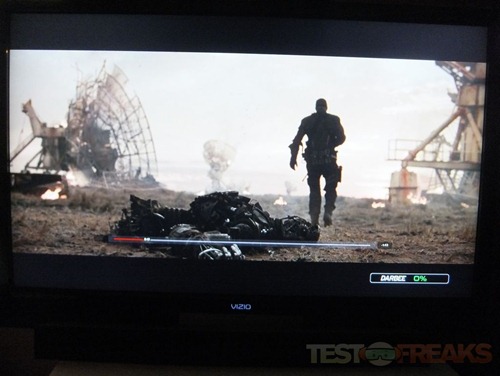 You can really see more details when using the Darblet and it seems to bring the distance in focus better or at least the objects seem more detailed.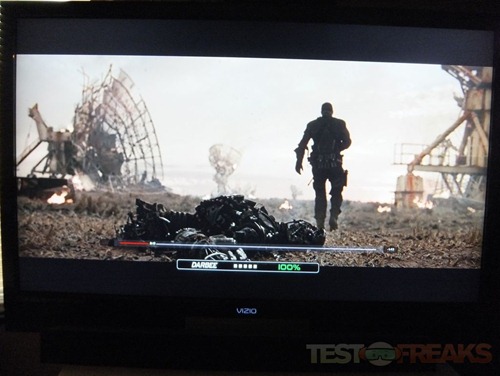 Here's a face shot for you for comparison, you can see the Darblet really adds more details to the face.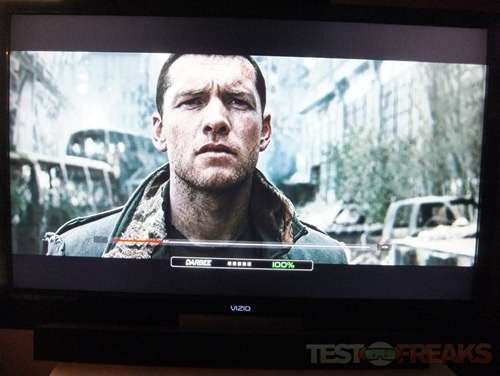 Then here's two more pictures of a Terminator for you:
Here's a more zoomed in picture of the Terminator at 0% and 100%:
Even the background is more defined as you can see on the left side here:
The next Blu-ray is FireFly the TV Series, here are four quick examples for you:
Those were a bunch of examples of having the Darblet off and then at 100%, but the Darblet can actually go all the way up to 120%.  The Darblet can be increased and decreased in increments until you find the way your prefer.
So I went back to FireFly and took a lot more pictures for you, but I did it differently in increments and with Hi Def and Full Pop modes. Here's the Hi Def mode in increments of 0%, 5%, 10%, 15%, 20%, 25%, 50%, 75%, 100% and 120%.
Then here's the Full Pop mode going from 0%, 10%, 20%, 50%, 75%, 100% and 120%.
Here's Full Pop and Hi Def at 100% for comparison: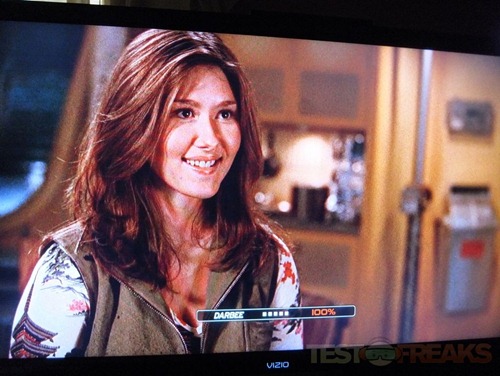 That's all there really is to the Darblet, it fixes things and adds more depth.
Conclusion:
The DarbeeVision  Darblet is something hat I think everyone who enjoys media can benefit from, it truly works and really does add more dimension to your viewing experience. This is one product that has truly surprised me as it works as it should and it works better than I expected. I went into this review thinking it was just gimmicky gadget but it's not really, it works great.
I never really thought of something like this before, but since I've had it I've found it has enhanced all of my media in a good way. I thought HD was decent, but the Darblet makes it even better.
The Darblet actually seems to clear up and make SD better when shown on an HDTV. Some Blu-rays aren't the best, there is a difference between Blu-rays as I'm sure you've noticed, some are better than others and the Darblet can fix the bad ones.
The Darblet can help to focus the picture as well, or at least it seems to. I've noticed things in the background of some media that seem out of focus but with the Darblet they're more clear.
With gaming it really does add a lot, it makes things look more real, more crisp and clear. if you don't use the Darblet for movies then you can most certainly use it for gaming, but if you have it you should use it for everything.
One small issue with it is that it can add some artifacts to your media, but I found it depends on the media and the levels. At higher levels the depth can be overwhelming I think at least until you get accustomed to it. It is recommended you start out at lower levels like 20% or so and raise it up from there until you get to a level that is right for you.
The Darblet itself or the components do work well yes, but the design is questionable. The design of the Darblet is honestly ugly and looks kind of cheap and the port position is very questionable. Why not put the HDMI ports on the back instead of the sides, the positioning really makes no sense to me. The look of the Darblet makes it not really fit into any home theater system, it's like a semi-transparent blue that doesn't match anything.
Yes you could hide the Darblet somewhere in the back of your entertainment center but then you can't use the remote or access the buttons. This can be fixed by spending some more money and buying the Infrared remote extender which personally I think should be included with it.
Pros:
+Simple to use
+Can turn LEDs off
+Varying levels of processing
+Really does work well
+Three different modes
+Less expensive than other solutions
Cons:
-Rather ugly
-HDMI outputs on sides
-Can introduce artifacts at high levels with some media
| | |
| --- | --- |
| Grades: | |
| Overall | |
| Design | |
| Performance | |
To learn more about our review policy please visit this page HERE.