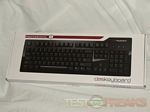 If you're sitting at your computer right now look down and you'll see one of the most under appreciated components of your system, the keyboard. Many people out there have finally realized that the mouse and mouse pad you use can make a big difference, but yet I know people that just assume a keyboard is a keyboard and there's no real differences between them. That's not even close to being true though, as someone who types for many hours per day I can tell you that having a nice keyboard can make a world of difference in your work.
A little over a year ago I reviewed the Das keyboard Professional and I found it to be a keyboard that I liked quite a bit and a month or so ago they released a new version of it called the Das Keyboard Professional S. It's pretty much the same as the original, it's got the clicky keys for both audible and tactile feedback and the included USB ports on the side. The main difference though is that the Model S version now includes multi-media keys for quick access to volume, ply, pause, stop, forward and back. These new keys are accessed by using the FN or function key like you would on your laptop and they truly do add functionality and usability to the Das Keyboard. So continue on to learn more…

First up is the unboxing video fro you:
It's packaged well and ever includes a cleaning cloth to keep it nice and shiny.
Also included is a USB/PS2 adapter.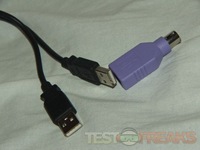 The keyboard itself looks just like the Das Keyboard Professional version that I reviewed last year, with the exception of the multi-media keys that really do enhance the usability of it. The cable is nice and long, a little over 6 feet in length so it should reach anywhere you need it to go.
On the right side of the keyboard is where you'll find the two USB ports for easy access. The Das Keyboard logo is found at the top right corner.
The special keys are accessed like you'd use the ones on your netbook or laptop by pressing the FN or function key. These special keys are blue in color and are across the top on the standard function keys. They're basic controls for volume, navigation and one for sleep as well.
All of the other keys are the same, not much has changed there at all.
The bottom of the keyboard does have stands if you wish to use them.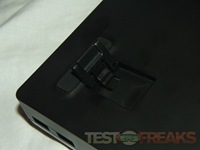 Specifications:
Das Keyboard Model S Professional
Das Keyboard Model S Professional sports high end mechanical key switches and 2-port USB 2.0 hub. The newly redesigned electronics provides full N-key rollover and media functions.
Specifications:
Das Keyboard has been designed for people who spend many hours a day working on a computer and for whom typing productivity and comfort matters.
Both Das Keyboard Professional and Ultimate models are identical except that the Ultimate is a blank keyboard (there are no inscriptions on the keys).
German-engineered mechanical key switches:
Das Keyboard compares to the legendary IBM model M. Its best-in-class mechanical gold-plated key switches provide a tactile and audio click that makes typing a pure joy.
USB 2.0 hub:
The high-speed USB hub allows you to sync and charge your iPhone, iPod or any USB compatible devices.
Extra-long USB cable:
Das Keyboard sports a 2-meter (6.6ft) cable that goes through your desk grommet to keep your workspace neat and tidy
N-key rollover:
Model S allows full n-key rollover with a PS2 adapter, and 6 keys with USB. Great for fast typists and gamers alike.
System requirements:
PC or Mac, Windows, Linux, or Mac OS X.
One USB 1.1 or USB 2.0 port, no driver required.
Technical information:
* Glossy black upper enclosure with matching black USB cable Darth Vader approved.
* Laser-etched key cap inscriptions to prevent fading
* Mechanical key switches with gold contacts
* Two-port USB hub 1.1 and 2.0 compatible
* Blue LEDs
* 2-meter (6.6ft) USB cable
* Enhanced 104 or 105-key layout
* One Windows key
* One property key
* One media function key
* Eight media hot keys
* Dimensions: 18in x 6.5in x 1in (thickest portion, feet not extended, 1.5in w/ extended feet)
* Weight: 1.2 Kg (2.6 lbs)

I don't have any pictures for this section, what was I going to post? Pictures of me typing! I'll pass on those..
Anyway, using the Das Keyboard Professional S for typing is just like using the original one. It's pretty much the same keyboard and if you own the original version then there won't be any difference at all. The keys are springing giving you a tactile feedback as you type and they're clicky so you'll also hear the keys being pressed. I like clicky keyboards so it's not an issue for me, but some people don't care for a loud keyboard and if you're one of those people then you won't care for the Das Keyboard.
The addition of those multi-media keys though really do make life easier when it comes to accessing and controlling your media. Those of you with laptops or netbooks are already accustomed to hitting the FN key to access some of the features so doing that here should be like second nature really and not a problem.
The keys are nice to have there, but I have to question why they didn't use all of the function keys to even add more functionally or usability to the Das Keyboard. There at 12 function keys but they only used eight of them for the special keys. They could have used the extra keys for things like media center, home, browser, My Computer, email or whatever and then they would have had a keyboard that was even better overall. I mean if you're going to do it, then why not use them all?
Back to typing on the keyboard here, I had the original Das Keyboard and used it for about six months and then it kind of died on me, a couple of the keys just stopped working. I went back to using my other clicky keyboard which is set up at a higher angle than the Das Keyboard is, and going back the low angle of the Das Keyboard took quite a bit of time to get accustomed to. I find I prefer the higher angle really and even with the feet of the Das keyboard in use the angle is still very low, but that's just a personal preference.
The side USB ports are very nice to have, I found myself using them all of the time and they're just as fast as a regular USB port on your computer. The only issue about the USB ports is that with the Das Keyboard you'll be using two USB ports on your computer, one for the keyboard and one for the USB hub. You could of course use the PS2 adapter and then use only one USB port for the hub, but I don't know many people that would do that really.
Conclusion:
If you're looking for a well made and good solid keyboard that provides both tactile and audible feedback then you might want to seriously consider the Das Keyboard Professional S. Yes it's pretty much the same at the original Das Keyboard but the addition of the multi-media keys really do add value and enhance the usability of it overall.
It does require two USB ports, but that's only if you want to use the USB ports on the side of the keyboard, which you'll want to use, they do make life easier with them right at your fingertips. Those of you that are limited to USB ports or use many USB devices might not be too happy about giving up two USB ports but in the end I think it's worth it.
As far as the keyboard itself, it's nice to use and type on, I like clicky keys personally, but I like my keyboard to be up at a higher angle though. Even with using the feet the Das Keyboard Professional S is still rather low in height or angle.
The Das Keyboard is also a dust and fingerprint magnet, yes the glossy finish looks nice, but after a few days of use it won't look so nice at all…
Pros:
+Addition of multi-media keys adds functionality and usability
+Nicely made
+Long cable
Cons:
-Glossy finish picks up dust and fingerprints easily
-Angle is a little too low for me personally
-Requires two USB ports
| | |
| --- | --- |
| Grades: | |
| Overall | |
| Design | |
| Performance | |
This product was given to technogog for review by the company for review purposes only, and is not considered by us as payment for the review, we do not, and never will, accept payment from companies to review their products. To learn more about our review policy please visit this page HERE.