Before reviewing the Das Keyboard Model S Ultimate I believed all keyboards were created fairly equally. The main difference in my mind was the addition of optional features such as multimedia controls or the addition of macro keys. Little did I realize that the "feel" and sound of a keyboard can make a huge difference in the typing experience.
Metadot, the makers of Das Keyboard are well known for their mechanical keyboards. They have kindly sent technogog one of their newer models for review the Model S Ultimate which is a totally blank version of the Professional Model S. Designed for the touch typist in mind, it's blank key façade will keep most folks away from your workspace when they see the intimidating blank keyboard.
The Das Keyboard Model S Ultimate arrives in a white cardboard box. There is a picture of the keyboard on the front and a feature listing on the back with another image of the keyboard. Inside the package we find the keyboard protected by a soft foamy sleeve, a PS/2 adapter, cleansing cloth and installation sheet.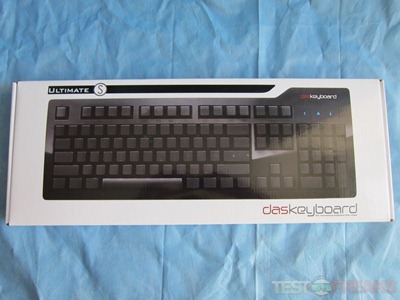 It measures 18" x 6.5" x 1" and weighs 1.36 kg (3 lbs). The Model S Ultimate has a 104 key configuration with no media controls or other additional functions other than those of a standard keyboard. It construction feels weighty, solid and substantial.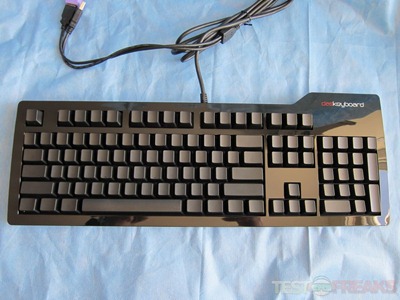 The best way to describe the appearance of the Model S Ultimate is sleek and stylish; the outer casing is composed of a piano black plastic while the keys are a matte black. Of course piano black means one thing is certain – dust, fingerprints and lots of them. This is why Das Keyboard includes a cleansing cloth; so keep it handy if you want to keep the Model S Ultimate looking pristine.
The first thing you'll notice about the Model S Ultimate is its totally blank appearance. There are no letters or symbols imprinted on the keys anywhere. Nada, zip, zilch, zero. If you need printed keys then the Professional Model S is the way to go.
The only writing found on the keyboard is the Das Keyboard name on the top right side over the number pad. Below this logo are three blue LED lights indicating Cap Lock, Num Lock and Scroll Lock activation. To the right of this number pad is the USB 2.0 compatible hub.
Under each key is a Cherry MX Blue mechanical key switch with gold contacts, which give the Das Keyboard that IBM Model M style typing feel and sound. The key switches are rated for 50 million operations so you'll probably quit typing before the keyboard keys give out.
Coming off the back of the Model S Ultimate is a two-meter USB cable with two USB connectors – one for the keyboard and the other for the USB hub. If you share multiple computers using the Model S Ultimate then you can use it with either a USB or PS/2 KVM switch.
The included PS/2 adapter allows the keyboard to have full n-key rollover, this means you can press as many keys at once and they will be all be picked up by the computer. This full n-key rollover does not work with the direct USB connection and only picks up six key presses at once.
Flipping the Model S Ultimate over we see two rubber pads toward the front and two flip up feet for resting the keyboard at a slightly elevated angle. Some people like their keyboards flat; I personally like mine with a mild elevation. These feet pitch the keyboard at a comfortable angle which is not too steep.
For the gamer Metadot recently provided some good news with the recent announcement of a colored WASD Key Set to make gaming key recognition much easier. These replacement keys come in both inscribed and non-inscribed versions.
Specifications:
Product Details
Das Keyboard Model S Ultimate is a new, totally blank, PC keyboard sporting best-in-class, German-engineered, mechanical, gold-plated key switches that provide outstanding tactile and audio feedback combined with a modern glossy look and useful features.
Cherry MX Blue mechanical key switches with gold contacts  (clicky tactile)
No key cap inscriptions
Designed to withstand 50 million strokes
Full n-key rollover with a PS2 adapter, and 6 keys with USB
Enhanced 104-key layout
Two Windows keys
Two-port USB hub 1.1 and 2.0 compatible
Blue LEDs
Extra long two-meter (6.6-foot) USB cable
PC or Mac, Windows, Linux, or Mac OS X
2 USB ports or 1 USB port + 1 PS/2 port – USB to PS/2 adapter (included)
No driver required
Mac users can swap the command/control /options keys to match the Mac keyboard layout using the Mac OS X keyboard control panel
Compatible with PS/2 and USB KVM switches
The Model S Ultimate works with either PC or Mac. By default the keys are set for PC use but with some remapping via the System Preferences on OS X you can recreate the Apple keyboard orientation.
Obviously testing out a keyboard involves using the peripheral for an extended period. I was able to use the Model S Ultimate for two weeks to get a feel for its capabilities. During this time spent with the Model S Ultimate I was quite happy with its performance.
After you type on the Model S Ultimate for a few minutes you'll understand what all the fuss is about. The keyboard emits a soothing clickity-clack sound that is almost melodious especially when typing a string of paragraphs without pausing in between. These staccato clicks of the keyboard provide positive feedback as you practically "hear" the words being typed as they fill the screen.
For those who dislike keyboard noise, Das Keyboard offers "silent" versions of the keyboard for a slight premium over the "clicky" models.
The lack of multimedia keys is a bummer especially coming from Logitech and Microsoft gaming keyboards. Compared to those models, the Model S Ultimate is quite Spartan in its capabilities. The main purpose of this keyboard is data input and it does that job quite well.
The side USB ports are handy to have, especially when connected to the USB limited iMac. The price for this port is that the Model S Ultimate ties up two USB ports on the back of the connected computer. Obviously if using the PS/2 adapter then only one USB is tied up for the hub. Mac users will be stuck using two USB connections if they wish to have access to the side USB hub.
As an untrained touch typist the Model S Ultimate was quite intimidating when I first started using it. With the crutch of printed keys absent it was as if one of my senses was gone; I could no longer look down to figure out where a key was located. This fact actually helped improve my typing, as I was no longer "cheating" by hunting visually for keys. Of course when entering passwords with the text obscured things became a little hairy. Numerous times I had to type out a password within a text editor and the copy and paste it into the password field to get the correct password; so beware of the Model S Ultimate's blank keys unless you are not a touch typing pro.
Conclusion:
What separates the Model S Ultimate from other keyboards are a host of features, but primarily it makes typing more enjoyable. The tactile feedback of the keyboard in combination with the audible clicks creates a soothing experience. Since it comes bereft of printed keys it should secondarily improve your touch typing prowess. Plus the lack of imprinted keys should scare most people away from using your PC or Mac. I know my daughters kept a wide berth of my PC when the Model S Ultimate was attached to it.
The build quality of the Model S Ultimate is terrific although the use of piano black plastic does make it a fingerprint magnet. Metadot use of high quality switches means the Model S Ultimate will last for a long, long time. The built in USB hub which is easily accessible is a nice addition.
Although its price is high the quality of the keyboard is superior to most others that I have encountered. Sadly I have to return this review unit but I do know I will be saving up to get one for my own personal use in the near future.
Pros:
+Excellent mechanical keyboard with tactile and acoustic feedback
+Built in USB hub
+Quality build
P+Should improve touch typing skills over time
Cons:
-Lacks Multimedia Controls
-Attracts fingerprints
-Expensive
| | |
| --- | --- |
| Grades: | |
| Overall | |
| Design | |
| Performance | |
To learn more about our review policy please visit this page HERE.