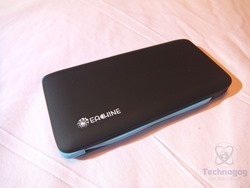 Up for review I've got a 6000mAh portable battery pack from Eachine called the X3 or Slim X3. This battery pack is small making it portable but the best part is that it has microUSB and stand USB cables built right into the battery pack itself so you may not even need to carry any cables with you. Overall the X3 battery pack is a great products, read on the learn more…
Unboxing
Let's start with a video unboxing and then continue on from there:
Once you get everything unpacked you'll find the battery, user guide, warranty card, microUSB cable and three charging tips.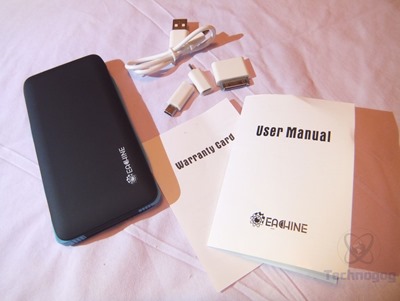 The microUSB cable can be used for charging but also included are tips or adapters for Apple, Nokia and miniUSB devices. The adapters have a female microUSB connection on them so you just plug them into the cable or you can use them with any other microUSB cable you might have.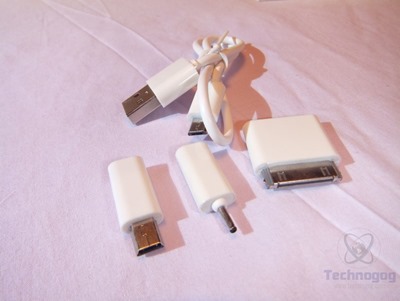 The Eachine X3 battery pack is black in color with light blue accents but there are other colors available. Dimensions are 4.92 inches x 2.44 inches x 0.59 inches and it weighs about 5.75 ounces so it can easily fit in your pocket and it won't add much weight to your daily carry.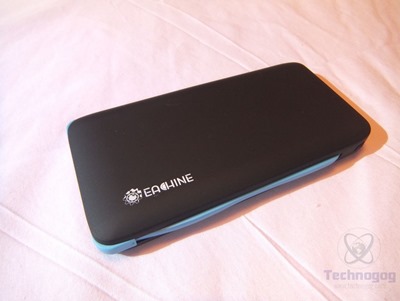 On of the great features I like about the X3 is that it has built-in UBS cables that lock into the sides. One of them is a microUSB cable for charging your things and the other is a standard USB connection for charging the X3 itself. If you only have devices that charge over microUSB then you'll really need to never carry anything other than the X3 battery pack as it's all right there for you.
On the front edge you'll find two USB ports, a microUSB port and four LEDs to indicate power levels.
On the side you'll find a tiny power button to turn on the X3 and to check the battery levels.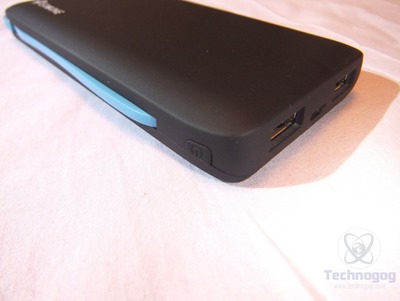 Specifications and Features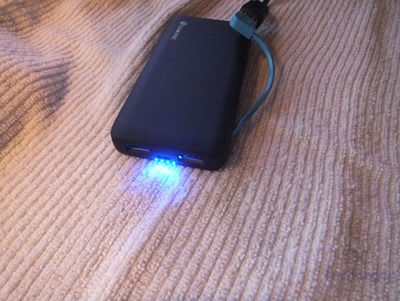 To test the X3 power bank I grabbed three of my most used portable devices, my HTC One M7 Android phone, Windows Tablet and PS Vita.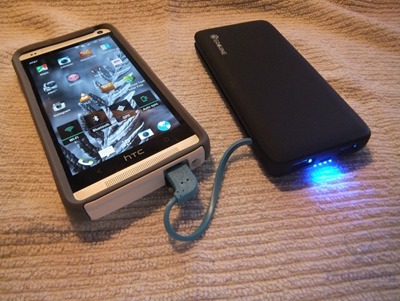 In my time testing products I've found not many devices can charge the PS Vita for whatever reason, but the X3 can which is a good thing of course.
Yes you can charge two devices at once as I had no problems charging both my PS Vita and HTC One.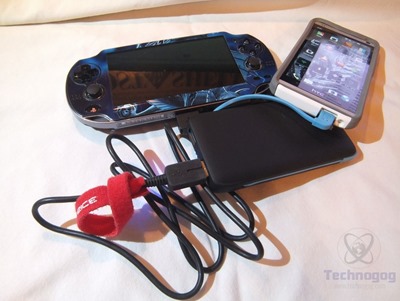 Charging speed seemed just like charging from my computer, no issues there at all, it works fine.
Conclusion
The Eachine X3 battery pack is small and portable making it very easy to take with you in your pocket or bag.
If your device charges from microUSB then you won't even need to carry any cables as the X3 has a cable to charge itself and a microUSB cable for charging built right into it.
The 6000mAh capacity should be more than enough to charge most phones more than twice.
The X3 does have the ability to charge more than one device at the same time.
Eachine has included a microUSB cable with tips for Nokia, miniUSB and Apple devices which have microUSB connection on them, not some proprietary connection you'll find on some batteries like these.
The X3 battery works well, it's portable and it's just a great product overall.

Pros:
+Built-in cables
+All in one device
+Small and portable
+Fast charging
+Can charge multiple devices at same time
+Adapters included
+Well made
Cons:
-None that I can find
| | |
| --- | --- |
| Grading | Scores Out of 10 |
| Overall | |
| Design / Aesthetic | |
| Value / Price | |
| Performance / Usage | |
Disclosure: This product was given to us for review by the company for review purposes only, and is not considered by us as payment for the review.
To learn more about our review policy please visit this page HERE.