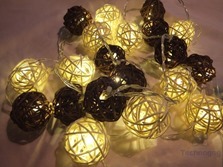 I've got a quick review for you today of some more LED lights, but this is actually two sets as you buy the one large set and you get the smaller set as a bonus. These are what they're calling fairy lights and they're different than other I've looked at as these are wicker or rattan balls in the main set, the second set is a gold metal in the form of drops. Read on to learn more…

Specifications and Features
The smaller set of metal tear drop lights are gold in color with a mesh pattern. The length is about 44 inches from the box to the end of the lights and then about 33 inches of just the lights themselves. The battery box is clear and they are powered by two AA batteries. The lights aren't very bright, but I guess they're not meant to be, they're just decoration and they do look nice.
The second or main set is the wicker or rattan balls in white and brown colors and they're about 77 inches long from the end to the battery box and then about 66 inches long for the actual light part of the string. The battery box here is also clear and you'll need three AA batteries for power. These lights can be solid or blinking and they're not very bright either, but they look nice, they're certainly interesting as I've never seen anything like them. They do seem well made overall.
Neither set is waterproof, but to me that doesn't matter much at all, but to some it might, so to each his own…
Conclusion
The Electsun fairy lights are certainly unique, I didn't think I'd ever see rattan or wicker LED light balls, but there they are and I kind of like them.
The lights aren't very bright, but then again you're not going to use them for actual lighting, just decoration, so they should be fine.
You get two sets for one low price, which is a good deal I think.
The smaller metal set is very well made, both sets really are nicely made and they should last a while.

Pros:
+Two sets included
+Inexpensive
+Looks nice
+Well made
Cons:
-Not very bright really
| | |
| --- | --- |
| Grading | Scores Out of 10 |
| Overall | |
| Design / Aesthetic | |
| Value / Price | |
| Performance / Usage | |
Disclosure: This product was given to us for review by the company for review purposes only, and is not considered by us as payment for the review.
To learn more about our review policy please visit this page HERE.