Up for review today I've got another arc lighter from a company called Enigma and this one works the same as the last I reviewed but it's just better overall. This lighter doesn't screech or whine like the other one and it's smaller and it's just plain black. The lighter is USB rechargeable and should last through 500 uses and of course it's windproof and just looks cool really. Read on to learn more…
Specifications and Features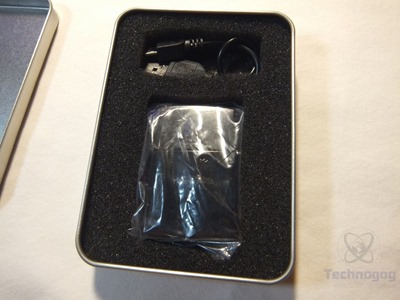 The lighter is small, it's pretty much exactly the size of a regular Zippo lighter, which is one of the things I like about it really. It's about 2.25 x 1.5 x .25 inches in dimensions. The lighter is well made, it's all metal painted black with the Enigma logo on the front in white.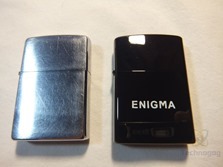 The Enigma lighter opens just like a Zippo as well and it has a spring inside to keep the lighter closed. When open you'll see the push button to activate the lighter and the contacts where the plasma arc forms.
On the bottom of the lighter is the microUSB port for charging and next to it is the LED that lights up blue when charging and then goes out when done. The LED will also blink red when the battery is low. It takes about two horus to charge and you should get approximately 500 uses out of it before needed charged again.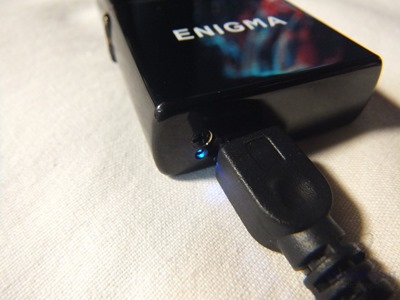 To use the lighter you just push the button and the arc appears, it's purple in color and looks neat. The opening is pretty much exactly the width of a cigarette so it just fits in there to light it. I have another arc lighter that produces an annoying high pitched whine when in use but this one doesn't do that thankfully. There is a whine to it slightly but this one doesn't bother my dogs like the other did.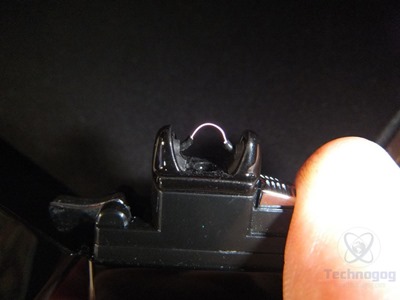 Conclusion
The Enigma arc lighter is very nice looking and well made really, and I love the fact that it's the same size and pretty much looks exactly like my Zippo does.
The lighter is USB rechargeable so you probably won't need to buy another lighter for years feasibly, just as long as the battery lasts anyway.
The lighter is windproof and even water resistant so I would be great to take camping or hiking.
All in all I like the Enigma lighter quite a bit, I'm going to continue using for some time to come it for sure.
Pros:
+Small size
+Windproof
+USB rechargeable
+Well made
+Easy to use
Cons:
-None that I could find
| | |
| --- | --- |
| Grading | Scores Out of 10 |
| Overall | |
| Design / Aesthetic | |
| Value / Price | |
| Performance / Usage | |
Disclosure: This product was given to me for review by the company for review purposes only for free or at a discounted price.
To learn more about our review policy please visit this page HERE.