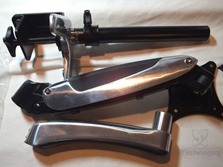 Monitor arms or monitor mounts are very useful when you have little space on your desk or multiple monitors. I currently have three monitors across my desk and then a smaller fourth up above the far right one. Today for review I've got the Jestik Advanced Flex 1.0 which is a single monitor arm mount and I have to say when I opened the box I was immediately impressed with it, it's very sturdy and well made and it just looks gorgeous really. Most arm mounts really are just plain black for what I've seen, but this one just looks great, it's kind of a shame to have it hidden back behind things on your desk holding up a monitor, but that's what it's for. The mount can be adjusted to fit desks up to three inches thick, which is perfect for my needs as my desk is three inches thick and I've found that other mounts just won't fit my desk. So anyway, read on to learn more…
Specifications and Features
Jestik Advanced Flex 1.0 Single Monitor Arm Clamp and Bolt Through Mount – Gas assisted arm, holds up to 15-30″ Screens, Weighing up to 17.7 lbs, VESA Compliant 75mm and 100mm, Up to 22″ of extension
The human-centered design elements of the Jestik Advanced Flex 1.0 Single Monitor Arm make it the perfect ergonomic essential for all work or gaming spaces.
Tilt, Swivel and Rotate
Utilizing German-designed gas spring technology, you can expect smooth-as-silk, effortless transitioning of your monitor, making it easier for you to share screens for team viewing and collaborations. Switching from portrait to landscape orientations can be done with one fluid movement.
Quick, Easy and Secure Installation
Everything you need for installation is included in the box. This ensures you of a quick, easy installation. No extra tools needed.
Lifetime Warranty
When you purchase with Jestik, we make sure that you are given the peace of mind that you deserve. All our products are covered with a lifetime warranty in cases where you might need to return or have the product replaced due to factory defects.
Features:
-Integrated cable management
-Gas spring tension adjustment for counter-balance height adjustment
-Aluminum structure provides elegant appearance
Product Specs:
-Model: JM-GA112C
-Display weight: up to 17.7 lbs
-Display size: 15 inches to 30 inches
-Tilt angle: up 90° / down 85°
-Swivel: 360°
-Rotation: 360°
-Vesa: 75mm and 100mm
-Vertical Height adjustment 13″
-Material: Aluminum
-Color: Polished aluminum
-Mounting option: Clamp and Bolt Through mount
-22″ of maximum extension
-Product weight: 6.2 lbs
-RoHS compliant
Price: $59.99 (from Amazon at time of review)
The Review
Let's start with a video unboxing and then move on:
The mount comes packaged well in a large box, inside you'll find the various part in sectional tray and then the instructions on the side.
Once you get everything unpacked you'll find an assortment of things included screws and tools for installation.
There are three main parts to the mount, the straight pole section and the two parts of the arm.
The clamp section of the mount can be tightened in place by the large screw and handle but the bottom 'L' shaped section can be flipped to allow the clamp to fit onto thicker desks up to 3 inches, this is what I had to do for my desk actually. I really like this feature, you just remove two screws, flip the bracket and then put the screw back in. The whole clamp section is very well made and sturdy and should more than support the weight of the monitor.  The mount can also be permanently attached as well if you want, you'll need to use the included parts and adjust it to your needs. I got the clamp on my desk with no issues once I flipped the 'L' bracket to make it large enough as my desk is about 3 inches thick.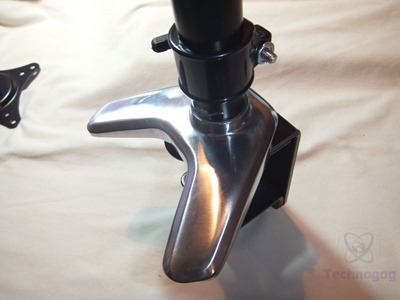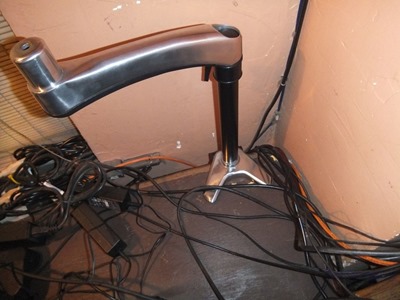 The top part of the arm is where the vesa mounting plate is with eight holes, this section of arm is very thick and has a black rubber section in the center for grip.
The top section of the arm has cable management built-in in the form of removable clips. You can pull the clip out, place the cable and then snap the clip back into the arm. The bottom section of the mount has cable management as well but for that you use the include clip that just snaps in place around the pole. Once you have the arms in place you can move them around into position and use the included tools to tighten them so it stays where you want it. I personally didn't tighten them fully down, just enough so it's stiff and stays in place but yet loose enough that I can move it if need be without having to use the tools to loosen the screws.
I have four monitors in my computer setup, three are across my desk and then the fourth is up and the right, that's what I used this arm for. Before I got the arm I was actually using buckets hidden behind the front monitor, it works but it wasn't the best solution. The arm now let's me have the monitor exactly where I want it, it actually allows for better placement being closer to the bottom monitor for better viewing.
I've noticed something about monitors these days, they don't have vesa mounting holes on the backs for whatever reason. The monitor I'm using this mount with is an Acer S200HQL 19.5 inch LED and it didn't have holes for mounting so I had to get creative.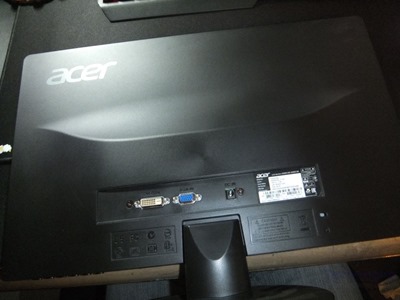 I wasn't sure how to do it so I got to thinking and went through my old PC parts and found an old CPU cooler mounting plate. It was almost a perfect fit, I just had to slightly straighten the arms out and then the four holes lined perfectly with the mounting plate on the arm. I needed something to reinforce the plastic of the monitor back and the mounting plate worked well.
I lined up the mounting plate and marks holes and then drilled them through.
I had to find screws and nuts that fit, I've got a lot floating around so it wasn't a big deal, but I ran the screws from inside of the monitor and the nuts on the outside to make it easier to remove if need be.
Conclusion
I'm very much impressed with this mount, not only is it great looking but more importantly it's well made and very sturdy.
The Jestick mount has several options for mounting and II like that it can be adjusted to fit thicker desks.
All the parts of the arm can be loosened and tightened easily with the included tools but once you have it in place you really shouldn't need to adjust it anymore.
The arm has built-in cable management to help keep things neat and tidy.
I don't know what more to say really, this is just an excellent product in my opinion and I can highly recommend it if you need an arm style monitor mount.
Pros:
+Very nice looking
+Built-in cable management
+Very well made and sturdy
+Multiple positions
+Multiple mounting options
Cons:
-None that I could find really
| | |
| --- | --- |
| Grading | Scores Out of 10 |
| Overall | |
| Design / Aesthetic | |
| Value / Price | |
| Performance / Usage | |
Disclosure: This product was given to me for review by the company for review purposes only for free or at a discounted price.
To learn more about our review policy please visit this page HERE.