I've never reviewed a label maker before. I honestly never thought I'd need one. I never wanted one. I've since changed my mind on all of that, I've got a label maker now, a nice one actually and that's what I've got for you right now. Today for review I've got the Epson LabelWorks LW-400 Label Printer that will change the way you look and think of label makers, I know it did for me. The LabelWorks LW-400 is marvel truly, it comes complete with many fonts and styles built right in, but that's not all. The LW-400 has a very large set of graphics built in as well that can be used for borders or identification or whatever your mind can think up. With the LW-400 you're not limited to just plain labels either, you can purchase many different types, patterns and even colors of labels and you can even do iron-ons with it.
Insert the rest of the review here..
The LabelWorks LW-400 comes in a stylish looking box with pictures and info on it.
Epson was kind enough to send me over three more cartridges to go with the LW-400 for this review. They sent me metallic, blue plaid and a blue colored iron on cartridge. You'll see more of these later in the review, I've tried them all out.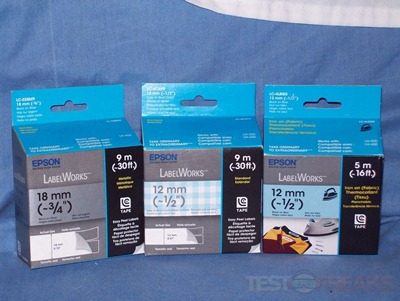 The LW-400 comes packaged well, a box inside of a box really.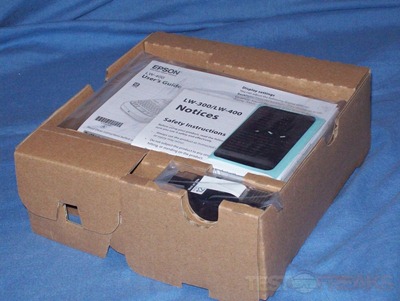 Once you unpack everything you'll find the LW-400 itself, a cartridge of white labels and plenty of documentation including a very handy sheet that shows all of the graphics.
Here's what the actual cartridges look like:
Here's the LW-400 itself, it's rather large with a full keypad and an LCD display that includes a backlight.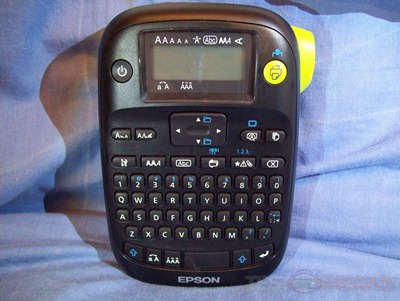 The LCD display is where you'll create your labels. Around the display and indicators for things like font size, styles and other information. The display will have a marker on it next to the appropriate symbol.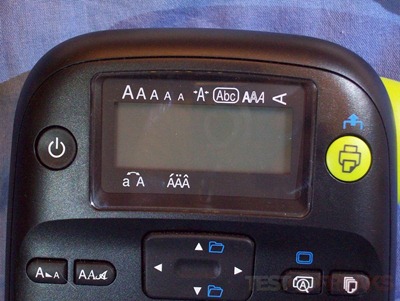 Below the display, and above the keyboard you'll see the basic control panel with a directional pad and buttons for fonts, styles, borders, settings and more.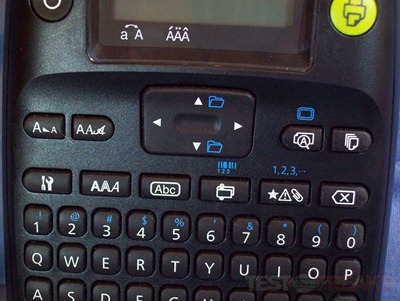 The keyboard is a QWERTY style to make like a bit easier or more familiar for everyone. There's a even a full number line for you. On the bottom is a space bar with shift keys too allowing you to access the special characters and capitalization.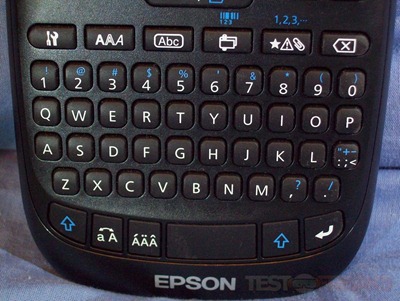 On the bottom of the LW-400 is a port for an external adapter, it uses batteries normally but you can buy an adapter if you want.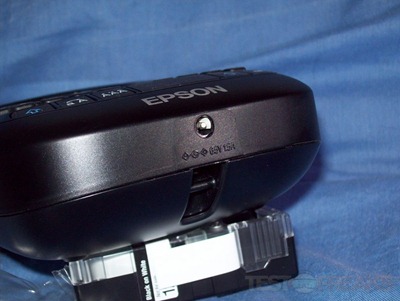 On the right side is a very large green button with a picture of scissors on it, this is for cutting the label once it's complete.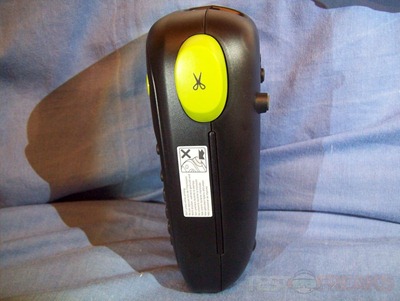 On the top of the label maker is a slot where the labels come out. Next to is what looks like a button with an arrow on it, this is used to remove the back cover.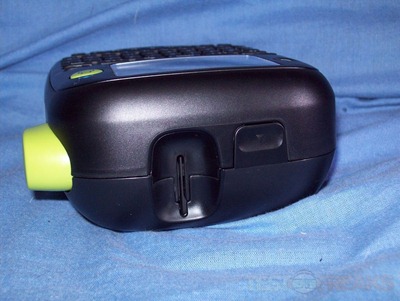 When you remove the back cover you'll have access to the battery and label cartridge compartments.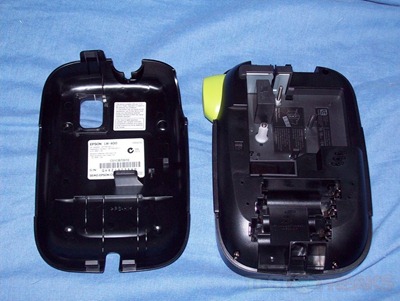 Specifications: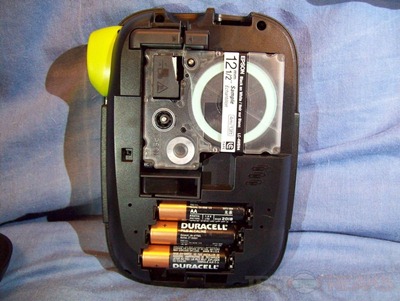 When you put the back cover on there's a nice little window so you can visually see how much you have left in the roll or cartridge. On the back is a also sort of a cheat sheet for you with quick tips or reminders.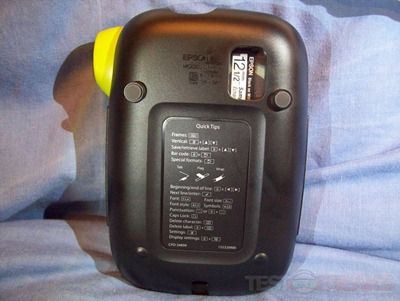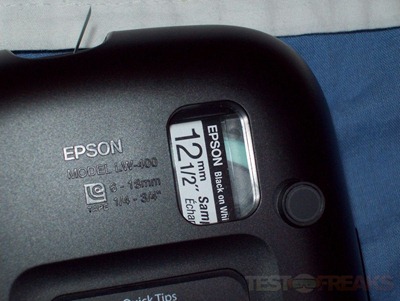 When you put the labels in there should be a small bit sticking out ready to go.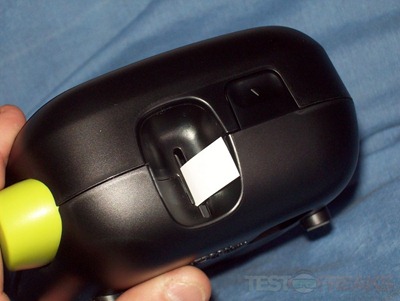 The LCD display shows not that much really, but it's enough to get the job done.
Here's some example of the graphics and frames. There's plenty of them and they're all categorized by things like Food, Sports, Household or Office and plenty more. There are actually 23 categories including things like Punctuation, Measurements and Abbreviations.
Here's the settings for making a label you could use, these are just the basics though.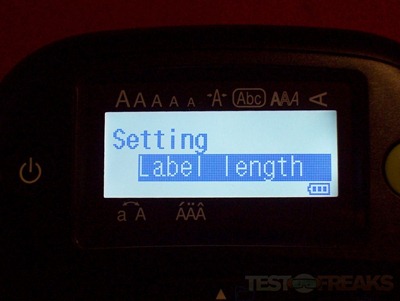 Here's some of the fonts out of the 14 to choose from.
Then you could pick from styles for the fonts, here's a few out of the ten that are available:
You can also make special labels for things like folders or cables to wrap around them.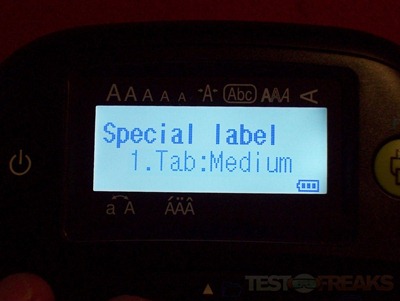 The LabelWorks LW-4090 just comes with a plain label cartridge, just white. One of the things I used it for was labeling my mouse and keyboard USB connections. You can put little pictures on the labels as you can see. Those are black ink with a white background.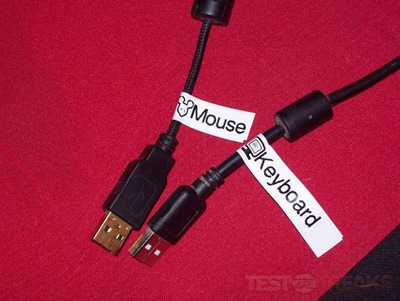 One of the other labels sent over to me was blue plaid with gray lettering. I labeled a set of USB headphones so my kids could know what to plugin and which was which. You can see the before and after below.
I was thinking of other things these labels would be good for and DVD boxes came to mind. Not sure I'd use plaid though, but it was just playing around. Several of the movies I have came in those thin cardboard sleeves and not regular DVD boxes so instead of making a cover I just did this quickly.
I also used it to label my kids drawers so they know where their stuff is. It's much nice than a black marker on it.
Another label they sent me over is the silver or chrome metallic ones, these have black ink. I was just playing around and stuck them on the back of my tablet.
The last label they sent me was the iron on, these require a bit more work but they're awesome for clothing of course. These iron on labels are blue, but sort of a metallic or shiny with black ink. Here's examples as well of the borders and graphics you can pick from.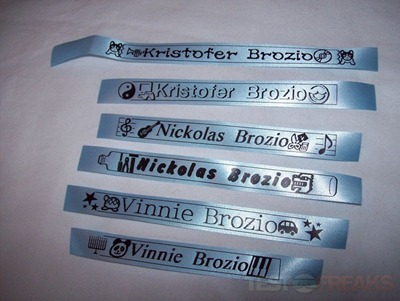 They are iron on so you've got to use an iron. The labels are sticky so you just stick them on and then you have to get your iron out and got to work. It literally just take a few seconds and you're done.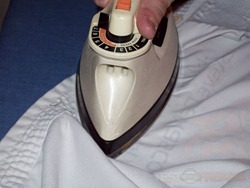 Here's the labels on the clothes:
The real test of these labels was the washing machine. A lot of iron ons fall off after a few washes, these have been washed four times now and they're still holding on very tightly. I'd say that's pretty good.
The labels print fast, no matter which one I used, it all seemed the same speed. The LW-400 is quiet as well, you just barely hear it printing really.
Conclusion:
The Epson LabelWorks LW-400 is truly a very useful little gadget with tons of features and options that would be great for home or office use. I for one am very happy with it, it does much, much more than I ever expected it to. There's plenty of things to use a label maker for so if you need one, then why not get a good one and the LW-400 is just that, actually it's a great label maker.
I said in the beginning of this review that I never thought of owning a label printer, but now I can see I was mistaken and I find them very useful.
The one small issue with this printer is the price of the label cartridges, but from what I've seen that's common for any label printer on the market today.
The price of the LW-400 is much less that I expected, I honestly expected it to be closer to $100, but looking around it can be had for $40 to $50.
Pros:
+Easy to use
+Inexpensive
+Fun to use
+Lots of different label choices
+Lots of options
Cons:
-Labels can be expensive
| | |
| --- | --- |
| Grades: |   |
| Overall | |
| Design | |
| Performance | |
To learn more about our review policy please visit this page HERE.