It's been a while since I've had the pleasure of reviewing any all-in-one printers, or at least high end ones. For review today I have the latest WorkForce or I should say workhorse from Epson called the WP-4540 that is a beast of a machine in more ways than one. The WP-4540 is full of features like the ability to hold over 500 sheets of paper ready for all of your printing needs. This printer is fast and relatively inexpensive in terms of cost per print and it prints beautifully whether you're printing plain black and white for family photographs.

The box for the Epson WorkForce Pro WP-4540 is big and the printer inside is packaged well with lots of padding.
To give you an idea of how big the box is, here's a blu-ray with the box for scale: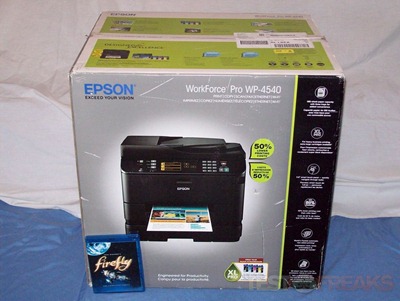 Inside you'll find the printer, documentation, power cable, phone cable, driver/software CD and sample paper along with ink cartridges. Included also is a secondary paper tray bringing the total to over 500 sheets that the WP-4540 can hold.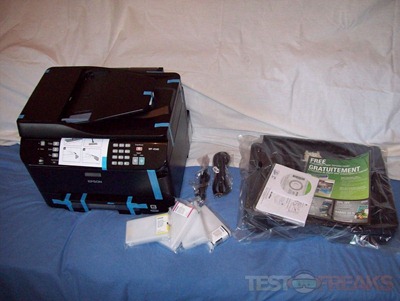 The ink cartridges are very large as they are high capacity. The one included can do about 1,000 prints but you can get higher capacity ones as well.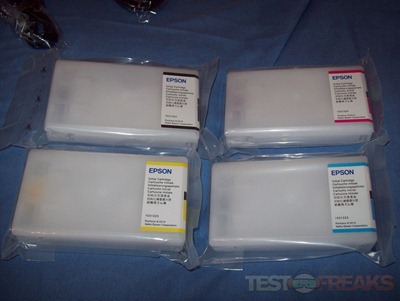 The printer comes packaged with securing tape all over it which will have to be removed of course.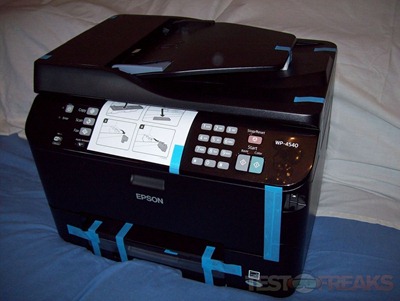 The WP-4540 features a large auto document feeder on the top that can hold up to 30 pages.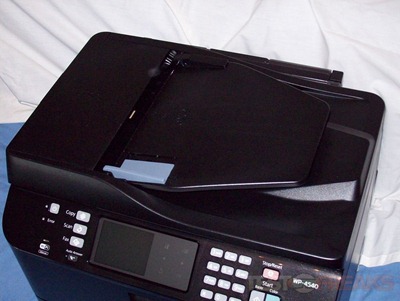 Behind the document feeder is the special papers tray, for photo paper and envelopes etc.
Under the document feeder is the flatbed scanner.
Below the scanner you'll find the control panel that features a 5.8" touch panel in the center. There are basic function buttons off to the left of the screen and the right you'll find a numeric keypad and copy buttons.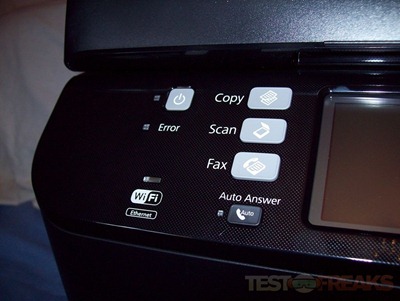 On the corner below the buttons you'll see a handy USB port.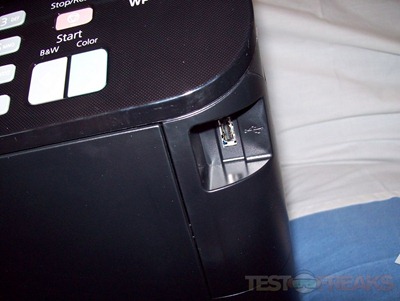 Below the main control panel is a rather large door to open that reveals the print carriage and ink compartments.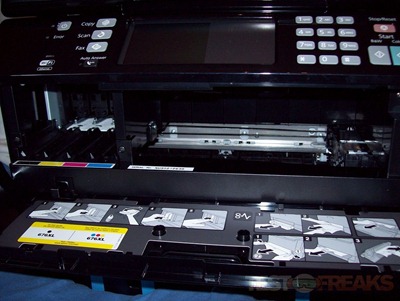 To install the ink you just push them into place.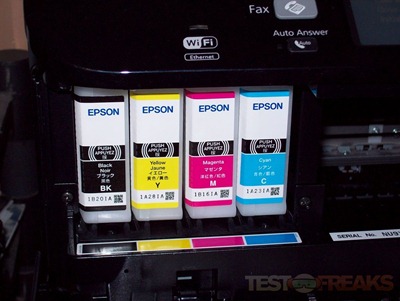 Then below that door you'll find the paper output tray.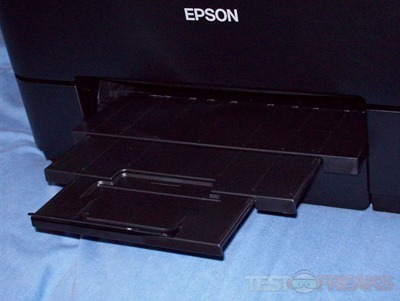 On the bottom is the main paper tray, this is before you install the secondary bottom try section.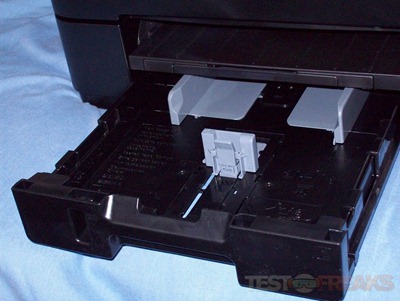 Moving around the back there isn't much to see really.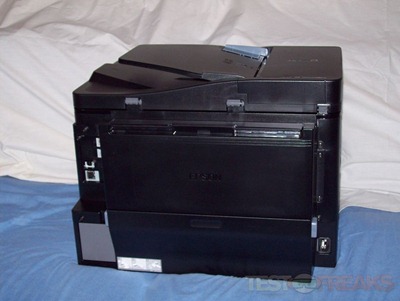 One of the things to note on the back is that on the left side you'll find the connection for USB, Ethernet and phone lines in and out.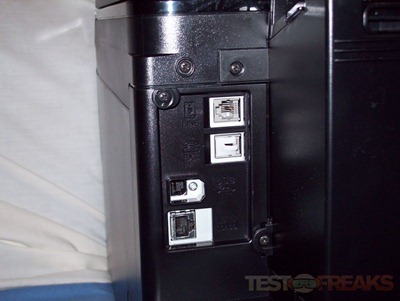 Then off to the right on the bottom is the power connection.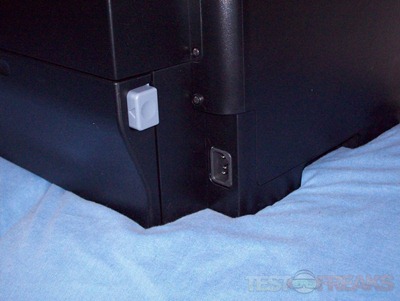 The bottom section of the back does come off by pushing two buttons on either side to help with any paper jams that might happen.
Here's the bottom section or secondary paper tray.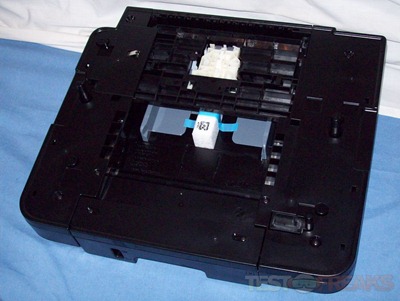 The actual tray just slides out and I should mention that the tray itself expands to accommodate legal sized paper.
Specifications: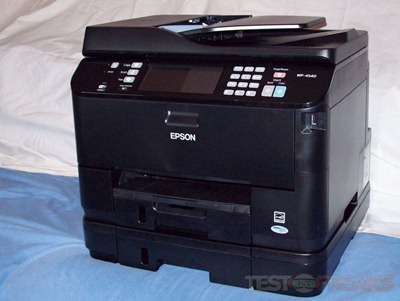 It's a big printer, the box was big for a reason, and when you put it all together it's even bigger. It reminds me a of full size copier that you'd find in an office, it pretty much looks like one to me. Here's my blu-ray again with the printer together to show you the size: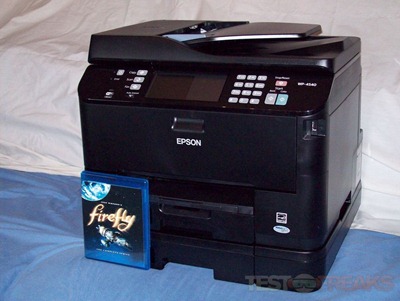 As you can see just the two paper trays are as tall as a blu-ray, and then the rest of is big, really big. Needless to say you'll need plenty of room to use this printer if you plan to use it in your home.
Once you install the ink cartridges and let the printer prime them you can start installing the software and drivers. You'll need to choose what connection to use, wi-fi, Ethernet or USB. Just follow the prompts to get everything installed, very simple.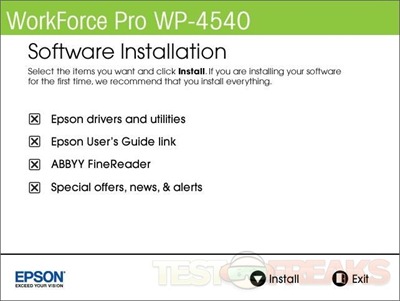 I did run into a problem with installation, the software crashed at the driver part of it. I restarted it and got everything installed.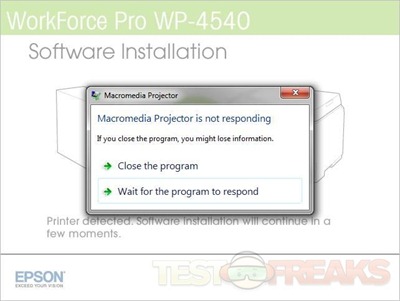 So for testing I used it as you would any printer, to fax, scan and print things.
It just so happens that some things need faxed so I faxed a few pages and the WP-4540 worked perfect at it. When you're completed you can print out a confirmation page to let you have proof that it was faxed. Faxing was fast and easy using the auto document feeder.
Next up was printing and I printed a combination of text, text and graphic and pictures in different sizes.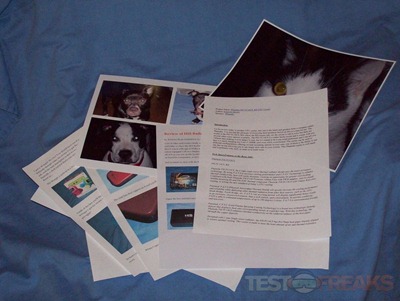 The WP-4540 is a business printer so I wasn't honestly expecting very good pictures from it but I was surprised by the excellent quality that it does output. Yes I know these are pictures of pictures but I can tell you that the quality is very good, good enough to pass for studio quality or very close to it. I printed these on the next to the highest quality printer settings as well, and they were still very good. The pictures printed very fast, much faster than I expected even the larger one. Using the highest quality setting the prints were slower but the quality was higher, but personally I wouldn't use the highest as the lower is just as good.
Printing text and graphic on just the 'normal' setting the text quality was very good, but the picture were kind of blurry honestly. They all printed fast, but if you want to use them for any sort of presentation you'll need to up the quality a bit.
I also printed just a straight text page and I have to say I'm very impressed, this was just on the normal setting and it was crisp and clear. I'm impressed overall, it prints fast and clear.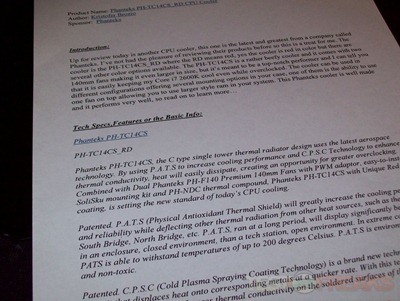 Zooming in as close as I could get I found the print was still crisp and very minimal overspray or bleeding. The WP-4540 is supposed to be a laser replacement printer and the printer quality is on par with that of a laser printer and I don't think you could tell unless you zoomed in as I did.
I should also mention the the WP-4540 is relatively quiet unlike most business-class printers, this one would be fine in a home or office setting and you won't have to worry about excess printing noise.
The control panel is rather bare honestly, it's not what I expected at all as I've taken a look at several printers. I expected much more in the way of options but then I remembered this is a business printer so it really shouldn't have all the frills and features of other printers. The lay out of the control panel is simplistic and it works fine for what it needs to do, and that's get work done. When the printer is on there is an LED lit up next to the power button.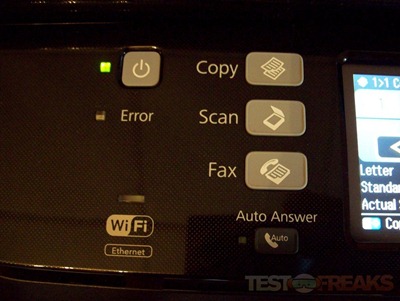 When you copy the LCD screen becomes a touch panel so you can adjust the settings like number of copies, quality, color, and size.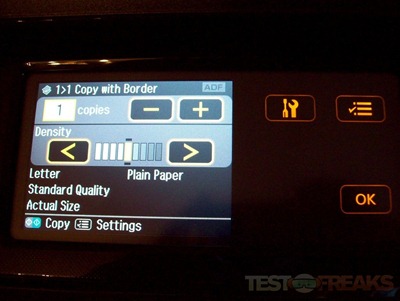 Faxing is easy you can just dial, group dial, redial and even speed dial from the numbers you may have saved in the printer memory,.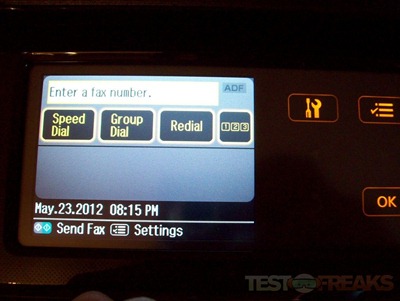 When you want to scan something you've got plenty of options like Scan to PC, Scan to USB device, PDF, or even email. I really like and often use the scan to USB feature as you can just scan to a USB drive and take the scans with you. Yes you can scan to PC, but it actually takes longer than scanning to USB device.
This printer is going for $260 on Amazon and I think that's well worth it really for what you get, this thing can do just about everything your business needs it to.
The ink cartridges are priced at about $38 for the black and $25 for the colors and prices are direct from Epson. The cartridges should last for 2400 pages for the black and about 1200 for the color.  So if we divide $38 by 2400 we get 0.015 cents per black copy which isn't bad.
Conclusion:
The Epson WorkForce WP-4540 truly impresses me with the set of features it has and just the overall size of it. I mentioned in the intro that it should be called a workhorse and I'm sticking to that  as this printer can do pretty much everything you need it to in your business or personal life.
The WP-4540 prints fast and excellent quality prints, be them photos or regular documents.  The auto document feeder is a welcome addition especially if you need to fax or copy several pages. This print also features the ability to do double sided printing which can save money in the long run on paper costs. The ink cartridges are relatively inexpensive when it comes to cost per print and how many prints you'll get per cartridge, we're talking thousands or prints before you'll need to change the ink.
Scanning, copying, printing and faxing are all done fast and efficiently, no complaints there.
I did run across some small issues with installation but it was fixed. The WP-4540 is a big printer so you'll really need to make sure you've got room for it in your office and especially in your home.
Pros:
+Full of features
+Simple to use
+Very fast printing
+Excellent photo printing
+Wireless printing from most mobile devices
+Large capacity ink cartridges
+Prints double sided
Cons:
-Very big
-Slight installation problems
-No USB Cable included
| | |
| --- | --- |
| Grades: |   |
| Overall | |
| Design | |
| Performance | |
To learn more about our review policy please visit this page HERE.