Today I've got a quick review for you of what I consider a useful product. I prefer to take my music with me in my MP3 player as I find it easier than dealing with CDs. In my car, which is newer I do have an audio input jack but most older cars don't so you've got to find another way to get your music to your radio. One way of doing this is to use an FM Transmitter and that's what I have for review today the Cygnett GrooveTrip II Mini FM Transmitter that our friends at Mobile Fun sent over to me…

The Cygnett GrooveTrip II comes in a plastic box with specs and features listed.
Unpacking the box you won't find much at all, just the transmitter and a brief instruction manual.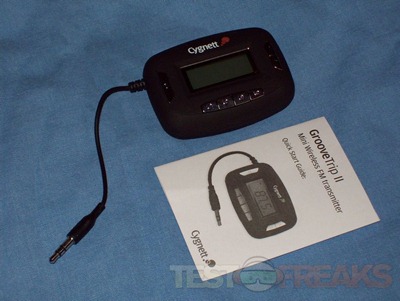 The transmitter has small LCD display in the center and then on the left is the power button and on the right is the up and down tuning buttons for finding the correct frequency. Under the display are four buttons, these are the memory buttons as you can store four commonly used frequencies for quick recall.
On the back you'll find the battery cover, the GrooveTrip II uses two AAA batteries for power. Not pictured, but on the top is a small hole which is a power input jack for use with an optional power adapter.
Specifications:

Here's the GrooveTrip II with my ZuneHD for size comparison and as you can see it's rather small.
For testing I went on a drive and listened to music. To use the GrooveTrip II you need find a station on your radio that's all static basically and tune the transmitter to that station. Very simple to do.
Then you just plug it into you phone or MP3 player and hit play and you've got music.
Like any FM transmitter as you travel you could lose the signal and the same thing happens with the GrooveTrip II. This isn't anything against this product it's just the way these things work.
Overall though I have to say the signal was very clear and the sound very good. When compared to a cheaper off-brand of FM transmitter there is a noticeable difference in the sound quality, it's much clearer.
Conclusion:
If you're using an older car that doesn't come with any audio input jack then the Cygnett GrooveTrip II Mini FM transmitter is an option to consider if you want to take your music with you. The GrooveTrip II works well and it's very easy to use. You can preset up to four frequencies that you know work in your area for quick and easy access.
The GrooveTrip II uses batteries yes, but somewhere out there you can get a power adapter for it to use in your car, actually finding one might be an issue though.
Battery life is decent, I guess it all depends on how much you're going to use it as to how often you'll be changing the batteries.
Pros:
+Works well
+Clear sound
+Simple to use
+Decent battery life
Cons:
-Uses batteries only or buy a car adapter from somewhere
| | |
| --- | --- |
| Grades: |   |
| Overall | |
| Design | |
| Performance | |
To learn more about our review policy please visit this page HERE.