Back to the kitchen for today's review and it's of something that most people overlook and take for granted, measuring cups. I've had a very nice set of stainless steel measuring spoons for about twenty years now and they're still in perfect shape, they last and they're just very handy. Today for review I've got an excellent set of stainless steel measuring cups from a company called Estilo and you get six sizes in the set and they're just excellent in every way. Read on to learn more…
Specifications and Features
Estilo Stainless Steel Measuring Cups – Set of 6
The 6 piece Estilo Stainless Steel Measuring cup set is a staple for any kitchen and contains the most essential sizes. The Estilo measuring cups are made from sturdy 18/8 stainless steel so they are durable and dishwasher safe, They are nested and compact for storage convenience. The 6 cups included in the set are as follows: 1/4 cup, 1/3 cup, 1/2 cup, 2/3 cup, 3/4 cup and 1 Cup.
-#1 TOP RATED IN MEASURING CUPS AMAZING QUALITY & POLISHED STAINLESS STEEL FINISH – WON'T BEND, RUST OR BREAK – manufactured in one-piece so the handle will never fall off.
-ELEGANT & ATTRACTIVE NESTED SET OF 6 CUPS – 1/4, 1/3, 1/2, 2/3, 3/4, 1 Cup. Easy to read engraved sizes showing both 'cups' and 'ml' makes baking a breeze that adds a touch of class to your kitchen instead of plastic.
-Made of heavy duty stainless steel body: S.S.304/0.8 mm (18/8). Wide handles for easy grip.
-FLAT BOTTOM allows you to place the measuring spoons on the counter-top without having it tipped over.
Dishwasher safe, FDA approved.
Price: $15.99 (from Amazon at time of review)
The Review
Let's start with a quick video for you:
The packaging for the Estilo measuring cups is fine, it's a cardboard with pictures and information on it and inside you find the cups individually wrapped in plastic for protection and stacked together.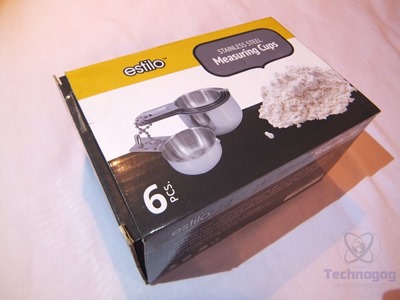 The first thing I noticed about these cups is the weight, they're stainless steel and they're very well made and sturdy. Five of the cups have a small tab on them to help you separate them easier and there's a heavy chain holding them all together. There are six cups in sizes of 1/4, 1/3, 1/2, 2/3, 3/4, and 1 Cup. The set I've been using only have 1/4, 1/3, 1/2 and 1 cup sizes and I like having the extra sizes of 2/3 and 3/4 cups in there.
The outside of the cups is almost a polished finish that makes them look very nice and easy to clean and they're dishwasher safe as well. They kind of remind me a little pots actually, with handles and flat bottoms. The cups are made of 18/8 stainless steel which shouldn't rust or break and they won't bend, I tried to squeeze them and they had very little give to them, it would take a lot of force to bend them surely.
The cups for have the Estillo logo on the sides and that's all the markings there  are really.
Each cup has the capacity in English and metric units on the handles which is a nice feature I think. The handles are wide and flat making them easy to grip and hold onto and it makes them stable as you're carrying them from place to place with ingredients in them.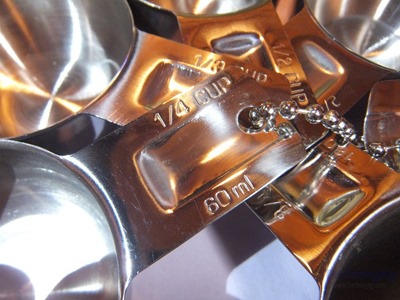 The cups feature a flat bottom so you can put liquids in them and they won't spill.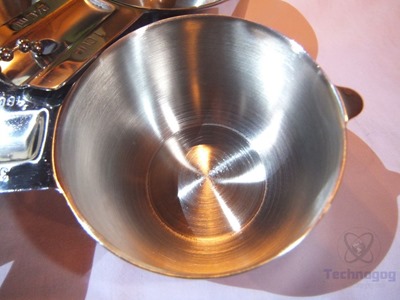 Conclusion
The Estilo Stainless Steel Measuring Cups are an excellent product overall. They should last you many, many years, you may never have to buy another set of measuring cups once you buy these honestly.
I've had a set of stainless steel measuring spoons for over twenty years now and they're pretty much still like the first day I got them, these Estilo measuring cups should easily last as long.
I can't say enough good things about these cups, they're just amazing quality, they won't rust or bend and they're very well made high quality measuring cups really.
Bottom line: If you need measuring cups, then get these, you won't regret it.
Pros:
+Inexpensive
+Flat bottom
+Excellent quality
+Stainless steel
Cons:
-None at all
| | |
| --- | --- |
| Grading | Scores Out of 10 |
| Overall | |
| Design / Aesthetic | |
| Value / Price | |
| Performance / Usage | |
Disclosure: This product was given to us for review by the company for review purposes only, and is not considered by us as payment for the review.
To learn more about our review policy please visit this page HERE.