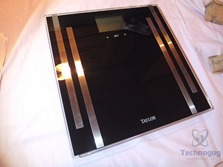 Everything seems to be smart these days, we've got all kinds of smart stuff coming out and health and fitness products are very popular. The most common thing or should I say core item is the scale, if you want to get fit usually the goal is to lose weight and you need a good scale to give you accurate measurements, but not all scale are the same. Today for the review I have the Taylor Bluetooth Smart Scale which give you your weight but also can measure things like Fat Mass, Muscle Mass, and Body Water and it can send all this data to your iOS or Android device so you can keep track. Taylor dos have their own free app you can use but the scale can also be used with other popular fitness apps. Read on to learn more…
Unboxing
Let's start with a video unboxing and then move on from there:
The packaging for the Taylor scale is very nice looking with lots of information all over it about the scale.
Inside you'll find the scale packaged well with packaging material on the sides and then the scale is wrapped in plastic. You'll also find the batteries and the user guide in there.
The Taylor scale is made from tempered glass and it looks very nice. There are two metal strip on each side of the top of the scale and these are not for decoration, they're actually capacitive sensors. To use the smart functions and get the most out of the scale you actually have to be barefoot with your feet on the sensors to get the correct measurements. It's glass so it's kind of heavy at about four pounds and it measures in at 11.8"x11.8".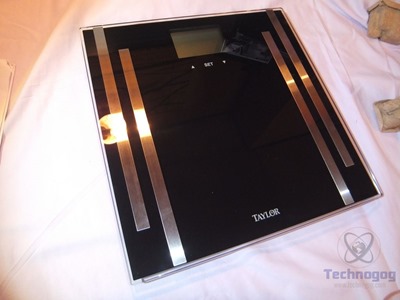 At the top center of the scale is the LCD display with touch sensitive button under it for various settings, the display measures 2" x 3".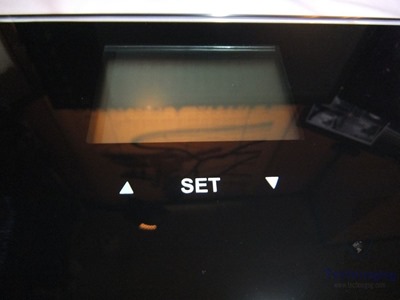 The back or bottom of the scale has found rubber feet to make sure it stays in place and you'll find some basic directions there as well.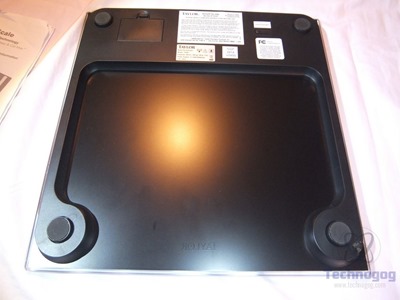 The battery compartment is off to the top left side and it uses three AAA batteries for power which they do include for you.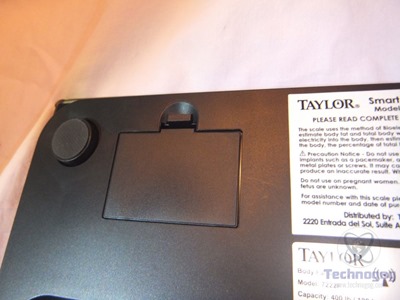 At the top right side you'll find a small button that is used for changing the units and for pairing Bluetooth.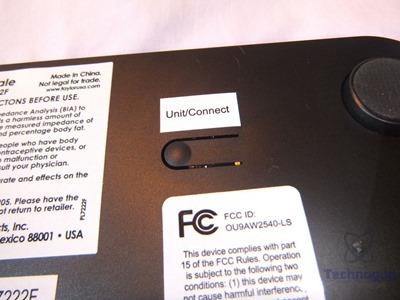 Specifications and Features
Taylor Bluetooth Body Fat Smart Scale w/ 400 lb Capacity and SmarTrack App
-[SMART SCALE] – Pairs Easily With Many Android Or IOS Device Via Bluetooth 4.0 Includes Taylor SmarTrack App Free! Also Compatible with MapMyFitness, RunKeeper and other popular apps.
-Body Composition Tracking and Calorie Analysis – Set Goals and Track Your Progress Online!
-Consistent and accurate measurement up to 400 lbs or 180 kgs every time; Graduation of .1 lbs.
-Auto-On Technology – Simply Step on the Scale For Accurate and Consistent Weights
-Auto Calibrated; Auto Power-Off; Runs on 3 AAA batteries (included); Satisfaction Guaranteed – Buy with Confidence!
Bluetooth technology transfers user data wirelessly to tablets/iPads or smart phones, iOS and Android products with Bluetooth 4.0 or higher
Utilize the free SMARTRACK app or connect to other well-known health & fitness apps list)
Tracks weight, and estimates body fat, body water and muscle mass, and has a goal setting and tracking feature
Daily Calorie feature calculates maximum calorie intake needed to maintain current weight
11.8″ x 11.8″ durable, tempered glass platform
Dual-line 3″ x 2″ readout
High capacity up to 400 lb. / by .2lb increments (lb/kg switchable)
Supports up to 8 users
Bluetooth Technology.
The ultimate, affordable Bluetooth scale from Taylor! The Taylor 7222F uses the latest Bluetooth technology to transfer your data wirelessly from your scale to a tablet/iPad or smart phones, IOS and Android products with Bluetooth 4.0 or higher.  There is no longer any need to keep logs, notes, or journals of your statistics, the scale and the app do all the work for you. The mobile devices that are compatible with many IoS and Android phones and tablets!
Key Features The Taylor 7222F estimates body fat, body water, and muscle mass. In addition, the scale has a daily calorie feature, which calculates maximum calorie intake needed to maintain your current weight. This scale comes with a goal setting and tracking feature. The goal setting feature allows you to set a definitive weight goal that you want to reach. The tracking feature will track all of your statistics every time you step on the scale.
Price: $49.95 (from Amazon at time of review)
The Review

The display is large at 2"x3" but the actual weight doesn't take up much space as the rest of the display is for the other functions and information. The numbers and letters are black and honestly I would rather have them a bit larger.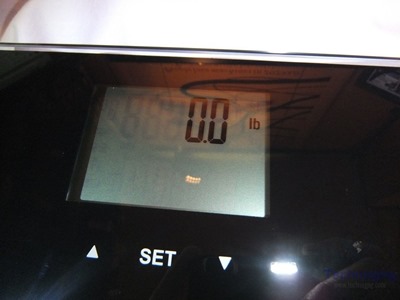 The Taylor scale can be used just as a regular scale and you don't even have to use all the Bluetooth and 'smart' functions, you can just weigh yourself and you're done.
I recently went to the doctors and their scale said I weighed 171lbs and my other digital scale said I weigh 171lbs as well and the Taylor scale says I weigh 170.8lbs. Yes the Taylor scale didn't give me the same exact weight as my other scale, but all scales are different from what I've found. I think .2lbs difference is well within an acceptable margin of error,  either way .2lbs difference isn't much and I can say the Taylor scale is accurate. 170.8 and 171lbs to me is close enough to call it accurate. I know the doctors scale is accurate, at least it's supposed to be, and I probably had things in my pocket at the doctor as well.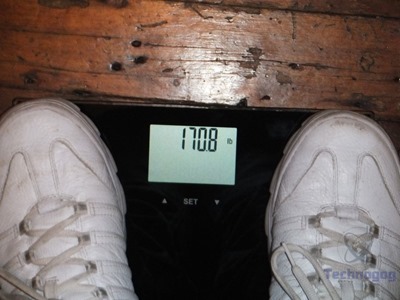 The Taylor scale is a smart scale with Bluetooth so if you really want to get the most out of it you need to use it with an iOS or Android device. I have Android so I downloaded the Taylor SmartTrack app to my HTC One M7 phone.
You'll need to create an account and input some information like gender, birthday, body style, height, your goals and other basic stuff.
Pairing the scale over Bluetooth was a bit tricky, it took me several times to get it paired but once it was paired it worked fine, it was just a bit frustrating at first. You need to make sure you read the directions, you really can't just jump in and try pairing it.
Once connected there are a few options you can change like the units and the account paired with the app.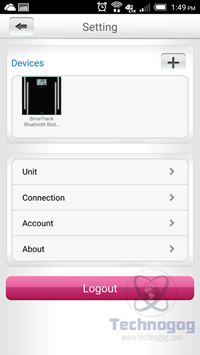 The app itself has two modes essentially with several pages.
As I mentioned you need to be barefoot when using this scale, not sure I like that but whatever right?! The scale can measure weight, fat mass, muscle mass, body and show calories you should be eating.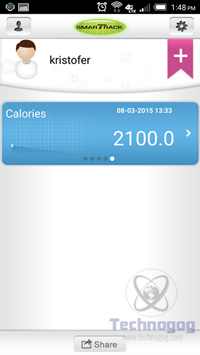 If you press each display you'll then be taken to a graph so you can visually chart your progress for each category, this can be very handy for keeping track of you goals and overall health.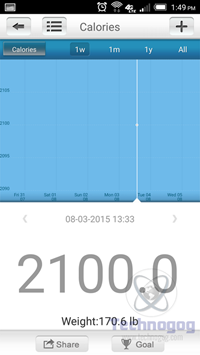 The scale does allow you to have more than one person or accounts paired with it which is great for families of course.
Conclusion
The Taylor Bluetooth Smart scale is a decent choice I think if you're very much into fitness as it really can help you keep track of your goals and help you work to attain them.
We live in a very connected world and the scale can connect to your phone or tablet, iOS or Android, through the free Taylor app or you can use other popular fitness apps with it.
The most important thing for a scale is accuracy and I would have to say the Taylor scale is accurate, it's only .2lbs difference from my other other scale and that's very much in an acceptable margin of error, .2 lbs isn't much at all.
The Taylor scale can offer a lot of information about your health and help you stay and/or get healthy.
The only real complaints I could have about the Taylor scale is the numbers and letters on the display are a bit small, bigger would be better here. Bluetooth connection is a bit tricky, it took me a few times to get it paired.
All in all it's not a bad product, it's very well made, it looks great and it can be very useful and helpful.
Pros:
+Seems accurate
+Looks very nice
+Lots of features and information
+Very well made
+Works with Taylor app and/or other popular fitness and health apps
+Works with iOS and Android
+Can be used as just a scale
Cons:
-Bluetooth connection can be tricky
-Numbers are a bit small
| | |
| --- | --- |
| Grading | Scores Out of 10 |
| Overall | |
| Design / Aesthetic | |
| Value / Price | |
| Performance / Usage | |
Disclosure: This product was given to us for review by the company for review purposes only, and is not considered by us as payment for the review.
To learn more about our review policy please visit this page HERE.