Today for review I have an inexpensive laser gaming mouse, at least I think it's a laser sensor, it might be optical. The mouse says laser sensor, the packaging on the front says laser sensor, but on the back it says optical. The sensor in the mouse goes up to 3200dpi, no it goes up to 2800dpi, no it goes up to 200dpi. Yeah I don't know what the sensor levels are, there are three different labels with different DPI levels listed. The mouse also has adjustable weights in it, just kidding, actually no it doesn't, the packaging says it does but in reality it doesn't. Yeah this is ridiculous, read on if you want, if not then don't…
Unboxing
The mouse comes in a plastic clamshell and looks rather exciting.
In the package you'll find the mouse and just the mouse and it's not bad looking.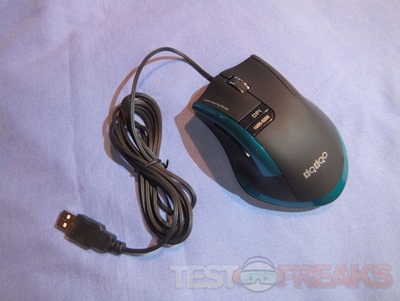 The cord is  thick rubber making it sturdy and durable.
Here's a few views of the mouse for you:
The mouse does have two side buttons and an ergonomic shape to it.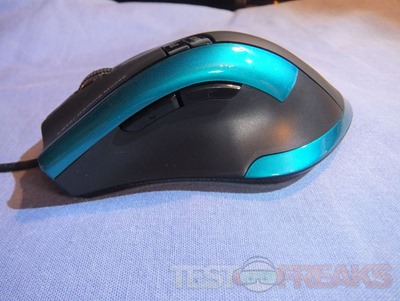 On the top you'll find the two regular buttons and the scroll wheel and the DPI button so can adjust the levels.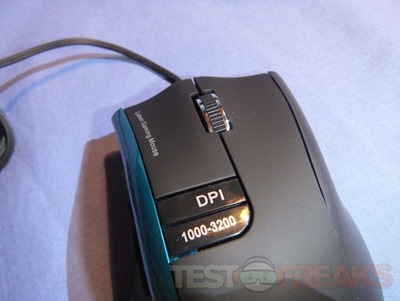 Here's the bottom where you'll find feet and the "laser sensor".
Specifications and Features
FC-1300 Cool Style Laser Gaming Wired Mouse
Color : Blue
Material Type : Plastic
Type : Mice
Features : Gaming
Dimensions : 11.5×7.5x4cm
Shipping Weight(Kg) : 0.15
Price: $10.59
The mouse was provided by HandGiftBox.com for review.
Testing and Usage
So, where to begin, how about the beginning?
Installation, I plugged it in and Windows 7 recognized it and started installing the drivers but it recognized it as an optical mouse, NOT laser mouse. So who knows what it is, I guess I'd have to physically take it apart to figure it out and I may just do that, but I'll be using a hammer.

The front of package says it's a laser sensor, the back says it's optical, the mouse says it's laser, Windows says it's optical. Pick one, 50/50 chance you're right.
For testing I played games and just used it for my everyday things and it wasn't a nice experience at all.
First, the buttons are reversed, at least for me they are. Forward should be in the front and Backward should be in the back. They're not, forward is back and back is forward on this mouse and there I no possible way to change that.
Tracking is abysmal, it just skips all over the place and I tried using it on my desk, on a plastic pad, a glass pad and cloth pad. The pads I have are expensive gaming mousepads, so it's not the pads. Tracking is just bad, there is no accuracy and you'll get frustrated using it quickly.
There a no indicators for which level of DPI you're on.
Speaking of DPI, I don't really know what the DPI levels are on this mouse. The top of the mouse says 1000-3200, the bottom around the sensor says 400/800/1600/2000 and the packaging says 1200/2000/2800. So your guess is as good as mine as to what the DPI is on this mouse.
The packaging also says the mouse has weights in it, and there's even a picture of the weights on the back, but there are no weights in the mouse.
I found the mouse just too lightweight to really use for gaming. I prefer a heavier mouse and a lightweight mouse I guess can be good for some people but this one is just too light really.
The surface of the mouse is actually slippery meaning you can't exactly get a good grip on it unless you apply some force. Sure once your hands get a little sweaty then they'll stick to the mouse surface.
The packaging also says that it's supposed to come with a USB to PS/2 adapter, yeah it doesn't come with one.
It does have a couple or few things going for it though.
It's not a bad looking mouse.
The cord is nice and long and seems sturdy.
It's inexpensive at less than $11.
Conclusion
So what can I say about this mouse for the conclusion here?
A quote from one of my favorite movies comes to mind: '"Run Away!" "Run Away!"
It's inexpensive and has a nice long cord and it kind of looks nice. That's it, that's all the good things I can say about.
The bad things I mentioned already and the list is below as well under Cons.
A gaming mouse this is not. It's also not a mouse I'd use for everyday things either.
It wouldn't even make a good paperweight as it's too lightweight.
The score below is four out of ten overall because it's averaged from the other numbers, but personally I'd give it a 1 out of 10 overall.
Pros:
+It's inexpensive
Cons:
-Confusing information
-Optical or laser, don't know
-Very lightweight
-Not accurate at all
-Don't know what exactly the DPIs are
-Packaging lies
-No indicator
-Buttons are reversed and no way to change them
-Doesn't seem very well made at all
| | |
| --- | --- |
| Grades: | |
| Overall | |
| Design / Aesthetic | |
| Value / Price | |
| Performance / Usage | |
To learn more about our review policy please visit this page HERE.