I'm sure tablets will be high in popularity this year for gifts, so if you're going to buy your loved one a tablet you need to make sure you also get them a nice case for it. Today I've got a quick review for your of the Booq Viper Hardcase 7 Graphite which is a cross between a tablet sleeve and a case I think. It features dual zippers and opens up like a book but has a space your tablet to slide in along with a few other pockets for anything else you might need to take with you. Booq makes excellent products and the Viper Hardcase is a great way to protect your tablet while on the go.

Unboxing
The Viper Hardcase comes in a plastic bag which works just fine for shipping purposes, it's not exactly fragile.
There is a cardboard sleeve over the sleeve that gives you a bit of information about the Viper.
The viper is the same on both sides except for one has a little tag with the Booq logo. The case is hard and will offer good protection for the tablet inside I'm sure.
The Viper features dual heavy duty zippers that unzip most of the way around so it opens up very wide.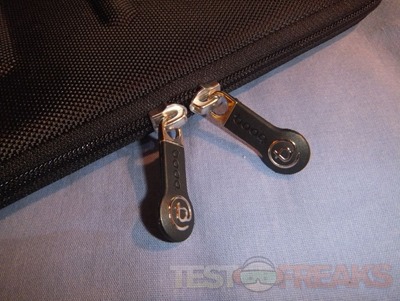 The case is what I would call semi-hard really, it does have some give to it so it's not entirely solid but it is hard. The outside of the case is made from 1680D nylon making it durable and rugged.
When you open it you'll find a large pocket for your tablet and then three more pockets on the opposite side. The inside material is called 'jersey' and I'm not exactly sure what that is but it's a soft elastic material.
The side for your tablet is basically a large elastic pocket with padding on the back side.
Just to show you how elastic it is and to show you the inside: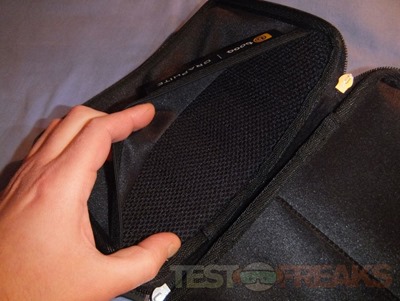 The opposite side has one large pocket and two smaller ones.
The three pockets are the same elastic material as the opposite side.
Specifications and Features
Viper hardcase 7 is a protective travel case for 7 and 8-inch tablets, including iPad mini, Galaxy Note 8.0 and Google Nexus 7.
A genuine YKK zipper provides access to an interior that offers room for basic accessories, boarding pass, passport, while its semi-rigid molded exterior offers superior protection.
Features & Benefits:
-Keeps your iPad mini and basic accessories in one place
-Protective, slim, lightweight
-Genuine YKK zipper
Specifications:
SKU: VHC7-GFT
Fits: 7-8 inch tablets
Exterior: 163 × 206 × 25 mm / 6.4 × 8.1 × 1 in
Interior: 135 × 200 × 10 mm / 5.3 × 7.9 × 0.4 in
Weight: 0.4 kg / 0.8 lbs
Materials:
Lining: Jersey
Exterior: 1680D nylon
MSRP: $39.95
Usage and Testing
It's harcase or really a sleeve so there's not much in the way of testing it exactly, but I did use it and try a couple tablets inside of it.
According to the specs the Viper Hardcase can fit up to an 8" tablet so I tried my Idolian Mini Studio which is an 8" tablet and it fit but it was a very tight fit.
The tablet is just slightly too big for the case.
It took a bit of work but I got the case zipped with the Mini Studio in it. The case has a bit of give to it so it stretched enough for me to close the case.
I gave my kids a little 7" tablet and it fit perfectly fine in the case.  I guess my kids get a nice new case for their tablet…
I guess my Mini Studio isn't really an 8" tablet, that's just how things work, there are no standards for this kind of thing. It's a shame that you buy what they call an 8" tablet and it won't fit into what is supposed to be able to hold an 8" tablet. This is no fault or Booq, it's the people who make the tablets, honestly they need to get together and come up with sizing standards.
Conclusion
 
I really like the Booq Viper Hardcase 7 Graphite but sadly my 8" tablet wouldn't fit inside of it. That's no fault of Booq though, yes you could argue that it should be universally compatible and all that given the various sizes of tablets that's kind of hard to do. The case was made to fit major brand name tablets and of course any company will do that as that's where the money is really.
As I mentioned there are no standards of exactly how big an 8" tablet should be overall, that's where the problem comes in here.
You can fit a 7" tablet perfectly fine inside of the Booq Viper Hardcase and it should offer a good amount of protection for it.
The case has a semi-hard shell that should protect form drop and bumps and the rigors of daily life.
Inside of the case you'll find extra pockets for things like money, credit cards, your ID, passport and things like that.
If you just need to travel light with your tablet, then will work great I think.
Overall I very much like the Booq Viper Hardcase 7 Graphite.
The case is great really, it's well made and to carry 7" tablets I can recommend it. You can use it with 8" tablets but only certain ones like the iPad Mini for example which is considered an 8" tablet. So you can fit an 8" tablet in the case but just not mine.
I can't really fault the case of the company for my tablet not fitting. The case is excellent overall.
Pros:
+Well made
+Looks great
+Good protection
Cons:
-Some 8″ tablets might not fit
| | |
| --- | --- |
| Grades: | |
| Overall | |
| Design / Aesthetic | |
| Value / Price | |
| Performance / Usage | |
To learn more about our review policy please visit this page HERE.