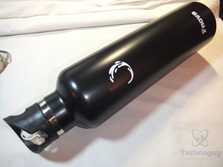 Up for review today I've got something for the outdoors, camping, hiking or just a day trip or maybe biking or running, it's a water bottle so it has numerous uses for sure. The bottle is from a company called Fnova and it's
double walled made of stainless steel so it's sturdy for sure and it will do a great job of keeping your beverage either hot or cold for many hours. The unique thing about this bottle is that it comes with three different caps, a straw style, one that just seals and then a bamboo wood one. Read on to learn more…
Specifications and Features
Once you get everything unpacked you'll find three lids, the bottle itself and a clear straw.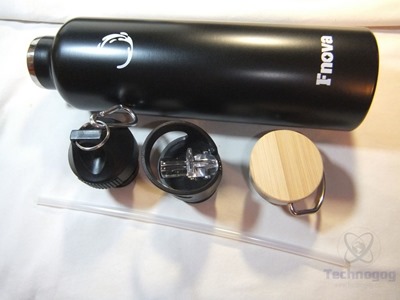 The first lid is plastic and it has a carabineer attached to it, this is more for hiking and camping as it seals very well as it has a rubber seal on the threads.
The second lid is more what I would consider fancy, it has a bamboo wood top and looks rather nice, it instantly reminded me of a wine topper.
The third lid you'll need to assemble, the straw just sticks into the bottom and this lid is more for outdoor activities where you'll be drinking a lot I would think. The spout folds open and close so you can easily drink when you want to.
The bottle is double walled stainless steel and it looks very nice. The opening is slightly less than 2 inches across so it's easy to fill, you can even put ice cubes in there if you wanted to. The base is 3.5 inches across and it has a non-slip foam pad on it.
The bottle varies in size depending on the lid you put on it. The bottle without the lid is just under 11.5 inches tall and can hold 35oz of liquid.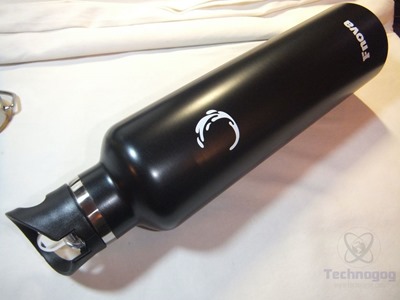 Conclusion
So it's a water bottle that can be used for most any activity, but this one is very durable so you'll be fine taking it hiking or any rough outdoor activity for sure.
The bottle is very well made of a sturdy stainless steel but what really makes it special is that it's double walled to make sure your beverage stay hot or cold all day long and even longer, chances are you'll finish the drink before it warms up or cools down when it's in this bottle.
The three caps are nice, not sure what exactly I'd use the bamboo cap for but it's nice looking. The other two caps are more useful in my opinion, but I guess having three is nice just in case you lose one.
All in all it's not a bad product.

Pros:
+Three different caps
+Very well made
+Keeps drinks at temperature for many, many hours
Cons:
-None really
| | |
| --- | --- |
| Grading | Scores Out of 10 |
| Overall | |
| Design / Aesthetic | |
| Value / Price | |
| Performance / Usage | |
To learn more about our review policy please visit this page HERE.