I love tools especially multi piece kits like the one I have for review today from Freewise. The kit comes with 24 screwdriver bits and a handle for them along with a carrying case. This screwdriver kit is under $10 and well that's about all it's worth sadly. Read on to learn more…

Specifications and Features
25 in 1 Precision Screwdriver Set, FREEWISE DIY Mini Repair Tool Kit for PC, Glasses, Mobile Phone, Laptop, Watch, Drone with Leather Case
This 25-in-1 precision Screwdriver set is an ideal tool set for electronic workshops, watch repair, eyeglass repair and where fine precision is required.
HIGH STRENGTH: The high precision screwdriver head is made of high strength stainless steel. Hard and more durable.
HIGH COMPATIBILITY: Full set of 24 screwdriver head, suitable for most electronic products, glasses, watches, drones and so on.
LIGHT AND STRONG HANDLE: The screwdriver handle made from alloy material manufacturer, light and durable.
EASY TO CHANGE?Each screwdriver head fits perfectly onto the handle, easily be changed.
VERY PORTABLE: The precision screwdriver set come with a handy leather wallet case, small size, easy to carry.
The Screwdriver Set include:
10 x "?" (Star hexagon Screwdrivers) (T2/T3/T4/T5/T6/T7/T8/T9/T10/T15)
5 x "+" (Cross Screwdrivers) (1.0/1.2/1.5/2.0/3.0)
4 x "-" (Flat-blade Screwdrivers) (1.0/1.5/2.0/3.0)
2 x "?"(Pentagon Screwdriver) (0.8/1.2)
1 x "Y" (Y-type Screwdriver) (2.0)
1 x "?" (Triangle Screwdriver) (2.3)
1 x "?" (Point Screwdriver)(0.8)
1 x Screwdriver Handle
1 x Black bag
Price: $8.99 (from Amazon at time of review)
The Review

Let's start with a video unboxing and then move on:
The Freewise screwdriver set ships in a double plastic bag and it was in a padded envelope during shipping.
This screwdriver set comes in a faux leather case that resembles a wallet really, it's black and has a silver half-moon snap on the edge where the snap closure is. The case seems fine I guess, it is what it is.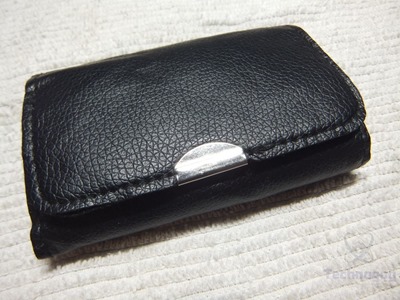 The case is held closed with a button snap and then it unfolds into three section with a small pocket on the left and then the bits and driver handle in the other two.
The bits are divided up into four sections with six bits in each section. The bits are held in place by a rail system, they rotate and are held in place. To remove the bits you stand them up vertically and then slide it backwards. It does work to secure the bits in place very well.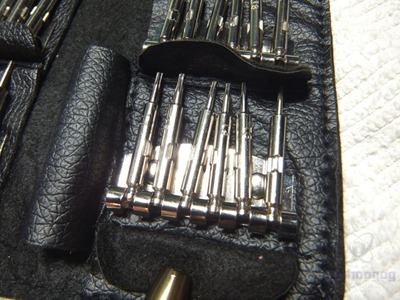 The included handle is actually very nice, it's made of an alloy that's not specified but it's lightweight and seems strong. It's just over 3.5 inches long and the top can spin making it easy to apply pressure and turn the handle at the same time. There are notches inside that match with the screwdriver bits and there's a magnet inside as well to hold the bits in place.
I'm into 3D Printing and the printer I have uses screws with the star head on them so I thought these would come in very handy as I take it apart every once in a while to clean and lubricate the rails. Sadly the screwdriver bit did not last long as it became stripped after a few screws, that's not a good thing at all as they're supposed to be made with strong and durable stainless steel. I'm rather disappointed.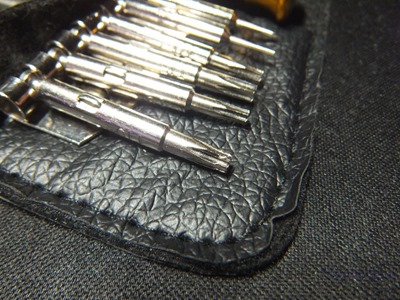 Conclusion

The price is under $10 and really it's not even worth that sadly. I wanted to like this set as it seemed very useful since it has a nice assortment of bits in it but the bits stripped very easily and they shouldn't do that as now they're pretty much worthless and unusable.

Pros:
+Low price
+Nice assortment
+Includes carrying case
Cons:
-Poorly made bits
| | |
| --- | --- |
| Grading | Scores Out of 10 |
| Overall | |
| Design / Aesthetic | |
| Value / Price | |
| Performance / Usage | |
Disclosure: This product was given to me for review by the company for review purposes only for free or at a discounted price.

To learn more about our review policy please visit this page HERE.