Yesterday I reviewed the Func MS-3² gaming mouse and today I have the companion to it, the Func F-Series 10 XL gaming mousepad. I have a large desk so I like large mousepads and this one comes in at 38×29 cm or 15×11.5 but it's only 2mm or about .1 inches thick. The F-Series 10 XL is a hard surface pad which is very finely textured giving it very little resistance allowing your mouse of choice to just glide across it almost effortlessly. So read on to learn more…
Unboxing
The packaging is nice looking with pictures and info on it and it's big and stiff. It's basically two pieces of thick cardboard to help keep the mousepad inside from not getting bent in transit.
When you open the top you'll find the F-Series 10XL nestled inside.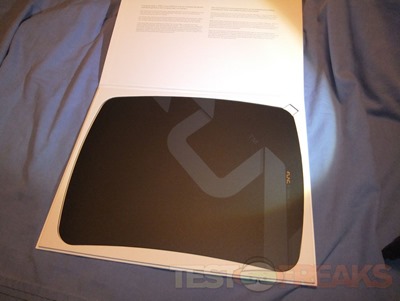 The F-Series 10Xl is a large pad and it has a hard surface or plastic or polycarbonate. The dimensions are 38×29 cm or 15×11.5 in so you'll need a space large enough on your desk for it, luckily I've got a big desk so this size is not an issue for me. The pad is mostly black in color with what looks like a gray ribbon but it's really part of the Func logo, just really big so you can't see all of it.
Here's a couple close up shots of the surface, it's a semi-gloss surface and it's smooth but finely textured.
The F-Series 10XL is very thin at only 2mm or .1 inches thick but yet it's rather stuff.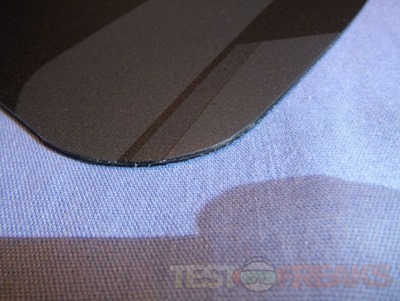 The back is rubber coated to keep it in place on your desk or other surface.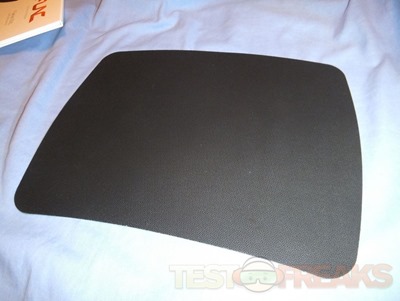 Here's a close up of the bottom surface, it kind of reminds me of snakeskin, at least that's what I thought of when I first saw it.
Specifications and Features
Func F-Series is a single-sided, semi-hard mouse pad constructed of high quality polycarbonate. The surface texture incorporates a specially selected, low profile, textured synthetic rubber that exhibits exceptional traction capabilities; also known as the "F10.s". The F10.s is a fine textured surface and popular with those who prefer the feel of minimal traction. The F-series mouse pads are available in two different sizes to fit different game styles.
Tech. Specs.
Surface material: Polycarbonate
Surface type: F10.s
Thickness: 2 mm / 0.1 in
Size: 38×29 cm / 15×11.5 in
Warranty Information: This product has a 2-year limited warranty from the date of purchase.
Price: $24.99  (from NewEgg at time of review)
Testing and Usage
So to test the Func F-Series 10 XL mousepad I went about my daily business and played some games. I love getting mice and mousepads for review as it gives me an excuse to play games more often!
Before I got the Func MS-3² for review I was using the Mionix Naos 5000 and then I just got the Feenix Nascita in for review.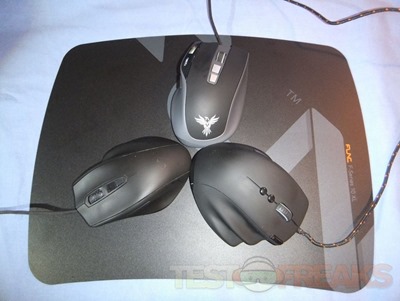 Here's a couple pictures of single mice on the pad for scale:
As you can see the 10 XL offers plenty of room to move your mouse around on without fear of falling off  the edges.
I've seen and own larger mousepads but I think the 15 x 11.5 is just about perfect really, but that's just my thoughts on it.
I found all of the mice I tried tracked just fine on the 10 XL, no matter what I did, fast or slow, the mice worked great with no skipping or jumping.
The construction and design is well done I think, but it's a stiff pad so you can't exactly roll it up and take it with you making it not exactly portable. You could keep thee packaging and then transport it inside of that .
Being such a large pad might limit the use of it on smaller desks, so you'll need to make sure you've got plenty of room before you buy the 10 XL.
Conclusion
The overall construction of the 10 XL is very good, the surface is smooth for fast movements but yet slight textured offering just enough control when you need it most.
No matter which mouse I used or what I did, the mice tracked just fine, no skipping or jumping , I'd say the surface works very well at high or low DPIs.
All in all the Func F-Series 10 XL mousepad works very well and I think it's an excellent choice if you're in the market for a new hard surface style mousepad.
Pros:
+Nice large mousing area
+Slick surface, mouse just glides across it
+Very thin
+Seems well made
Cons:
-Large size might not fit some desk spaces
-Stiff, won't bend, can't really transport easily
| | |
| --- | --- |
| Grades: | 10 out of 10 |
| Overall | |
| Design / Aesthetic | |
| Value / Price | |
| Performance / Usage | |
To learn more about our review policy please visit this page HERE.