Up for review today I have another portable Bluetooth speaker, this one is from a company called Matrix Audio and the speaker itself is called the QUBE². When you first get this speaker the first thing you'll notice is the build quality, it's basically a solid block of aluminum and it's heavy for it's tiny size. Even though the speaker is small at 80mm x 38mm x 38mm or 3.1″ x 1.5″ x 1.5″, they still managed to fit two speakers inside of it so you get full stereo sound. The QUBE² takes about 2.5 hours to charge but you get eight hours of play time from that so it could easily last you all day or several days depending on your usage. Sound quality is very good and the QUBE²  can get very loud, I mean I was truly surprised by just how loud this little thing can get. Read on to learn more…
Unboxing
Let's start this off with a quick video unboxing and then continue on:
The packaging consists of a clear plastic box so you can see the speaker and then cardboard inserts with info about the speaker.
Once you ge3t everything unpacked you'll find the speaker, user manual, USB cable, carrying bag and carrying strap.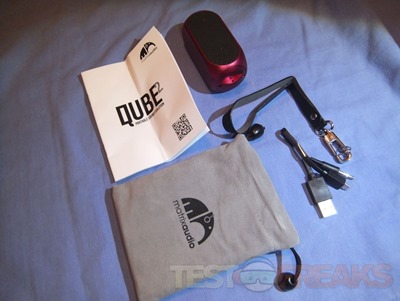 The USB cable is a 'Y' style cable with a regular USB connector split into a microUSB connector and a 3.5mm audio jack. The included carrying strap is just that, a strap with a metal clip on the end, but it is rather thick with a nice big clip and shouldn't break very easily so it should be safe.
The carrying bag is made of cloth and drawstring on it to close it along with the Matrix Audio logo on the front. The bag is a soft cloth and it will protect the Qube2 from scratches and dings surely.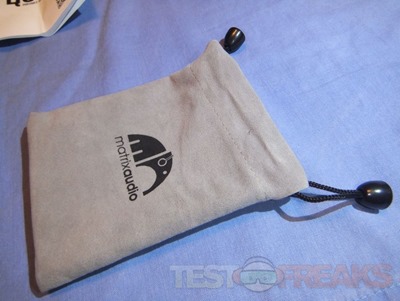 The Cube2 is small at 80mm x 38mm x 38mm / 3.1″ x 1.5″ x 1.5″ but they fit two speakers in it so you get stereo sound.  Basically the whole speaker is aluminum, the there are three solid sides and then the side with the speakers which is covered with an aluminum grill. The aluminum not only looks good but it protects the speakers and it does make it kind of heavy for it's size.
On on od the sides you'll find the microUSB port, LED indicator and the power button which can also play and pause your music.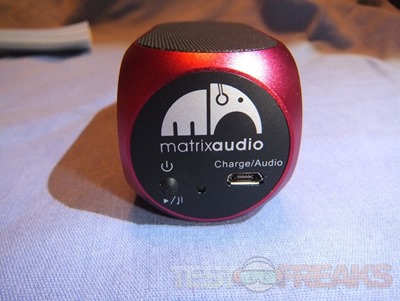 On the opposite side is a cap which has the hole for the strap to attach to.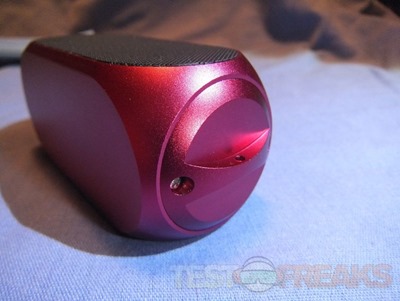 Specifications and Features
Matrix Audio QUBE² Universal Bluetooth Pocket Speaker – Red
The Qube² is the older brother the original Qube speaker never had. Taking the same innovative aluminum shell and stretching it to about double the size, the Qube² is now the world's smallest stereo speaker.
With 2 x 3Watt speakers squeezed inside a tiny frame the Qube² offers users an undeniably clear sound that is loud enough to knock the pictures off your neighbors wall.
As if that wasn't enough, the sound engineers at Matrix Audio have made it Bluetooth enabled so there will be no wires to trip over while dancing the night away to its amazing sound.
Features:
-Pocket sized 185 grams
-Rich aluminum finishing
-Passive vibrating bass technology (PVB)
-Up to 8 hours playback
-Bluetooth range up to 30 feet
-Carrying pouch included
-Hand strap included
-Dimensions: 80mm x 38mm x 38mm / 3.1″ x 1.5″ x 1.5″
Price: $79.99 (from Matrix Audio website)
Price: $79.99 (from Amazon at time of review)
Testing and Usage
The first thing you'll need to do is charge the Qube2 and that's done with the included USB cable. The LED will light up red to indicate charging and then will turn off when charging is complete. According to the user guide the Qube2's battery come pre-charged for you, but I charged it just in case and it took only about 30 minutes. Charge times vary on the battery capacity but when fully charged you should be able to get up to eight hours of playback time or usage. Back to the user guide again, it says charge time should take about 2.5 hours total when the battery is depleted, so that's pretty good, 2.5 hours charging time for 8 hours of usage time.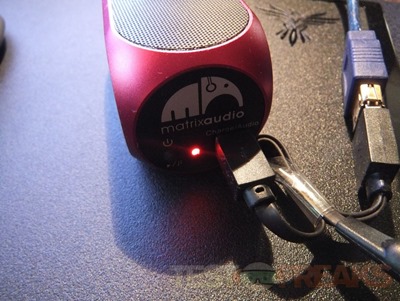 For testing the Cube2 I used it with my HTC One, PS Vita and my ZuneHD.
The first thing you'll notice is the volume, this little speaker can get very loud.
The second thing you'll notice is that there are no volume controls on the speaker itself. This might not big that big of an issue, it's just a personal preference to me, I like having controls on the device.
The third or maybe the first thing would be that the sound is very good from this little speaker. The sound is clear for the most part. What I mean by that it all depends on the type of music and the volume you play it at. Bass heavy music will get distorted at high volume levels, but this is common to most speakers of this type. Even rock and roll will get distorted at maximum volume and I think it's more noticeable with this speaker because this is probably the loudest speaker of this type and size I've ever own of reviewed. I mean I can't stress enough to you as to just how loud this tiny little speaker can be. I was testing it and my kids were in the other room watching TV and they were amazed that such a tiny speaker can product such a loud sound. My son complained he couldn't hear the TV over the speaker and I was in the other room and he was close to the TV, so yes it's very loud.
I should also note that the play and pause functionality of the button works fine with the HTC One Android phone.
One of the problems I can see with this speaker is the included cable, it's proprietary really and if you lose it you're kind of stuck. Yes you can charge the speaker with a regular microUSB cable but you won't be able to use it with other non-Bluetooth devices that would require the 3.5mm audio cable.  It would have been nice if Matric Audio would have just put a female 3.5mm audio jack on the Qube2. I understand why it was combined, but I don't see the point really when most every other speaker of this type, big and small, can have an audio jack on it, but the Qube2 can't.
Next is the size, it says 'pocket speaker' but it's really not, at least not in your pants pocket as it's a bit too big. Sure you could toss it in your jacket pocket or a pocket in your bag, and yes it is small and portable, I just wouldn't put it in your pants pocket unless you want a very large bulge showing. (I'll just leave it at that and the rest to your imagination…)
The last thing is the price and coming in at basically $80, it might be considered expensive by some, but it is top quality, well made and it sounds great, so I think it's well worth the price.
Conclusion
The Matrix Audio QUBE² is a little speaker that packs quite a punch in terms of loudness, this little speaker will surprise you as to just how loud it can get.
The QUBE² is extremely well made, like a little aluminum brick, making it solid and durable.
Matrix Audio did include a carrying pouch for the QUBE² and that's enough really as the speaker itself is what I would consider rugged and tough.
Sound quality is very good, but like most speakers of this type there is some distortion at high volume levels.
If you're looking for a very loud and very portable Bluetooth speaker then the QUBE² from Matrix Audio is the one you want.
Pros:
+Very well made
+Small and portable
+Aesthetically pleasing
+Stereo sound
+Very good sound
+Can get very, very loud
+Included carrying case
Cons:
-Rather large to actually fit in pocket comfortably
-Proprietary combination cable
-Might be considered expensive by some
-Some distortion at high volume levels
-No 3.5mm audio jack, must use special cable
| | |
| --- | --- |
| Grades: | 9 out of 10 |
| Overall | |
| Design / Aesthetic | |
| Value / Price | |
| Performance / Usage | |
To learn more about our review policy please visit this page HERE.