Protection for tablets can come in many shapes, sizes, colors and forms and not all are created equal. Up for review today I have a case that I would consider extreme protection for your tablet. This is the case that was dropped from 100,000 feet with an iPad inside of it and the iPad survived unscathed. Now that's what you can call extreme protection surely! The case is the G-Form Extreme Edge Case and it's for the iPad & 10.1″ tablets. The case uses a special material that reacts when force such as a drop is applied to it. It's normally a soft almost gel like material but when force is applied it hardens instantly for protection of whatever is inside of it. So read on to learn more…
G-Form Extreme Edge Case for iPad & 10.1″ Tablets Review
The G-Form Extreme Edge case comes in a rather large plastic box, I was very much surprised by how big the box is for a tablet case or sleeve.
The back of the case is unique looking for sure. The material the case is made of is Poron XD and it's a reactive protection technology that is soft but when force is applied it hardens for protection. You can push on it easily and give, it feels kind of mushy, but if you smack it hard it actually hurts. I pushed on it with fingers and it gives fairly easily but then I rapped on it with my knuckles and it hurt as it hardened and it felt like I was smacking a solid surface.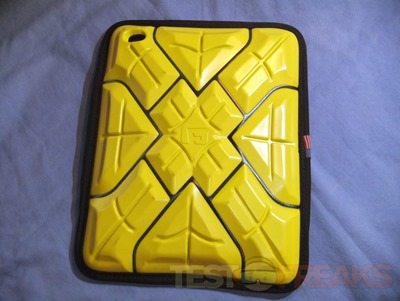 Here's a closer look at the back: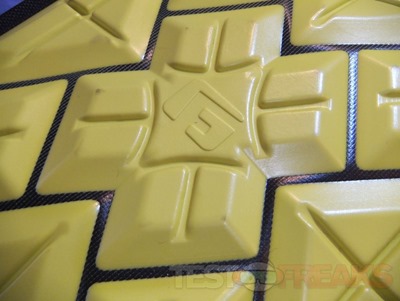 The inside of the case is black cloth material that shouldn't harm the tablet inside. It does feel like there's padding in there but the whole case is essentially a big pad of sorts really.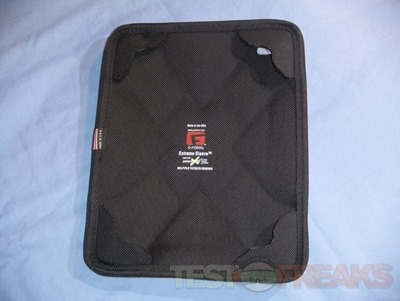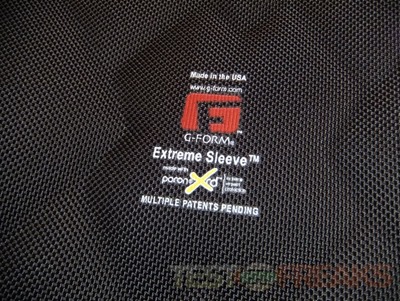 On each corner of the inside you'll find a thick padded flexible tab. The four corners of your tablet go under the tabs and that's what holds it in place.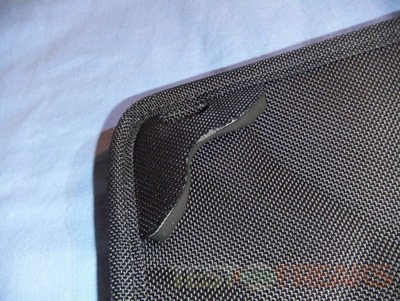 The case only weighs about six ounces so it's rather lightweight but it is sort of thick. It feels and looks very well made overall.