It's been a while since I've reviewed any CPU coolers here on technogog, not sure why, but I've got one now from Evercool called the Silent Shark. This cooler is big and it includes two 120mm fans that help to keep you CPU cool. The cooler also has a very unique feature that allows the user to angle the front fan up and outwards letting it clear the ram slots allowing you to use ram with larger style heatsinks on it. The cooler performs very well overall so read on to learn more and see just how it performs against another cooler….

Evercool Silent Shark HPO-12025 CPU Cooler Review
The cooler is big so the box for the Silent Shark is big. The box has a nice window to show the cooler along with a handle for easy transport. There's plenty of information on the sides and back of the box as well.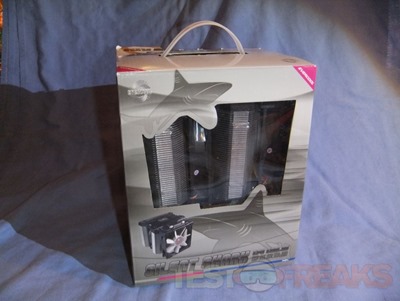 Inside of the box you'll find the cooler in a clear plastic box for protection, a small white box that contains the accessories and the installation manual.
The Silent Shark comes with a plastic fan shroud over it with two fans, one on the front and one in the middle.
Here's the side and back view showing the middle fan a little bit better and the back of the cooler and fins. I should note the two fans do run at different speeds.
Then here's the top of the cooler and you might notice the hinge towards the front.
The hinge is special in that it allows the front fan to be angled outward. There is a pin that screws out and there are two holes in the fan shroud that hold the fan in place in either position.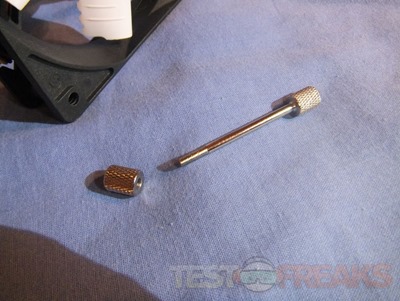 Here's a few views of the front fan in the angled position for you:
The cooler has six U-shaped copper heatpipes and a copper base. In the second picture you can get a closer look at the mounting bracket as well.
The shroud is held on with four screws and you actually need to remove the shroud to install the cooler in your system.